This month's Lowcountry autism events roundup includes an opportunity to participate in autism research (and receive free therapy and compensation), a free recreation program, and more!
The events below are listed with new or one-time events first and recurring events next, so be sure to read through the end!
Project Rex Reports
Research Study Enrollments Open!
This month, we're seeking participants for our LENS "Learning Enhancement through Neurostimulation" study.
This MUSC study will examine whether brain stimulation paired with social skills learning (via the PEERS program) can help teenage boys with autism ages 14-17 learn how to make and keep friends. Compensation is available.
For more, visit our LENS study page … now featuring a fun video of Dr. Gwynette demonstrating LENS technique!
Holiday Hangout
You're invited to a FREE Project Rex Hangout on Thursday, January 5th, 2017 from 4:00pm-5:30pm at MUSC IOP 5 South, 67 President Street, Charleston, SC 29425.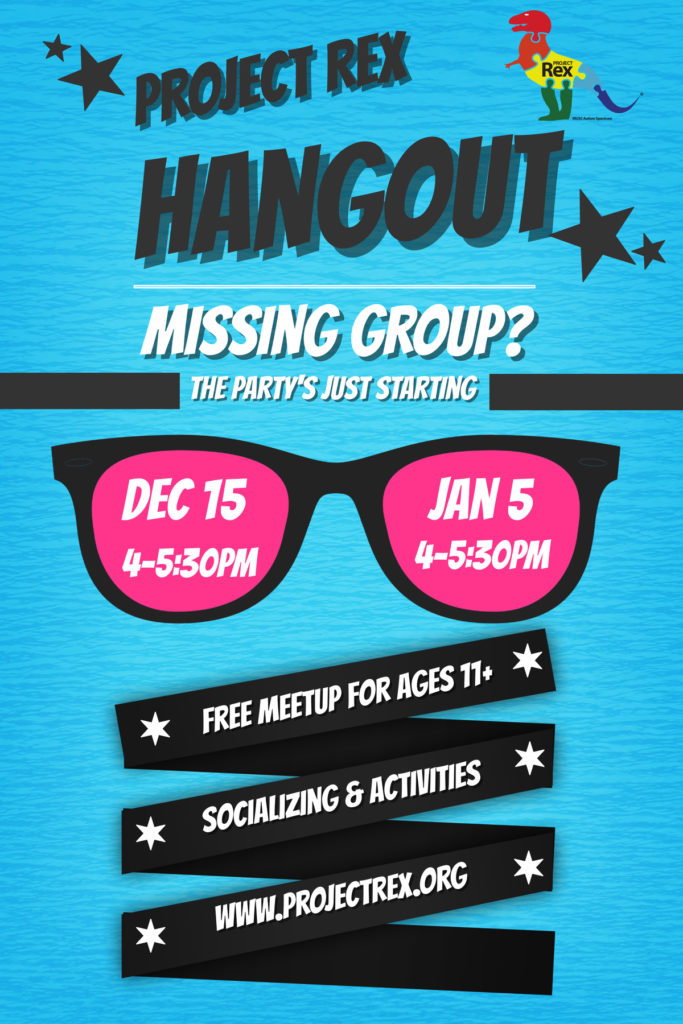 Want to help spread the word? Click here for a hi-res, print-ready Hangouts flyer.
Hangouts are designed to fill the gaps between our ongoing Group programs, which resume in January. We hope you'll join us.
If you haven't been before, it's no problem! You're welcome to attend for the first time.
Hangouts are a place where participants can come in and socialize, as well as play games and complete fun activities along with their peers.
Ages 11+ are welcome to join us for this open-house style event, and parents can come and socialize in the parent room next door too. We will have several members of our staff present at the Hangout to supervise.
Finally, if you plan to attend, RSVP via the form below, or by clicking here. (Note that the age form-field error has been resolved, and thanks to the parents who pointed it out!)
That said, if you have any trouble filling out the form for any reason, don't worry about it; just come to the party anyway!
Rex Groups
There's still a little bit of time left to register for 2017 Rex Groups! We have Groups for children, teens, and young adults with autism and ADHD, siblings, and parents too.
Call (843) 792-9162 to sign up for a Group today.
*Note that the Sibling Support Group and Yoga Group are held at the same time so that all members of the family can participate! The child with special needs can be in yoga while the neurotypical sibling is in Sibling Group and the parent is in the Parent Group.
Also know that this is an especially important time to sign up for Sibling Support, as the level of enrollment will determine whether or not we can offer this Group going forward.
New or One-Time Events
Mark Your Calendars for Move, Groove, Get Active!

Ready to Move, Groove, Get Active in the New Year? The goal of this FREE recreational program is to improve the quality of life for children on the Autism Spectrum, in a family-friendly environment.
Move, Groove, Get Active is hosted at the College of Charleston campus at 26 George Street in the Silcox Gym on Saturdays from 2:30-3:30 pm.
Confirmed 2017 dates are as follows (all are Saturdays): January 28th, February 4th, February 11th, February 18th, and February 25th.
For more information, visit the Move, Groove, Get Active Facebook page.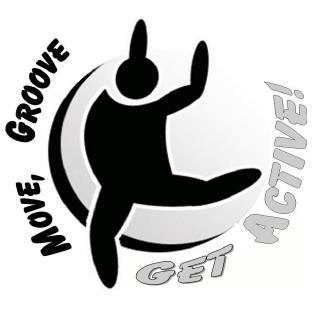 Sensory-Friendly Performances at Charleston Stage
"Charleston Stage, in residence at the Historic Dock Street Theatre, has been awarded $25,000 from Charleston Regional Alliance for the Arts via the Boeing Vision Award for Charleston Stage's Sensory-Friendly Performances performed at the Dock Street Theatre."
Upcoming Sensory-Friendly Performance Dates:
James and the Giant Peach, Jan. 21 at 11am
Upcoming February 2017 Events
Charleston Transition Fair
Want information and resources to promote positive post-secondary outcomes? Then save the date for the FREE 2017 Charleston Transition Fair, happening at West Ashley High School on Saturday, February 25, 2017 from 8:30am – 12:30pm.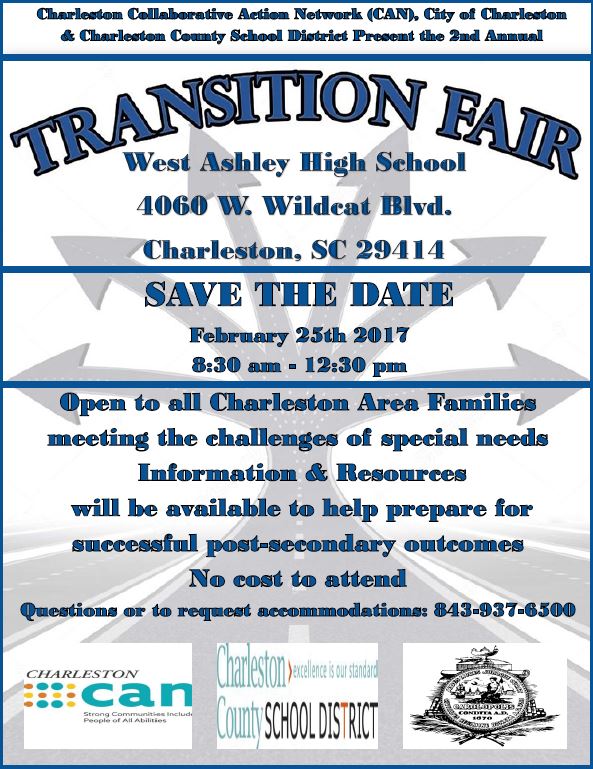 Ongoing Events
Special Adult Network of Dentists (via Family Connection SC)
Do you or someone you know have special healthcare needs? Are you having difficulty finding a dentist to provide dental care in your area? Contact us so that we may assist you in finding the dental care you need!
The Special Adult Network of Dentists is a project of the Medical University of South Carolina to connect adults with special needs to dental care providers in all areas of the state.
Contact: Joan McLauren, SANDs Program Coordinator at 843-876-0059, mclauren@musc.edu
Charleston Young Adult ASDs
Charleston Young Adult ASDs is a social enjoyment group for young adults (17-32 +/-) in the autism spectrum in the Charleston area. Its purpose is to give individuals the opportunity to:
Practice different social scenarios in a safe and non-judgmental environment
Connect with others like them (and realize they're not alone!)
Develop skills (through fun activities) to navigate life more smoothly
Increase chances to make/keep friends and get/keep a job
Share experience, strength and hope
To get involved, join the Meetup page or the private Facebook group (just click "Join Group" so an admin can approve your request).
Autism Family Network of the Lowcountry
This Facebook group was created to provide South Carolina families a chance to get together to discuss and share topics related to Autism Spectrum Disorder. Click here to join today.
Also note that the Autism Family Network of the Lowcountry (supported by the Lowcountry Autism Foundation) also has a Parent Training and Support Group that meets monthly in Summerville on the fourth Tuesday of the month from 6-8pm at Bethany Methodist Church.
This month's meeting is Tuesday, January 24.
National Alliance on Mental Illness (NAMI) Charleston Meeting
The Charleston-area NAMI meeting takes place in Moncks Corner on the first Tuesday of the month.
This month's meeting is Tuesday, January 3 from 6 – 7:15pm at Moncks Corner Baptist Church Fellowship Hall at 500 E. Main St., Moncks Corner, SC 29461.
This meeting is for both individuals in recovery and family and friends of people with mental illness. All meetings are confidential. For a full list of Charleston-area NAMI meetings, visit the NAMI Charleston Area website.
Children's Museum of the Lowcountry's SuperStars

SuperStars is a FREE, registration-required event in which children with special needs and their families can visit the Museum, explore, and play without the crowds and over-stimulation. The Museum is open before-hours on the second and fourth Sundays of every month from 10am-12pm for this event.
Click here to learn more and register for SuperStars.
Parent Support Group for families of children with Asperger's, HFA, & related conditions

Location: Cherokee United Methodist Church, 2105 Cosgrove Avenue, North Charleston
Time: 6:00 – 7:30pm every Tuesday
For families of children with Aspergers, HFA, Anxiety & Related Conditions
Share your concerns and tips with other parents who understand what it's like to raise a child with special needs. Give and get support in a safe and non-judgmental place.
Free childcare is provided. Contact Tracie Hayward at thayward@familyconnectionsc.org for more info.
Featured Book of the Month

This month's featured book is Managing Meltdowns: Using the S.C.A.R.E.D. Calming Technique with Children and Adults with Autism by Deborah Lipsky and Will Richards
Amazon description: "In a chaotic or threatening situation, fear is the primary emotional response of an autistic individual. Often the initial physical response is to freeze. 'Meltdowns', or brain overloads can be scary for the individual with autism, and for the person trying to help if they don't know how to react in this situation.
Common coping strategies, such as hand flapping or leg shaking, can be misperceived as being willful, non-compliant, and uncooperative; and some techniques commonly recommended during times of distress or crisis, such as maintaining eye contact or using light touch, can be counter-productive rather than providing relief.
Using the easy-to-remember acronym S.C.A.R.E.D, coined by clinical psychologist Will Richards, this guide offers strategies and practical techniques that will be a valuable reference tool to anyone in a first response position. The authors have created a training program to explain the autistic experience and mindset, and guide the interventions of first responders to autistic individuals in crisis."
Follow Us on Social Media
We do our best to post local events on social media, so Like us on Facebook and follow on Twitter to stay current.
Enjoy!
~ The Project Rex Team