Want to help your child, teen, or young adult with autism to ease stress, get healthy, and be active in 2017? Here are two fantastic local options to help you do just that!
Here at Project Rex, we have four well-attended social skills Groups already underway, but there's still time to sign up for these local autism support programs!
Piece It Together Terrific Tuesdays
MUSC's popular Piece It Together (PIT) program is back this year starting January 24th, 2017!
This MUSC program extension is designed for teens and young adults with high functioning Autism Spectrum Disorder, as well as other mild neurodevelopmental disabilities.
The program will focus on physical activity, healthy eating, social skills, relaxation skills, and reducing stress.
Please visit the MUSC website and view the flyer below for more information. Then, contact Carrie Papa at 843-876-1507 or papa@musc.edu for questions and to register!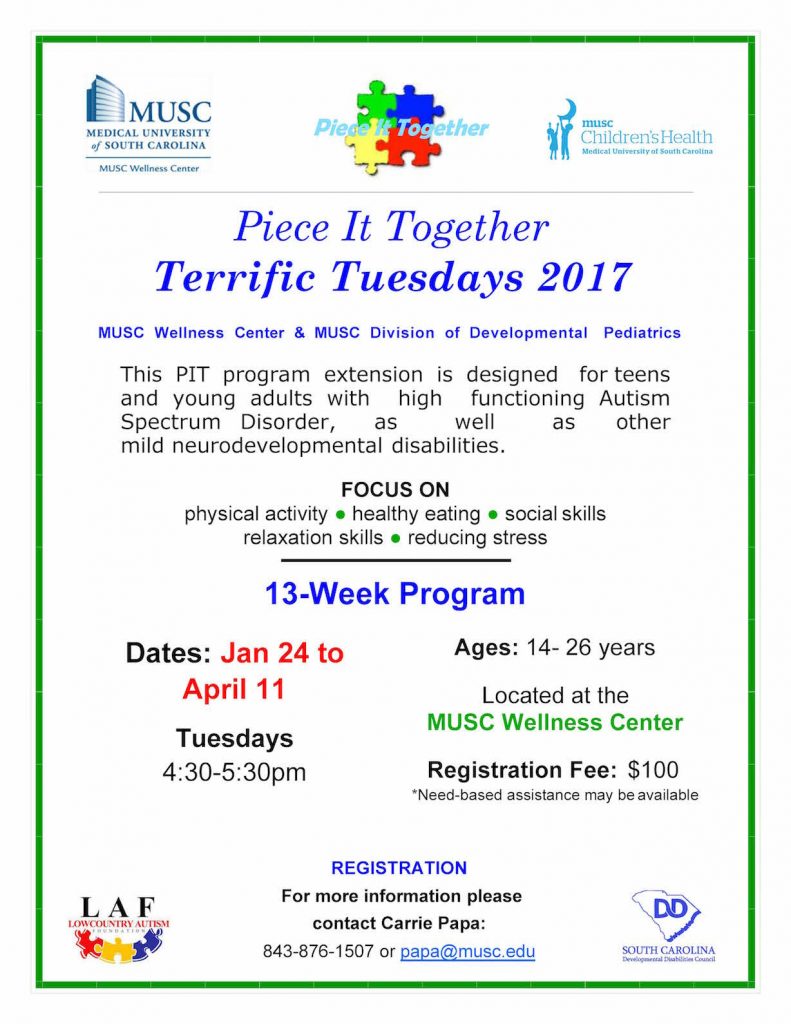 Free Recreational Opportunity: Move, Groove, Get Active!

Ready to Move, Groove, Get Active in the New Year? The goal of this FREE recreational program is to improve the quality of life for children on the Autism Spectrum, in a family-friendly environment.
Move, Groove, Get Active is hosted at the College of Charleston campus at 26 George Street in the Silcox Gym on Saturdays from 2:30-3:30 pm.
Confirmed 2017 dates are as follows (all are Saturdays): January 28th, February 4th, February 11th, February 18th, and February 25th.
For more information, visit the Move, Groove, Get Active Facebook page.