Who We Are
Project Rex is a treatment initiative dedicated to providing services, support, and treatment to children and young adults who struggle socially.  We serve children and adults diagnosed with high functioning autism spectrum disorder, ADHD, social anxiety, and more. Diagnosis of any kind is not required to receive services.  We are affiliated with the Medical University of South Carolina (MUSC) in Charleston, SC.
Our goal is to help individuals reach their highest potential by enhancing their social skills, their ability to understand emotions, and their adaptability.
About Autism Spectrum Disorders
Autism Spectrum Disorders include:
Asperger's Syndrome
Pervasive Developmental Disorder, Not Otherwise Specified
Rett Syndrome
Childhood Disintegrative Disorder
Children with Autism Spectrum Disorders benefit from focused cognitive-behavioral and/or activity-based therapies and medical evaluation.
Furthermore, only about 36% of children on the Autism Spectrum actually have full-blown autism. The remaining percentage are classified as having "High Functioning Autism".
Although they are termed "High Functioning," these children are generally lower functioning than their counterparts who have no symptoms of autism.
About Attention Deficit Hyperactivity Disorder
Children with ADHD benefit from cognitive-based behavioral therapy, activity-based therapy, and medication management.
Children with ADHD can struggle with the symptoms listed below as well as others which can all impede social relationships. The Project Rex team is dedicated to helping individuals with ADHD and their families understand the diagnosis and improve the symptoms.
Symptoms may include:
Trouble focusing and following through on tasks, difficulty listening when spoken to directly, being easily distracted, forgetfulness, talking excessively, interrupting others, trouble waiting for their turn, being intrusive towards others, difficulty managing frustration.
Offering hope for individuals with autism spectrum disorders
The Project Rex Team consists of doctors and therapists with a passion for helping individuals with Autism Spectrum Disorders and their loved ones.
Our staff members are:
For a full list of staff member bios and credentials, visit the Our Staff page.
Pictured, from left: Frampton Gwynette, M.D.; Nancy Warren, Ph.D.; James Truelove, M.S.W.; Jennifer Warthen, M.S.W.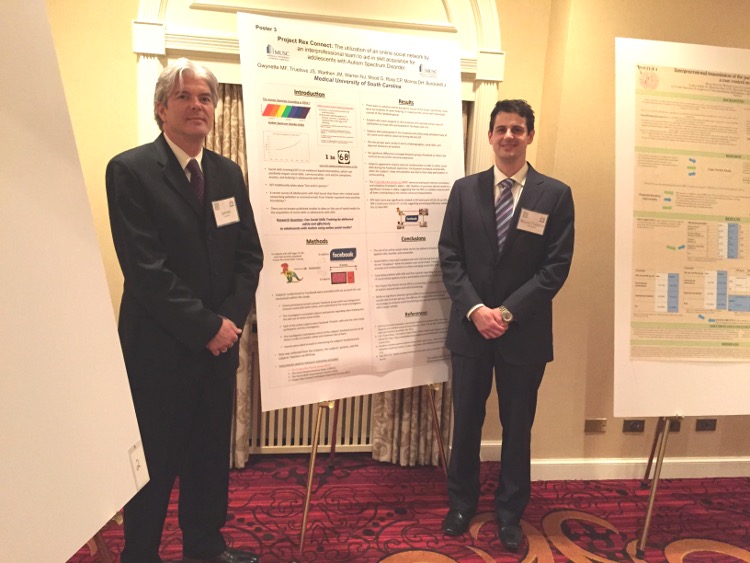 From left: James Truelove, M.S.W., and Frampton Gwynette, M.D. present at the American Society of Adolescent Psychiatry/International Society of Adolescent Psychiatry and Psychology combined meeting in New York City.
Project Rex services include:
Child and Adult Groups
Groups use Cognitive-Behavioral and Activity-Based Therapies to address:
Meltdowns and Aggression
Transitions
Relating to Others
Appropriate Play
Understanding Limitations
Understanding One's Own Emotions and the Emotions of Others
Groups also use Social Stories to help children learn about appropriate communication, boundaries, and coping skills.
Parallel Parent & Sibling Groups
Parent and Sibling Education about Child's Diagnosis
Parent Support and Coaching about Techniques to Help with Child's Problem Behaviors
Guest Speakers from the Community and School District to Help Access Resources and Information
Medication Support
Our clinicians provide fast access to medication management.
Contact Information
Contact Information
Street Address: 67 President Street, Charleston, SC 29425
Phone Number For General Information: 843-792-4113
Phone Number For Scheduling Intakes and Services: 843-792-4113
How to Schedule Services
To schedule an intake, call (843) 792-0037 and request a Project Rex Assessment.
How To Register for Groups & Print Brochure
Group Requirements
Participants must have a Project Rex intake. (Call 843-792-4113 to schedule.)
Children should be verbal, i.e. able to respond directly to simple questions.
Participants should be able to understand simple cognitive lessons (able to process a short didactic lesson or process a social story.)
Younger children should be able to sit for approximately 10 – 15 minutes when listening to group introductions or social stories.
Pre-teens & teens should be able to sit for the duration of group.