Free Parent Support Group in North Charleston
JSS Behavioral Services and Lowcountry Autism Foundation are collaborating on a new, free parent group on the first Thursday of each month at JSS Behavioral Services, 7301 Rivers Ave, Suite 100, North Charleston, SC 29406.
This monthly group is for parents of children with a new diagnosis of Autism Spectrum Disorder to receive both information and practical support.
Please contact the Lowcountry Autism Foundation organizers at (843) 876-0415 for more information.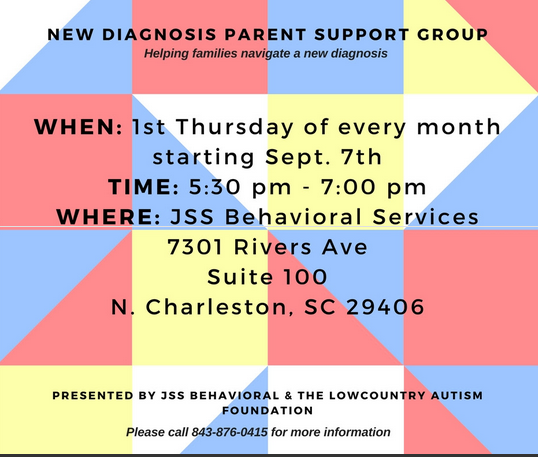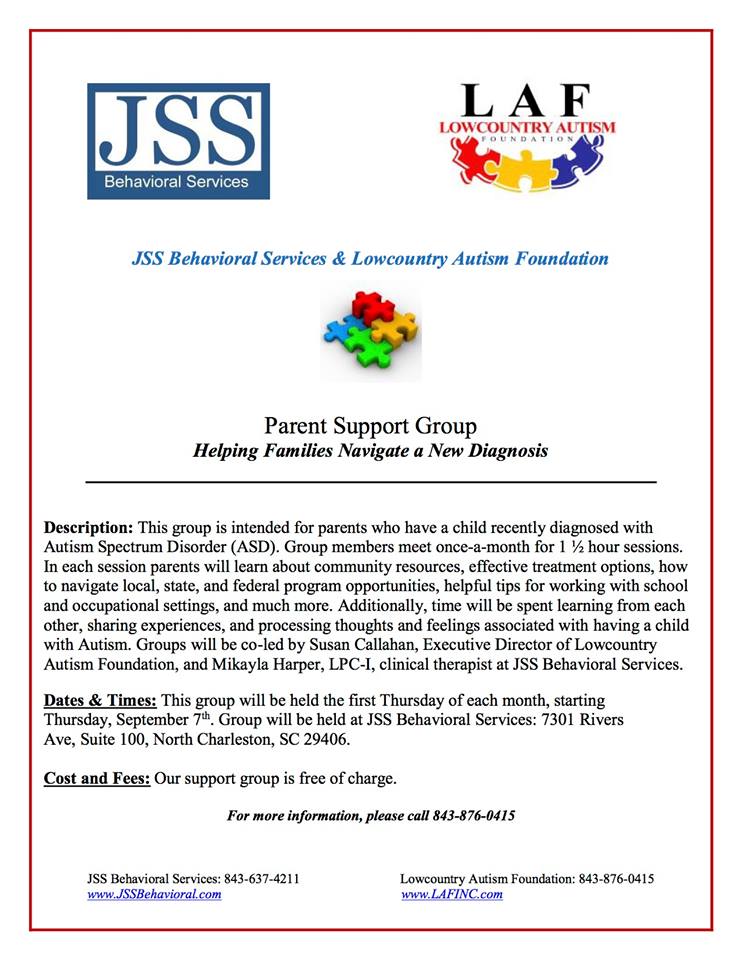 Low Country Autism Support Group
Sponsored by the Early Autism Project, the Low Country Autism Support Group meets the 2nd Tuesday of the month at the Early Autism Project Clinic, 1123 Queensborough Dr., Mt. Pleasant, from 6:30-7:30. Speakers will be invited to each meeting and refreshments are served. Childcare is provided but you must register in advance for the free service.
You do not have to be a client of the Early Autism Project to participate. Saturday respite events are being planned for every other month. For more information and to register for child care, call Anna Bullard at 912-293-5217 or visit abullard@earlyautism.com.
Support Group for Spanish Speaking Families
The Support Group for Spanish Speaking Families meets the 4th Friday of each month from 6-8 PM at the MUSC Northwoods Clinic, 2070 Northbrook Blvd., Suite A-16, N. Charleston. Call Marina at 843-876-2505.
Autism Family Network of the Lowcountry
The Autism Family Network of the Lowcountry (supported by the Lowcountry Autism Foundation) has a Parent Training and Support Group that meets monthly in Summerville on the fourth Tuesday of the month from 6-8pm at Bethany Methodist Church. They also have a public Facebook group; click here to join today.
National Alliance on Mental Illness (NAMI) Charleston Meeting
The Charleston-area NAMI offers multiple support groups for individuals in recovery and family and friends of people with mental illness. All meetings are confidential. For a full list of Charleston-area NAMI meetings, visit the NAMI Charleston Area website.
Other Ongoing Events
Charleston Young Adult ASDs
Charleston Young Adult ASDs is a social enjoyment group for young adults (17-32 +/-) in the autism spectrum in the Charleston area. Its purpose is to give individuals the opportunity to:
Practice different social scenarios in a safe and non-judgmental environment
Connect with others like them (and realize they're not alone!)
Develop skills (through fun activities) to navigate life more smoothly
Increase chances to make/keep friends and get/keep a job
Share experience, strength and hope
To get involved, join the private Facebook group (click "Join Group" so an admin can approve your request).
Children's Museum of the Lowcountry's SuperStars

SuperStars is a FREE, registration-required event in which children with special needs and their families can visit the Museum, explore, and play without the crowds and over-stimulation. The Museum is open before-hours on the second and fourth Sundays of every month from 10am-12pm for this event.