This month's Lowcountry autism events roundup includes a special needs planning workshop, parent training, SPARK for Autism collection event, and more!
Project Rex Reports: Founder Dr. Gwynette Featured on ABC News 4!
Our very own Dr. Gwynette contributed to a popular ABC News 4 story titled, 'The Good Doctor' Raises Awareness of Issues Faced By Adults With Autism.
"I think we have to flip things on its head and remember that support across the lifespan is critical."
Adult Group Registration Now Open!
Our social skills Adult Group for ages 18+ will start on Thursday, January 11th, 2018 and run for 14 consecutive weeks, through April 12th, 2018.
Adult Group will take place each Thursday from 4:00pm-5:30pm at MUSC IOP 5 South.
This Adult Group marks the first time we're running the PEERS for Young Adults curriculum.
PEERS is "a 16-week evidence-based social skills intervention for motivated young adults, who are interested in learning skills to make and keep friends and develop romantic relationships. During each group session, young adults are taught important social skills and are given the opportunity to practice these skills."
Flyers and additional information will follow, but don't wait to register for Adult Group!
Call (843) 792-9162 today to schedule a required intake meeting with James Truelove.
SPARK Event Saturday, November 11th
Want to contribute to national autism research and receive a $50 gift card for your participation? Here's your chance!
Join us for the SPARK for Autism Collection Event in partnership with JSS Behavioral Services at 7301 Rivers Ave #100, North Charleston on Saturday, November 11th.
Call 843-876-8504 to schedule a brief appointment.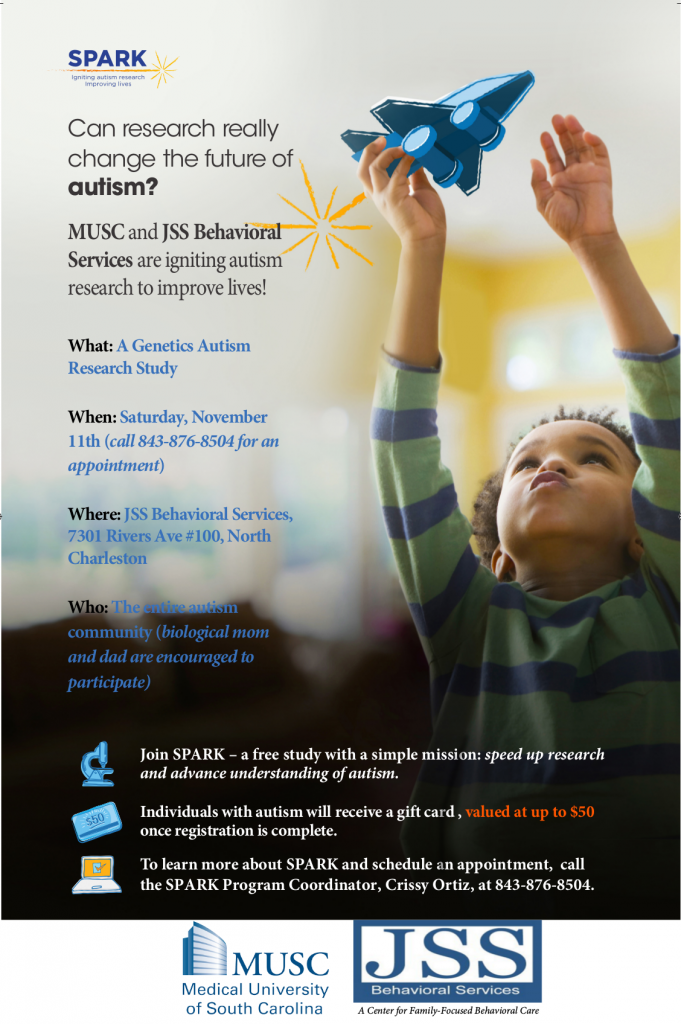 Stay Tuned for Future Hangouts
We had a wonderful Halloween Hangout with 30 (!) participants last week!
If you want to join the fun, stay tuned for forthcoming announcements about Holiday Hangouts. Be sure to sign up for our email list to be the first to know about new Groups and events.
Save the Date for Our 2018 Project Rex Conference!

In celebration of 10 years of serving the autism community, we're hosting a Project Rex Conference on Friday, February 9, 2018!
The topic is Power to the Parents: Supporting individuals with autism from childhood to adulthood. Stay tuned for more details; we can't wait to see you there!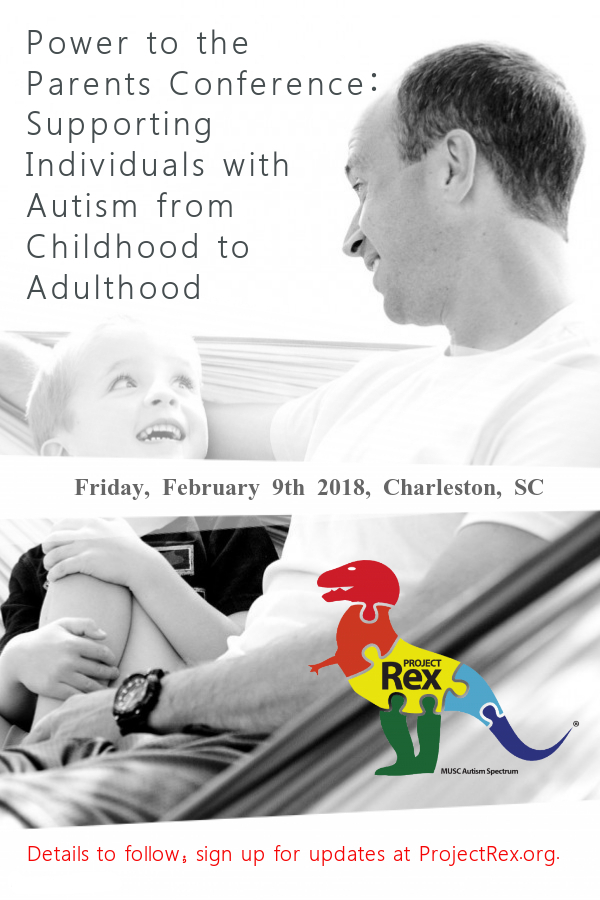 New or One-Time Events
Here are a few highlighted local events. Note that Family Connection SC also offers a monthly events calendar.
FitCatz Fall Program Offerings
The College of Charleston is back with a new group of freshman and returning veterans to teach children with disabilities at FitCatZ!
There's still one upcoming date for Aquatic Therapy: November 8th from 3:15-4:30 p.m. at The Medical University of South Carolina Wellness Center.
Visit the FitCatz Facebook page for more information.
Special Needs Planning Workshop
Announcing a Special Needs Planning Workshop hosted by Family Connection SC conjunction with SAFE (South Carolina Advocates for Epilepsy)
Saturday, November 11th, 11:00 am – 1:00 pm
The Chapel at Cathedral, 3790 Ashley Phosphate Rd, North Charleston, SC
Most parents who have children with special needs fear what will happen to their child once they are no longer around to care for them. We will discuss the importance of special needs trusts and other tools that help families control assets when the parents are no longer around. Light refreshments will be served.
Note: the doors open at 10:30, and the workshop is from 11am-1pm.
Please RSVP to Tracie at thayward@familyconnectionsc.org or Karen at Karen@scepilepsy.org.
Special Olympics Young Athletes
The Special Olympics Young Athletes program engages children ages 2-7 years old with or without intellectual disabilities in activities that develop sports kills like running, kicking, and throwing. Each week, children with a wide range of abilities learn how to interact and play together as they participate in fun recreational activities.
The program is held every Saturday September 30th through November 18th at two locations in Charleston County: Course 52774 is held at James Island County Park from 9am-10am and Course 5275 is held at North Charleston Wannamaker County Park from 11am-12noon. For more information and to register for this free program, click the course links above, or go to the Charleston County Parks website, or call 843-795-4386.
Free Homeless Veterans Pre-Thanksgiving Dinner
 
Every year, Project Street Outreach provides a Thanksgiving meal to our homeless veteran community. Project Street Outreach is a distribution and referral service for the civilians and veteran homeless population in our city and surrounding counties.
This year's event is happening on Saturday, November 18, 2017 at The Bistro, 2025 Reynolds Ave. North Charleston, SC 29405.
MUSC is partnering in this effort, and nurses will be doing wellness checks at the event.
Interested in volunteering? Sign up online at Project Street Outreach or call 843-906-8433.
Project Street Outreach is asking for donations of fully-cooked Thanksgiving meals for 10 or more, or monetary donation that will help purchase pre-cooked dinners for the event.
Additional suggested items include:
Paper napkins
Cups
Bottled water
Plastic spoons, knives, and forks
Styrofoam plates
Take-out containers
Large cans of collard greens
Large cans of green beans
Large cans of corn
Sheet cakes
Dessert pies
Cookies
Support Parent Training (Charleston Area)
Support Parent Training Presented by Family Connection SC
Thursday, November 30th, 10:30 am – 2:30 pm
Otranto Road Regional Library, 2261 Otranto Road
North Charleston, SC 29406
This workshop provides four hours of face to face evidence based training which will give you the skills to be able to support another parent effectively. The goal of the Support Parent Program is to help educate, inspire and empower parents and their children to live rich, fulfilling lives in spite of many challenges.
Why should you become a Support Parent? Because you have already gone through the journey that another parent is just beginning.
This is a lunch and learn. Attendees can bring their own lunch. Lunch will not be provided by Family Connection. SPEAKER: Lisa Anderson.
REGISTRATION INFO: RSVP to Lisa Anderson – Landerson@FamilyConnectionSC.org or by phone: 864-585-5462 – ask for Lisa.
Child Development Research Opportunity
Via Lowcountry Autism Foundation: "If your child has been diagnosed with ASD and is between ages 2-3 years old, you can participate in this study at USC!
You do not have to live near Columbia! Please call 803-777-5676 for more info!"
You can also visit the USC Dev Lab website for more information, or email USCDevLab@gmail.com. Participants are compensated for their time.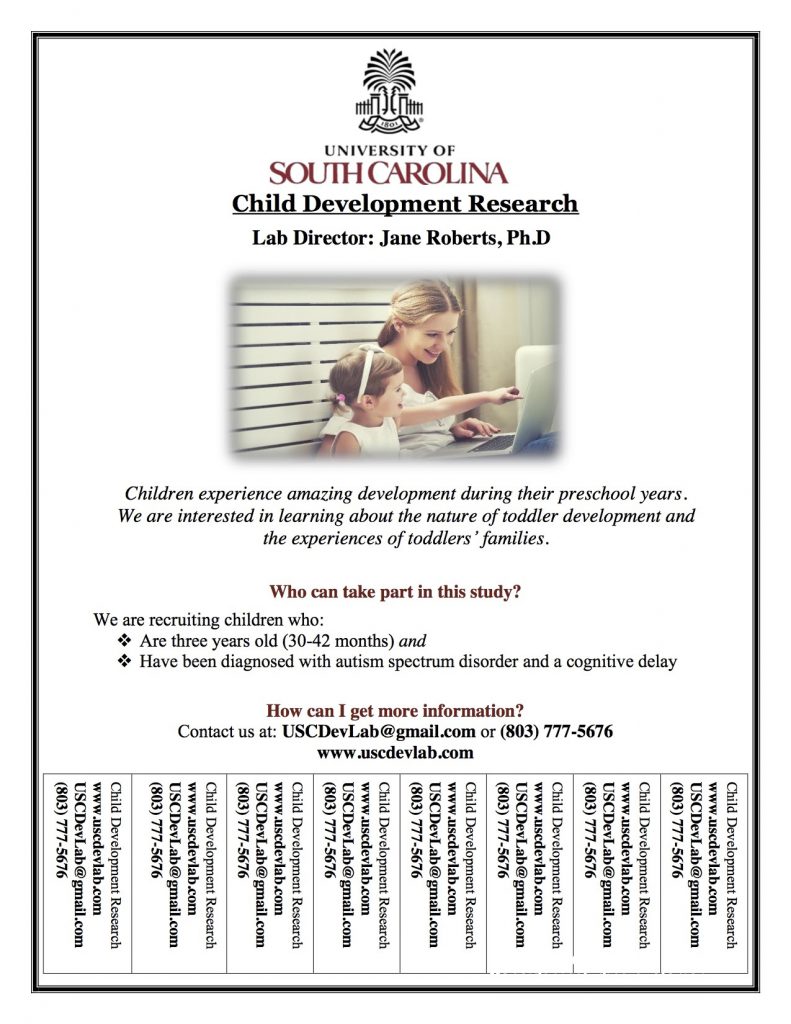 Looking Ahead to December …
Author Ron Powers Speaks in Charleston
Pulitzer Prize winner (and Emmy winner!) Ron Powers is coming to the Charleston Library on Monday, December 4 from 6:00-7:00pm to talk about his new book No One Cares About Crazy People: The Chaos and Heartbreak of Mental Health in America.
The book deals with the heartbreak of having two autistic sons with concurrent mental health concerns; check out the New York Times Review here.
Tickets are $10 for members and $15 for nonmembers. To buy tickets call 843-723-9912 or click here.
Bio: Ron Powers is an award winning critic, journalist, writer, and novelist. While working at the Chicago Sun-Times, he became the first television critic to win a Pulitzer Prize and a little over a decade later he won an Emmy for his commentaries on CBS Sunday Morning with Charles Kuralt. Some of Powers' works include the 2000 #1 bestseller Flags of Our Fathers, Mark Twain: A Life, and most recently, No One Cares About Crazy People: The Chaos and Heartbreak of Mental Health in America, which chronicles his sons' schizophrenia, and the family's experience of dealing with the American mental health system. Powers' lecture, Locking Away Our Mentally Ill–It's a Crime, will cover topics found his recent book.
Charleston County Parks Holiday Hoedown
Holiday Hoedown happens Thursday, December 7, 2017!
People with special needs and their families and friends are invited to an unforgettable night! Come dressed in your favorite western gear to welcome the holiday, country style! Enjoy light refreshments with Mrs. Claus and the Holiday Festival of Lights mascot, Wattson! A chaperone is required for participants ages 15 and under. You must call (843) 795-4386 to register for this program.
Date: December 7, 2017
Time: 6:00 PM - 8:00 PM
Location: North Charleston Wannamaker County Park
Address: North Charleston Wannamaker County Park
8888 University Boulevard, North Charleston, SC 29406
Contact: 843-795-4386
Cost: $4 per person. Free for chaperones.
Ongoing Autism Support Groups
Free Parent Support Group in North Charleston
JSS Behavioral Services and Lowcountry Autism Foundation are collaborating on a new, free parent group on the first Thursday of each month at JSS Behavioral Services, 7301 Rivers Ave, Suite 100, North Charleston, SC 29406.
This monthly group is for parents of children with a new diagnosis of Autism Spectrum Disorder to receive both information and practical support.
Please contact the Lowcountry Autism Foundation organizers at (843) 876-0415 for more information.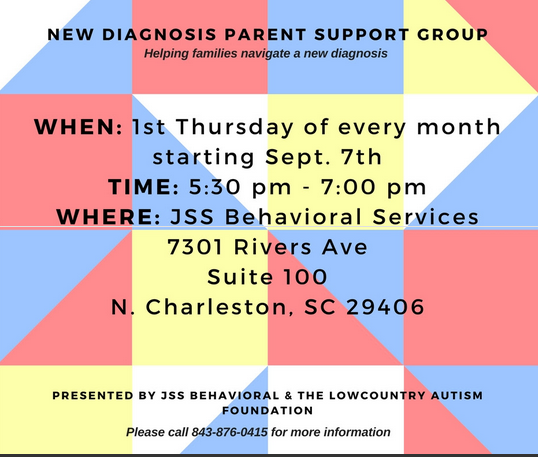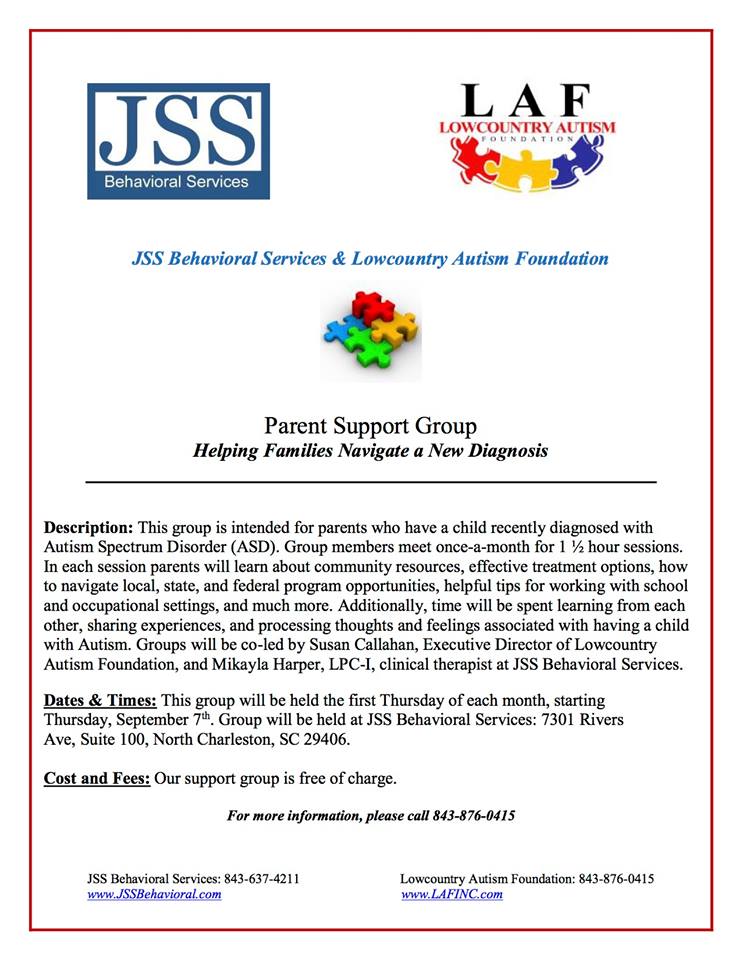 Low Country Autism Support Group
Sponsored by the Early Autism Project, the Low Country Autism Support Group meets the 2nd Tuesday of the month at the Early Autism Project Clinic, 1123 Queensborough Dr., Mt. Pleasant, from 6:30-7:30. Speakers will be invited to each meeting and refreshments are served. Childcare is provided but you must register in advance for the free service.
You do not have to be a client of the Early Autism Project to participate. Saturday respite events are being planned for every other month. For more information and to register for child care, call Anna Bullard at 912-293-5217 or visit abullard@earlyautism.com.
Support Group for Spanish Speaking Families
The Support Group for Spanish Speaking Families meets the 4th Friday of each month from 6-8 PM at the MUSC Northwoods Clinic, 2070 Northbrook Blvd., Suite A-16, N. Charleston. Call Marina at 843-876-2505.
Autism Family Network of the Lowcountry
The Autism Family Network of the Lowcountry (supported by the Lowcountry Autism Foundation) has a Parent Training and Support Group that meets monthly in Summerville on the fourth Tuesday of the month from 6-8pm at Bethany Methodist Church. They also have a public Facebook group; click here to join today.
National Alliance on Mental Illness (NAMI) Charleston Meeting
The Charleston-area NAMI offers multiple support groups for individuals in recovery and family and friends of people with mental illness. All meetings are confidential. For a full list of Charleston-area NAMI meetings, visit the NAMI Charleston Area website.
Other Ongoing Events
Charleston Young Adult ASDs
Charleston Young Adult ASDs is a social enjoyment group for young adults (17-32 +/-) in the autism spectrum in the Charleston area. Its purpose is to give individuals the opportunity to:
Practice different social scenarios in a safe and non-judgmental environment
Connect with others like them (and realize they're not alone!)
Develop skills (through fun activities) to navigate life more smoothly
Increase chances to make/keep friends and get/keep a job
Share experience, strength and hope
To get involved, join the private Facebook group (click "Join Group" so an admin can approve your request).
Children's Museum of the Lowcountry's SuperStars

SuperStars is a FREE, registration-required event in which children with special needs and their families can visit the Museum, explore, and play without the crowds and over-stimulation. The Museum is open before-hours on the second and fourth Sundays of every month from 10am-12pm for this event.
Click here to learn more and register for SuperStars.
Follow Us on Social Media
We do our best to post local events on social media, so Like us on Facebook and follow on Twitter to stay current. And don't forget to sign up for our email list to stay in the loop on the latest Group announcements, events, and autism-related offerings.
~ The Project Rex Team