This month's Lowcountry autism events roundup includes a ton of great autism support groups, athletic events, a movie night, and more!
Project Rex Reports
We're running three great Groups at present: Project PEERS, School-Age, and Pre-Teen/Teen. Registration is now closed, but you can stay in the loop about future Groups and events by signing up for our email list.
Successful SPARK Event
We're grateful to each of the seven families who came to support autism research at MUSC's SPARK for Autism collection event this weekend! They made a contribution to the largest national research study and helped bring us one step closer to understanding autism in the process.
Missed the event, but still want to get involved? Read more and register online.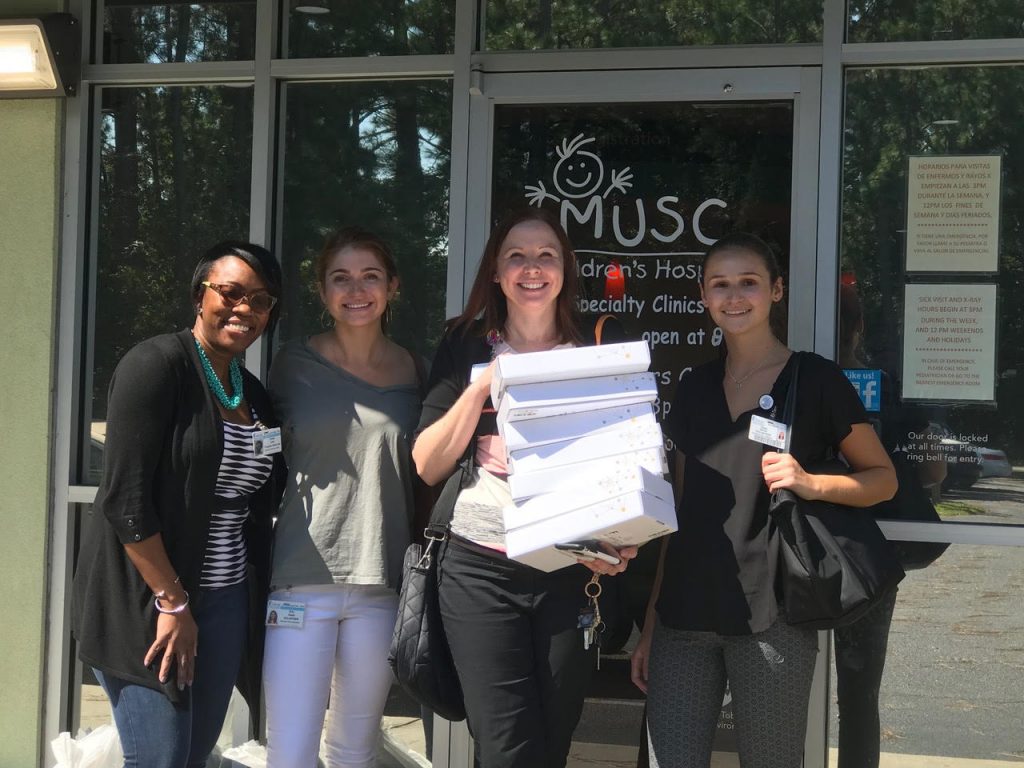 SPARK study team, pictured from left to right: Crissy Ortiz: SPARK study coordinator; Erin: College of Charleston Volunteer and SPARK team member; Dr. Laura Carpenter: SPARK study Principal Investigator for the MUSC site; Clara: College of Charleston Volunteer and SPARK team member
New Student Intern
We're also excited to welcome our newest Student Intern from USC Tatevik Yeghiazaryan! She's from Armenia, and our staff and participants call her Tate.
Tate is a graduate student in the USC Master's Level Social Work program, and she'll be with us through early May.
Project Rex has been a USC field placement for the last seven years, and our interns play a crucial role in allowing us to run as many programs as we do.
Since our full-time staff is small, graduate students help us with management of group and clinical operations. In turn, we provide them with clinical experience working with children and teens on the spectrum.
Calling Adults with Autism and Depression
Are you an adult with Autism and Depression? Then be sure to enroll in our Autism and Depression study.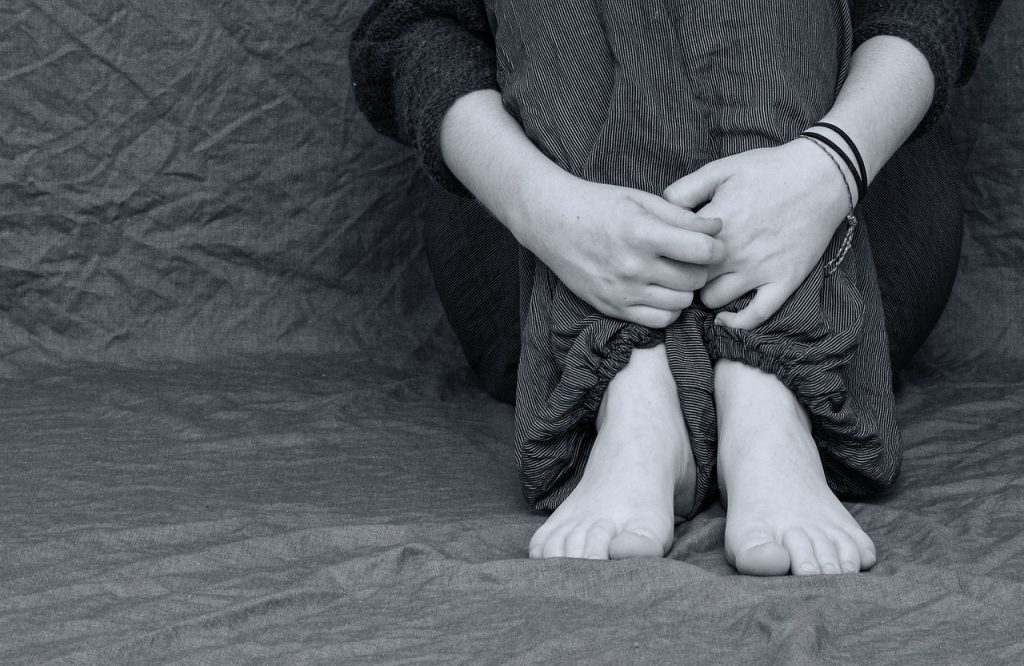 We are currently recruiting adults ages 18-65 who have a diagnosis of Autism Spectrum Disorder as well as Depression for a research study at MUSC. The purpose of this study is to investigate new possibilities for treatment for symptoms of both autism and depression.
Compensation will be available to participants. Prospective research participants and referring providers are invited to review detailed information about this study at the official information page at ClinicalTrials.gov.
If you or someone you know is interested in being in this study, please call us at 843-647-6799 or email Melanie Wiley at wileym@musc.edu. Also visit the Autism and Depression study page to learn more.
Save the Date for Our 2018 Project Rex Conference!

In celebration of 10 years of serving the autism community, we're hosting a Project Rex Conference on Friday, February 9, 2018!
The topic is Power to the Parents: Supporting individuals with autism from childhood to adulthood. Stay tuned for more details; we can't wait to see you there!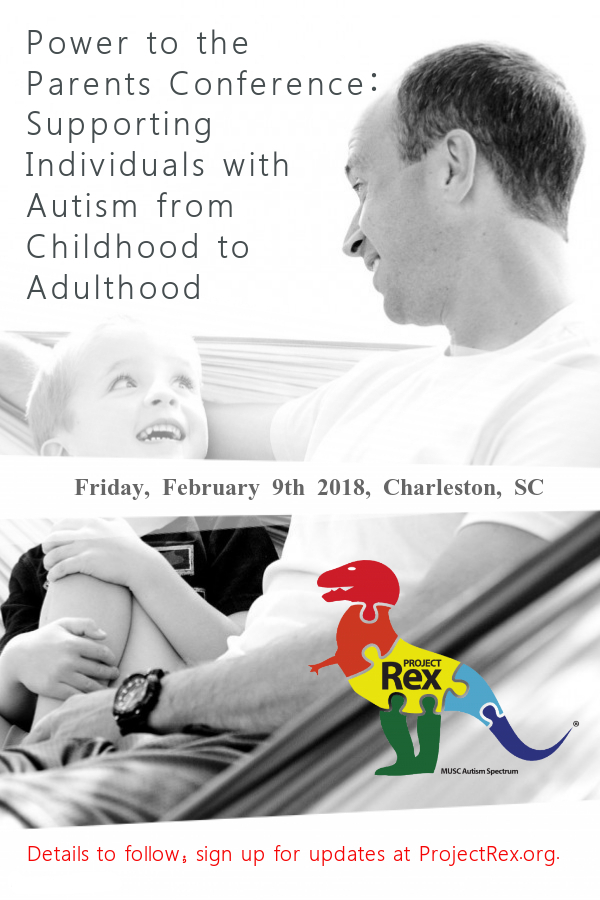 New or One-Time Events
Family Connection SC now offers a monthly events calendar; check out the Lowcountry listings for full details. Here are a few highlighted local events.
New Free Parent Support Group Meets Thursday, October 5th!
JSS Behavioral Services and Lowcountry Autism Foundation are collaborating on a new, free parent group on the first Thursday of each month at JSS Behavioral Services, 7301 Rivers Ave, Suite 100, North Charleston, SC 29406.
This monthly group is for parents of children with a new diagnosis of Autism Spectrum Disorder to receive both information and practical support.
Please contact the Lowcountry Autism Foundation organizers at (843) 876-0415 for more information.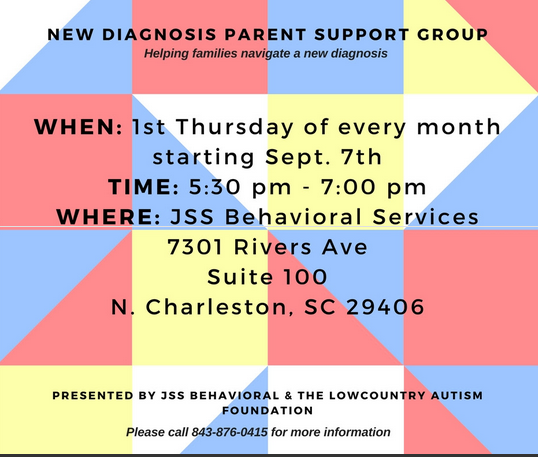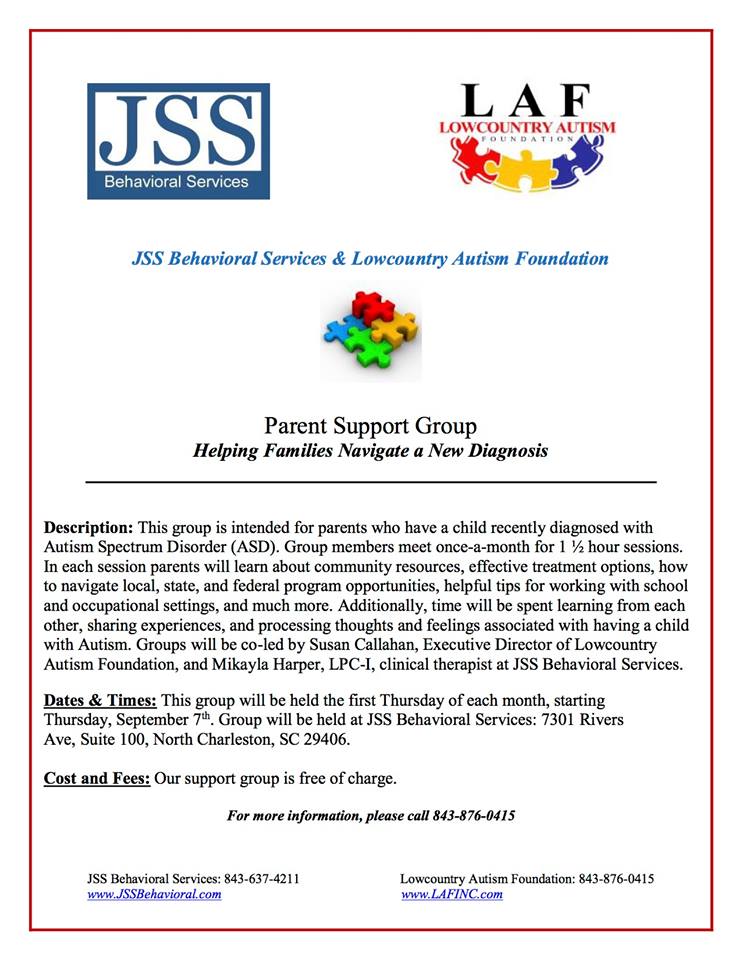 SCAND Research Symposium
The first annual SC Autism and Neurodevelopmental Disorders (SCAND) Research Symposium is happening Monday, October 9, 2017 at the USC Alumni Center in Columbia, SC from 8:30am – 5:00pm.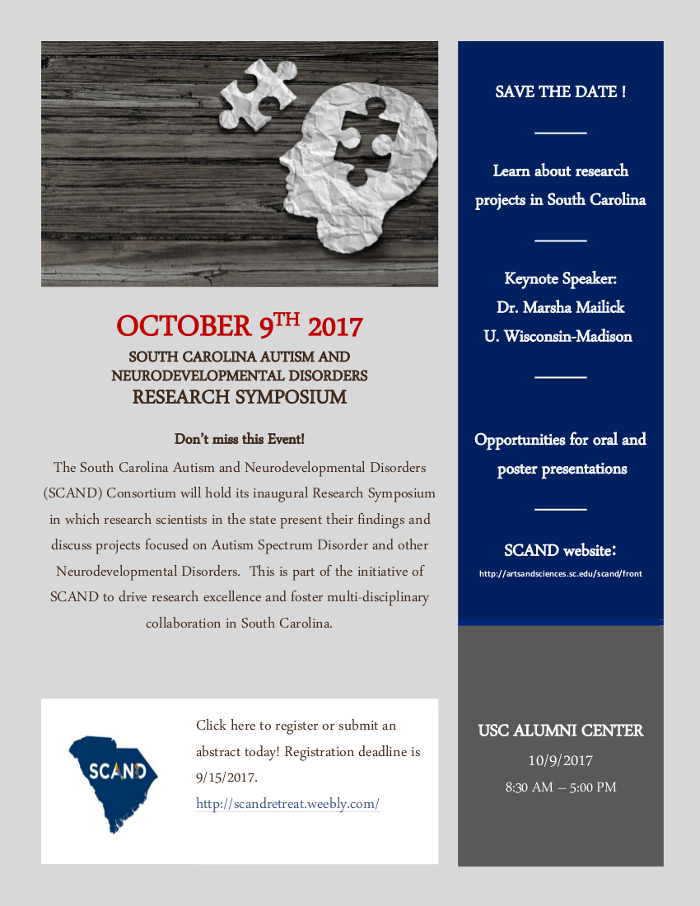 Attendees will learn about research projects in South Carolina, as researchers present their findings and discuss projects focused on Autism Spectrum Disorder and other Neurodevelopmental disorders.
For more information and to register, visit the event website.
Run, Walk, & Roll: Adaptive Holiday Fun Run Training
Participants with disabilities are invited to run, walk, or roll on paved trails while building endurance through structured physical activity goals.
We will gradually increase the distance traveled culminating with participation in the Holiday Festival of Lights Fun Run and Walk on Wednesday, November 8, 2017.
Ages 13 & up welcomed. Please call 843-795-4386 to register, or visit the Charleston County Parks online listing.
Date: Starts Monday, October 9, 2017 and meets each Monday and Wednesday from October 9th – November 1st.
Time: 5:15 PM - 6:15 PM
Location: James Island County Park, 871 Riverland Drive, Charleston, SC 29412
Cost: $52 per person. Also includes individual Holiday Festival of Lights Fun Run & Walk admission.
FitCatz Fall Program Offerings
The College of Charleston is back with a new group of freshman and returning veterans to teach children with disabilities at FitCatZ!
There's still one more date for Motor Therapy: October 11th from 3:30-5:00 p.m. at the Arthur W. Christopher Community Center, 265 Fishburne St, Charleston, SC 29403
Plus, there are four upcoming dates for Aquatic Therapy: October 18th, 25th, November 1st & 8th from 3:15-4:30 p.m. at The Medical University of South Carolina Wellness Center.
Visit the FitCatz Facebook page for more information.
CATR Movie Night

Charleston Area Therapeutic Riding Pony Up Movie Night Under the Roof is coming soon!
What: Screening of the movie National Velvet; Food trucks, Family-friendly activities and more!
Why: All proceeds go to benefit CATR's therapy horses
When: Friday, October 13th from 5:30pm – 9:30 pm
Where: Under the Roof at Brickhouse Equestrian Center, 2669 Hamilton Rd, Johns Island, SC
Make sure to bring blankets and chairs to get comfortable under the roof for National Velvet!
Purchase tickets online; prices go up October 9th! Please contact Amanda Gerald at info@catr-program.org for more information.
New Bluffton Autism Parent Support Group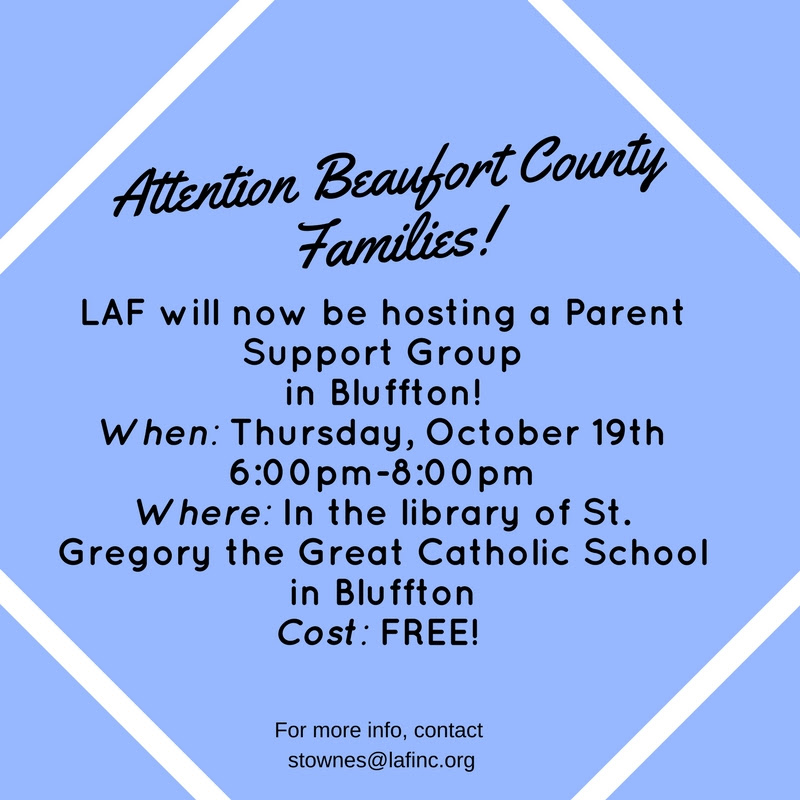 Attention Beaufort County families: Lowcountry Autism Foundation will be hosting a Parent Support Group in Bluffton!
When: Thursday, October 19th from 6:00pm-8:00pm
Where: In the library of St. Gregory the Great Catholic School in Bluffton
Cost: Free!
For more information, contact stownes@lafinc.org.
Special Olympics Young Athletes
The Special Olympics Young Athletes program engages children ages 2-7 years old with or without intellectual disabilities in activities that develop sports kills like running, kicking, and throwing. Each week, children with a wide range of abilities learn how to interact and play together as they participate in fun recreational activities.
The program is held every Saturday September 30th through November 18th at two locations in Charleston County: Course 52774 is held at James Island County Park from 9am-10am and Course 5275 is held at North Charleston Wannamaker County Park from 11am-12noon. For more information and to register for this free program, click the course links above, or go to the Charleston County Parks website, or call 843-795-4386.
Ongoing Autism Support Groups
Low Country Autism Support Group
Sponsored by the Early Autism Project, the Low Country Autism Support Group meets the 2nd Tuesday of the month at the Early Autism Project Clinic, 1123 Queensborough Dr., Mt. Pleasant, from 6:30-7:30. Speakers will be invited to each meeting and refreshments are served. Childcare is provided but you must register in advance for the free service.
You do not have to be a client of the Early Autism Project to participate. Saturday respite events are being planned for every other month. For more information and to register for child care, call Anna Bullard at 912-293-5217 or visit abullard@earlyautism.com.
Support Group for Spanish Speaking Families
The Support Group for Spanish Speaking Families meets the 4th Friday of each month from 6-8 PM at the MUSC Northwoods Clinic, 2070 Northbrook Blvd., Suite A-16, N. Charleston. Call Marina at 843-876-2505.
Autism Family Network of the Lowcountry
The Autism Family Network of the Lowcountry (supported by the Lowcountry Autism Foundation) has a Parent Training and Support Group that meets monthly in Summerville on the fourth Tuesday of the month from 6-8pm at Bethany Methodist Church.
They also have a public Facebook group; click here to join today.
National Alliance on Mental Illness (NAMI) Charleston Meeting
The Charleston-area NAMI offers multiple support groups for individuals in recovery and family and friends of people with mental illness. All meetings are confidential. For a full list of Charleston-area NAMI meetings, visit the NAMI Charleston Area website.
Other Ongoing Events
Charleston Young Adult ASDs
Charleston Young Adult ASDs is a social enjoyment group for young adults (17-32 +/-) in the autism spectrum in the Charleston area. Its purpose is to give individuals the opportunity to:
Practice different social scenarios in a safe and non-judgmental environment
Connect with others like them (and realize they're not alone!)
Develop skills (through fun activities) to navigate life more smoothly
Increase chances to make/keep friends and get/keep a job
Share experience, strength and hope
To get involved, join the private Facebook group (click "Join Group" so an admin can approve your request).
Children's Museum of the Lowcountry's SuperStars

SuperStars is a FREE, registration-required event in which children with special needs and their families can visit the Museum, explore, and play without the crowds and over-stimulation. The Museum is open before-hours on the second and fourth Sundays of every month from 10am-12pm for this event.
Click here to learn more and register for SuperStars.
Follow Us on Social Media
We do our best to post local events on social media, so Like us on Facebook and follow on Twitter to stay current. And don't forget to sign up for our email list to stay in the loop on the latest Group announcements, events, and autism-related offerings.
~ The Project Rex Team