This month's Lowcountry autism events roundup includes registration for the Autism Treatment and Resources Conference, several incredibly practical, accessible workshops on navigating the special needs journey, and more!
Be sure to sign up for our email list to be the first to know about new Groups and events.
Project Rex Conference on Friday, February 9th: Register Today!

In celebration of 10 years of serving the autism community, we're hosting a Project Rex Conference! The topic is Autism Treatment & Resources for All Stages of Life: Empowering Patients and Parents.
Date: Friday, February 9, 2018
Time: 8:30AM – 4:30PM
Location: Strom Thurmond Building, Gazes Auditorium, MUSC downtown Charleston campus
Registration Link: Register Online via MUSC Psych Events, or download the printable online form and mail in your payment; on-site, day-of registration is also available
Audience: This conference is designed for psychiatrists, psychologists, primary care physicians, social workers, counselors, school counselors, and other mental health professionals who have an interest in obtaining a comprehensive overview of autism, as well as parents and other family members of patients.
Program Objectives: At the end of this workshop, participants will be able to:
• Describe the diagnostic criteria for autism.
• Explain the role of the family in the treatment of autism.
• Identify and list treatments for autism.
Virtual Motion: Social Skills Pilot Course
Join us for a partnership with Social Motion Skills, a pilot course via video conference! Learn and grow from the comfort of your home.
Topics include: conversation skills, coping strategies, anger management, perspective taking, self-awareness, and more. Ages 14-18 are welcome to join, and the fee is $100. The course runs Thursdays, from February 15th through May 3rd, 2018 from 6:30-7:30pm Eastern Time.
To join, email instructor Brandi Timmons at btimmons@socialmotionskills.org or visit the Social Motion Skills Virtual Motion page.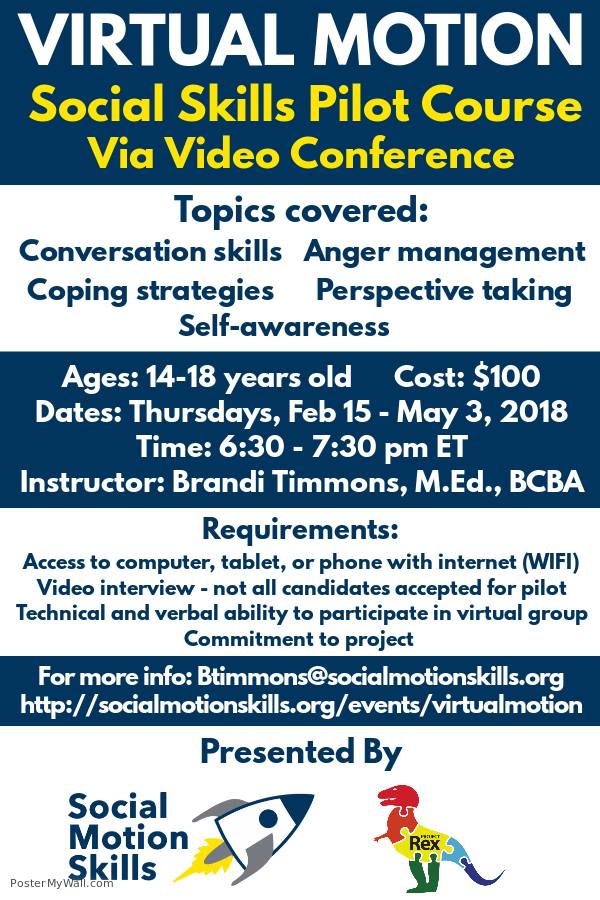 New or One-Time Events
Here are a few highlighted local events. Note that Family Connection SC also offers a monthly events calendar.
Workshop: Lifelong Financial and Care Requirements of a Family Member
Family Connection of SC presents a new workshop: A Practical Guide on how to address the Lifelong Financial and Care Requirements of a Family Member with a Disability.
This is the first of a five part workshop series on topics for caregivers of teens and adults with disabilities. Workshops will be held on the second Thursday of each month.
Date: Thursday, February 8th from 6:00 pm – 7:00 pm
Location: Mount Pleasant Regional Library, 1133 Mathis Ferry Road, Mt. Pleasant, SC 29464
Workshop: Journey Toolkit – The Power of Organization
Family Connection of SC presents Journey Toolkit – The Power of Organization.
Parents will learn how to manage the overwhelming amount of paperwork created by educational and medical services. This organizational tool facilitates communication between parents and professionals to achieve the best possible health and educational outcomes for children with special needs or disabilities.
This is a hands-on workshop and parents are welcome to bring their most recent documents to add to their journey book. Professionals attending this workshop will be better prepared to assist the families they serve with preparing and organizing the paperwork and extensive information that comes with having a child with special healthcare needs.
Speaker: Tracie Hayward of Family Connection of SC
Date: Saturday, February 10th from 2:00 pm – 3:00 pm
Location: Armory Park Building, 5000 Lackawanna Blvd, North Charleston, SC 29405
Inclusive Coffee Shop Grand Opening
You're invited to Bitty & Beau's Coffee's Charleston Ribbon Cutting & Grand Opening on Wednesday, February 14th at 10am at 159 Church Street.
Bitty and Beau's is run by adults with intellectual and developmental challenges such as autism, so come out and support them!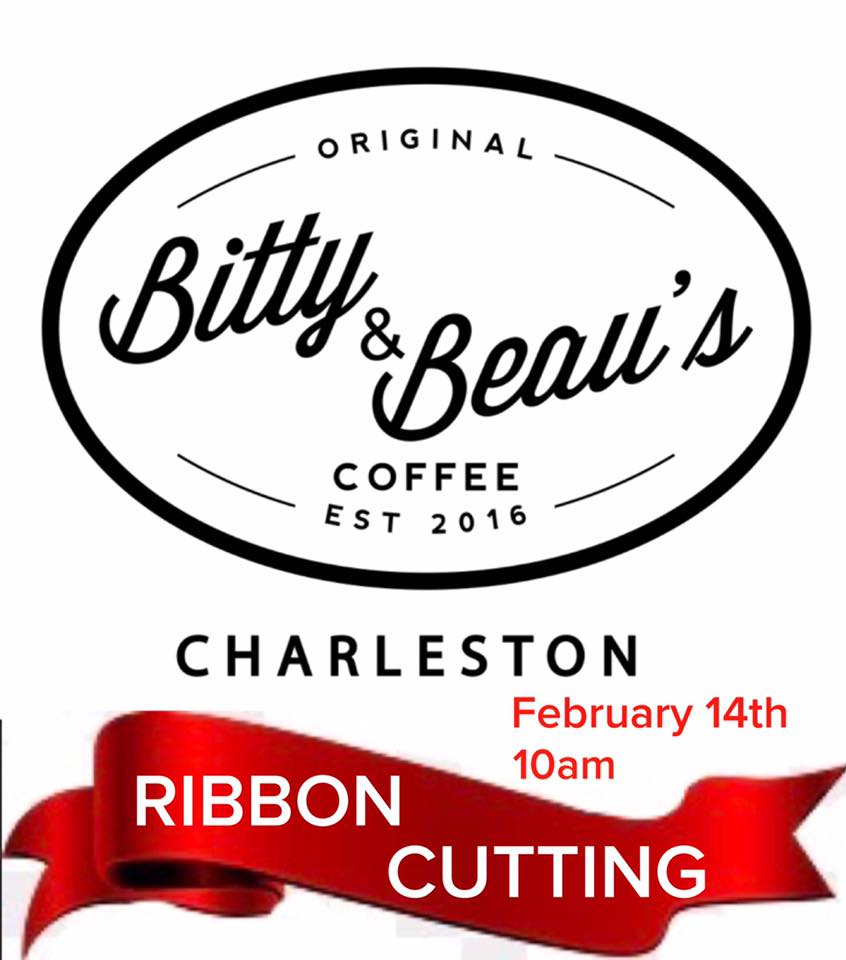 New Local PEERS Group from JSS Behavioral Services
Missed our last round of Adult Group registration? JSS Behavioral Services is now offering a PEERS social skills group. Meetings begin on Tuesday, February 20th, but registration closes Friday, February 16th, so check it out while you can!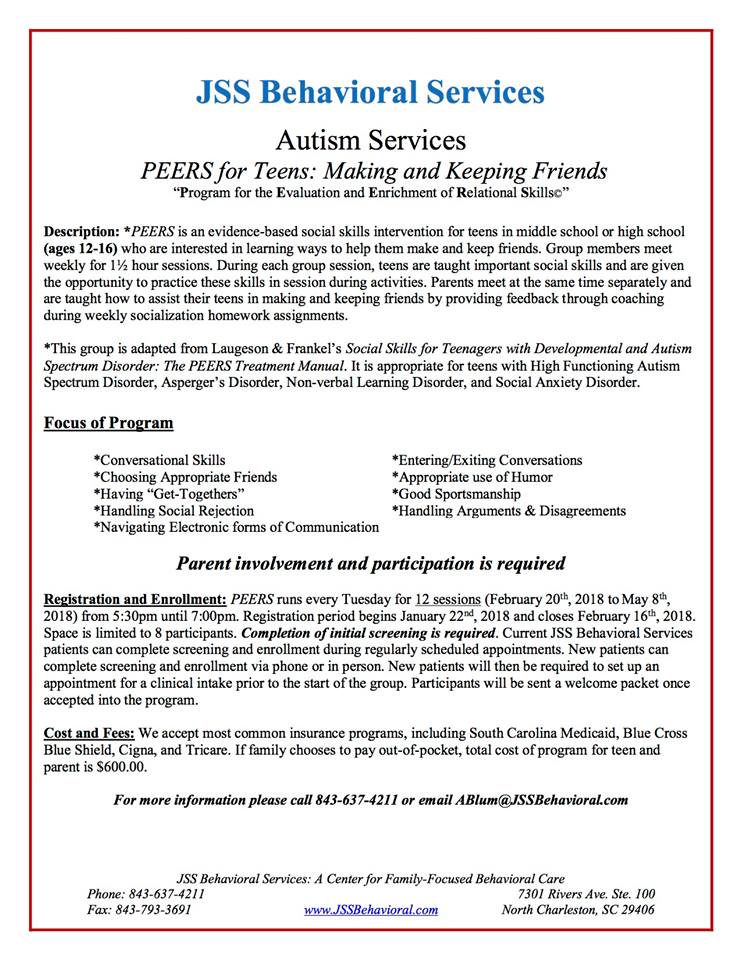 Resource List: Summer Programs Available
The SC Autism Society has started compiling a list for 2018 summer programs for individuals with autism; start planning ahead and see what's available!
Ongoing Autism Support Groups
Free Parent Support Group in North Charleston
JSS Behavioral Services and Lowcountry Autism Foundation are collaborating on a new, free parent group on the first Thursday of each month at JSS Behavioral Services, 7301 Rivers Ave, Suite 100, North Charleston, SC 29406.
This monthly group is for parents of children with a new diagnosis of Autism Spectrum Disorder to receive both information and practical support.
Please contact the Lowcountry Autism Foundation organizers at (843) 876-0415 for more information.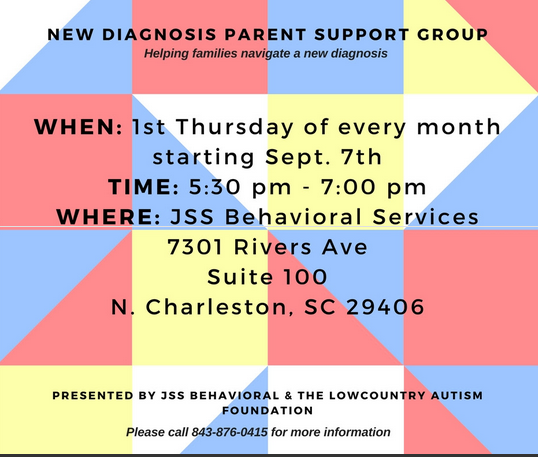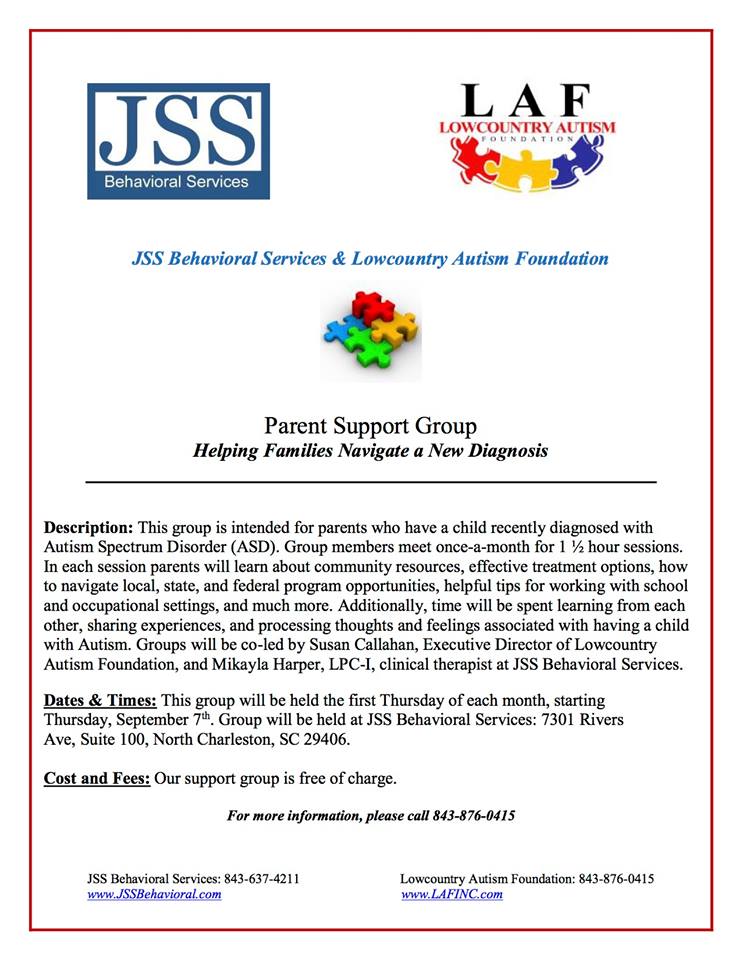 Low Country Autism Support Group
Sponsored by the Early Autism Project, the Low Country Autism Support Group meets the 2nd Tuesday of the month at the Early Autism Project Clinic, 1123 Queensborough Dr., Mt. Pleasant, from 6:30-7:30. Speakers will be invited to each meeting and refreshments are served. Childcare is provided but you must register in advance for the free service.
You do not have to be a client of the Early Autism Project to participate. Saturday respite events are being planned for every other month. For more information and to register for child care, call Anna Bullard at 912-293-5217 or visit abullard@earlyautism.com.
Support Group for Spanish Speaking Families
The Support Group for Spanish Speaking Families meets the 4th Friday of each month from 6-8 PM at the MUSC Northwoods Clinic, 2070 Northbrook Blvd., Suite A-16, N. Charleston. Call Marina at 843-876-2505.
Autism Family Network of the Lowcountry
The Autism Family Network of the Lowcountry (supported by the Lowcountry Autism Foundation) has a Parent Training and Support Group that meets monthly in Summerville on the fourth Tuesday of the month from 6-8pm at Bethany Methodist Church. They also have a public Facebook group; click here to join today.
National Alliance on Mental Illness (NAMI) Charleston Meeting
The Charleston-area NAMI offers multiple support groups for individuals in recovery and family and friends of people with mental illness. All meetings are confidential. For a full list of Charleston-area NAMI meetings, visit the NAMI Charleston Area website.
Other Ongoing Events
Charleston Young Adult ASDs
Charleston Young Adult ASDs is a social enjoyment group for young adults (17-32 +/-) in the autism spectrum in the Charleston area. Its purpose is to give individuals the opportunity to:
Practice different social scenarios in a safe and non-judgmental environment
Connect with others like them (and realize they're not alone!)
Develop skills (through fun activities) to navigate life more smoothly
Increase chances to make/keep friends and get/keep a job
Share experience, strength and hope
To get involved, join the private Facebook group (click "Join Group" so an admin can approve your request).
Children's Museum of the Lowcountry's SuperStars

SuperStars is a FREE, registration-required event in which children with special needs and their families can visit the Museum, explore, and play without the crowds and over-stimulation. The Museum is open before-hours on the second and fourth Sundays of every month from 10am-12pm for this event.
Click here to learn more and register for SuperStars.
Follow Us on Social Media
We do our best to post local events on social media, so Like us on Facebook and follow on Twitter to stay current. And don't forget to sign up for our email list to stay in the loop on the latest Group announcements, events, and autism-related offerings.
~ The Project Rex Team