Pre-Teen/Teen Group (ages 10-15): Tuesdays 2-3PM March 20th – May 15th, 2018. (No group April 3rd.)

Location: MUSC IOP 5 South, 67 President Street, Charleston, SC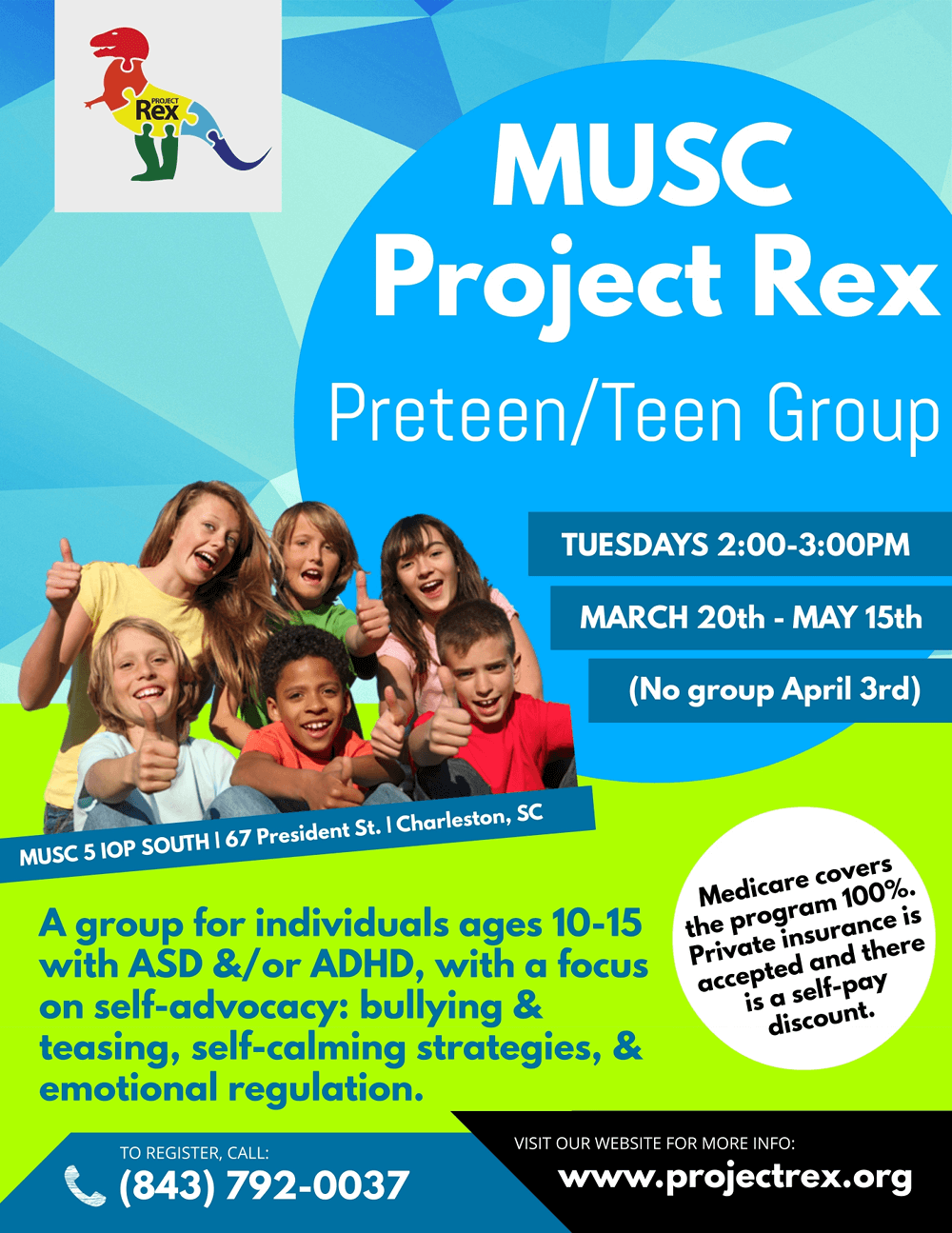 Download a hi-res printable version of this flyer here.
This group's curriculum will focus on self-advocacy: bullying & teasing, self-calming strategies, & emotional regulation.
Wondering about admissions criteria? For Pre-Teen/Teen Group …
Teens and parents must be able to commit to the full 8-week program
Note that this Group has more opportunities for movement based activities, but teens must be verbal and able to sit and listen to a lesson for periods of approximately 15 minutes at a time
A parent or parent representative must be present at either group
Teens are encouraged to complete computer-based homework to practice the skills at home
Also note that with parent permission, video modeling will be used in group as a learning tool; participant role plays will be videotaped, shown to participants, and shared with parents as well.
To schedule an intake, call (843) 792-0037 and request a Project Rex Assessment.
Once the intake is complete, contact administrative assistant Lavinia Bowens at (843) 792-0037 to confirm attendance in the group series.
Please plan to arrive 15 minutes early for sign in and registration.
Project Rex groups include a mandatory parent component that meets at the same time as the Pre-Teen/Teen group.
Medicaid covers the program 100% and most private insurance is accepted. There is a discount for self-pay.
Questions about signing up? Check out our Frequently-Asked Questions page.