Are you a teen with autism or ADHD who's eager to improve your social skills?
Does your school, work, or daytime program schedule prevent you from joining us for our usual daytime Groups?
Does your family live too far from MUSC to make a weekly drive, or are you missing reliable transportation?
If so, we have the perfect solution for you: our Pilot Program for Virtual Social Skills!
Virtual Social Skills Training for Teens with Autism and ADHD
We've partnered with Social Motion to offer this evidence-based curriculum; it allows you to improve your social skills via video conference, from the comfort of your own home.
You'll learn …
Conversation skills
Coping strategies
Anger management
Perspective taking
Self-awareness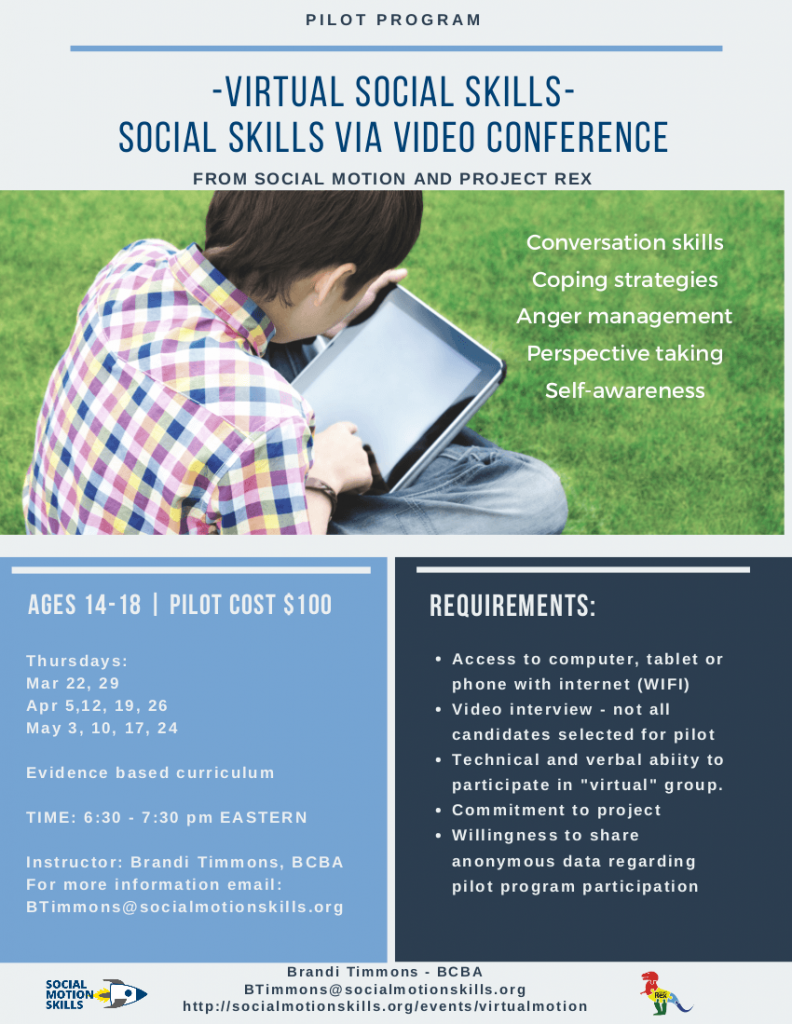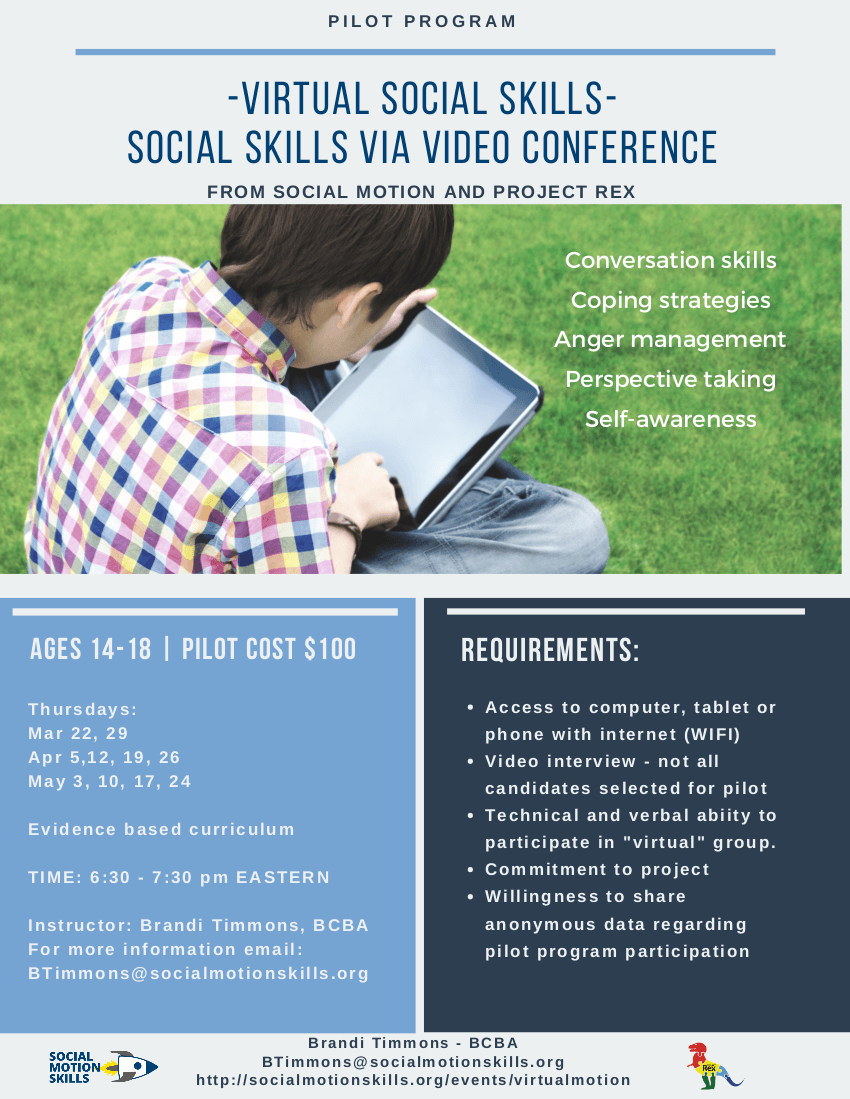 Who: Teens and Young Adults Ages 14-18
Pilot Program Cost: $100
Date and Time: Weekly on Thursdays from March 22 – May 24; 6:30pm – 7:30pm Eastern
Full List of Dates: March 22; March 29; April 5; April 12; April 19; April 26; May 3; May 10; May 17; May 24
Instructor: Brandi Timmons, BCBA at Social Motion Skills
To enroll, email BTimmons@socialmotionskills.org
Participant Requirements:
Access to computer, tablet, or phone with Internet (WiFi)
Video interview (note that not all candidates are selected for this pilot program)
Technical and verbal ability to participate in virtual group
Commitment to project
Willingness to share anonymous data regarding pilot program participation
Act Now: Pre-Teen/Teen Group Registration Is Still Open!
Our Pre-Teen/Teen Group for ages 10-15 starts in just two weeks, so now is the time to call (843) 792-0037 and schedule your intake! If you've already done an intake, call (843) 792-0037 to confirm your attendance in the Group.
Here are the details:
Curriculum: Focuses on self-advocacy: bullying & teasing, self-calming strategies, & emotional regulation
Time: Tuesdays 2-3PM; March 20th – May 15th, 2018. (No group April 3rd.)

Location: MUSC IOP 5 South, 67 President Street, Charleston, SC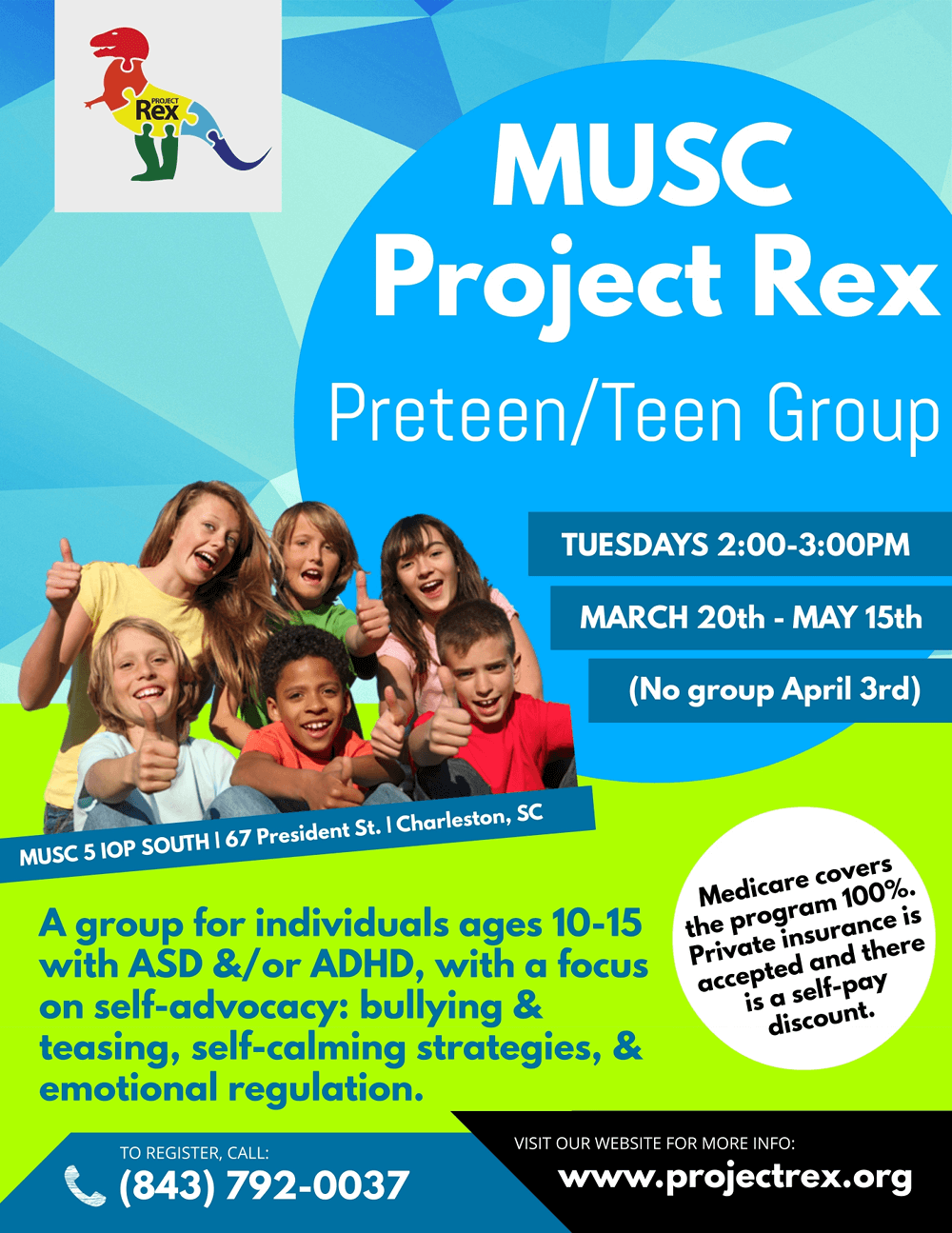 Download a hi-res printable version of this flyer here.
Wondering about admissions criteria? For Pre-Teen/Teen Group …
Teens and parents must be able to commit to the full 8-week program
Note that this Group has more opportunities for movement based activities, but teens must be verbal and able to sit and listen to a lesson for periods of approximately 15 minutes at a time
A parent or parent representative must be present at either group
Teens are encouraged to complete computer-based homework to practice the skills at home
Also note that with parent permission, video modeling will be used in group as a learning tool; participant role plays will be videotaped, shown to participants, and shared with parents as well.
To schedule an intake, call (843) 792-0037 and request a Project Rex Assessment.
Once the intake is complete, contact administrative assistant Lavinia Bowens at (843) 792-0037 to confirm attendance in the group series.
Please plan to arrive 15 minutes early for sign in and registration.
Project Rex groups include a mandatory parent component that meets at the same time as the Pre-Teen/Teen group.
Medicaid covers the program 100% and most private insurance is accepted. There is a discount for self-pay.
Questions about signing up? Check out our Frequently-Asked Questions page.