This month's Lowcountry autism events roundup includes two new social skills Groups for individuals with autism and ADHD, registration for the Autism Treatment and Resources Conference, and more!
Be sure to sign up for our email list to be the first to know about new Groups and events.
Project Rex Reports
School-Age Group Registration: Time Is Almost Up!
Do you have a child with autism, or social skills struggles and an as-yet-unconfirmed diagnosis? Then check out School-Age Group (ages 6-10), meeting Tuesdays 2-3PM from January 9 – February 27, 2018 at MUSC IOP 5 South, 67 President Street, Charleston, SC.
This 8-week group is designed to enhance social skills of children with high-functioning ASD and ADHD. Diagnosis is not required for participation.
Social skills are introduced through social stories and include greetings, conversation skills, types of social relationships, boundaries, managing frustration and anger, and more. Groups include sensory and gross motor activities to enhance play skills.
Note that a mandatory parent group meets at the same time as this group.
To schedule an intake, call (843) 792-0037 and request a Project Rex Assessment.
Once the intake is complete, contact administrative assistant Lavinia Bowens at (843) 792-0037 to confirm attendance in the group series.
Please plan to arrive 15 minutes early to each group meeting for sign in and registration.
Medicaid covers the program 100% and most private insurance is accepted. There is a discount for self-pay.
Questions about signing up? Check out our Frequently-Asked Questions page.
Adult Group Registration: Enroll ASAP!
Do you know a young adult on the autism spectrum who'd like to work on social skills in a supportive group setting? Then call us ASAP at (843) 792-9162 to register for our social skills Adult Group!
This Group for ages 18+ starts on Thursday, January 11th, 2018 and runs for 14 consecutive weeks each Thursday from 4:00pm-5:30pm at MUSC IOP 5 South.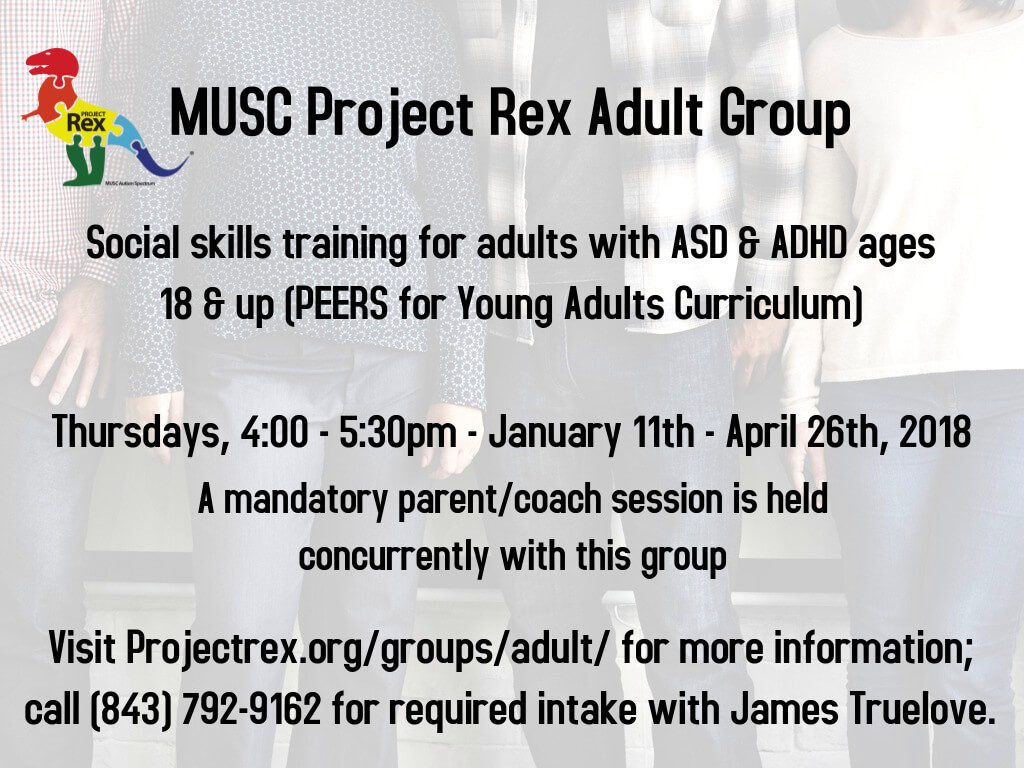 This Adult Group marks the first time we're running the PEERS for Young Adults curriculum.
PEERS is "a 16-week evidence-based social skills intervention for motivated young adults, who are interested in learning skills to make and keep friends and develop romantic relationships. During each group session, young adults are taught important social skills and are given the opportunity to practice these skills."
Call (843) 792-9162 today to schedule a required intake meeting with James Truelove.
Project Rex Conference in February: Register Today!

In celebration of 10 years of serving the autism community, we're hosting a Project Rex Conference! The topic is Autism Treatment & Resources for All Stages of Life: Empowering Patients and Parents.
Date: Friday, February 9, 2018
Time: 8:30AM – 4:30PM
Location: MUSC downtown Charleston campus, address and auditorium to be announced.
Registration Link: Register Online via MUSC Psych Events, or download the printable online form and mail in your payment
Audience: This conference is designed for psychiatrists, psychologists, primary care physicians, social workers, counselors, school counselors, and other mental health professionals who have an interest in obtaining a comprehensive overview of autism, as well as parents and other family members of patients.
Program Objectives: At the end of this workshop, participants will be able to:
• Describe the diagnostic criteria for autism.
• Explain the role of the family in the treatment of autism.
• Identify and list treatments for autism.
New or One-Time Events
Here are a few highlighted local events. Note that Family Connection SC also offers a monthly events calendar.
Child Development Research Opportunity
Via Lowcountry Autism Foundation: "If your child has been diagnosed with ASD and is between ages 2-3 years old, you can participate in this study at USC!
You do not have to live near Columbia! Please call 803-777-5676 for more info!"
You can also visit the USC Dev Lab website for more information, or email USCDevLab@gmail.com. Participants are compensated for their time.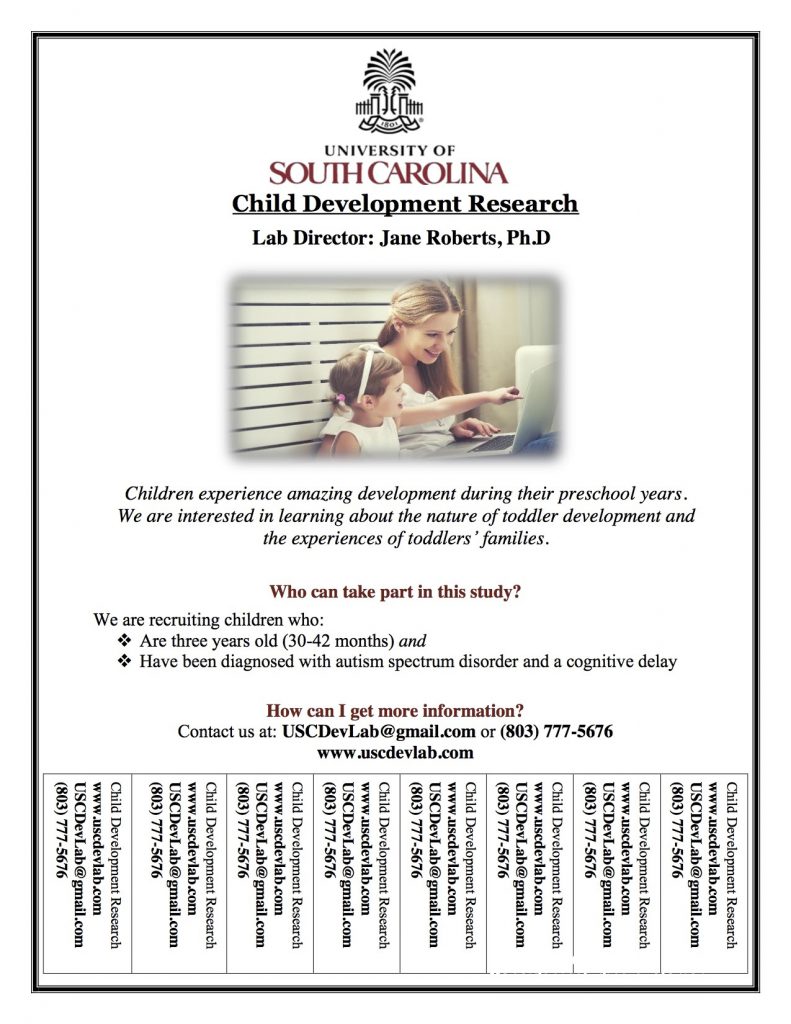 Ongoing Autism Support Groups
Free Parent Support Group in North Charleston
JSS Behavioral Services and Lowcountry Autism Foundation are collaborating on a new, free parent group on the first Thursday of each month at JSS Behavioral Services, 7301 Rivers Ave, Suite 100, North Charleston, SC 29406.
This monthly group is for parents of children with a new diagnosis of Autism Spectrum Disorder to receive both information and practical support.
Please contact the Lowcountry Autism Foundation organizers at (843) 876-0415 for more information.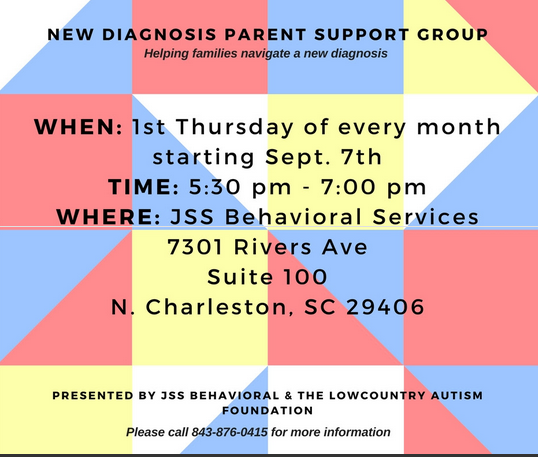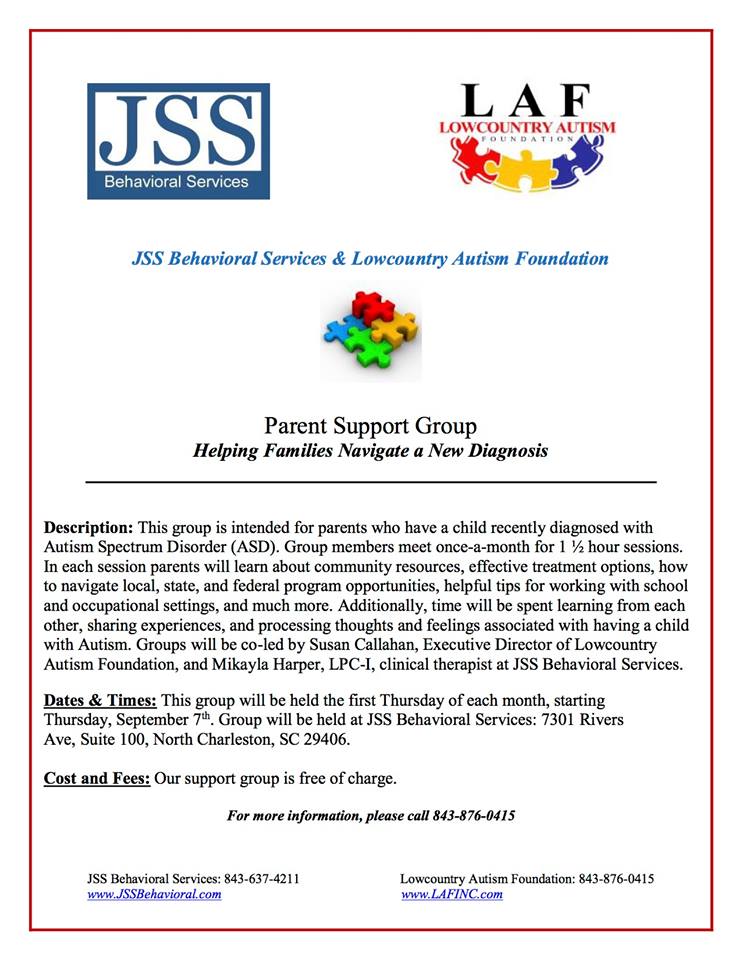 Low Country Autism Support Group
Sponsored by the Early Autism Project, the Low Country Autism Support Group meets the 2nd Tuesday of the month at the Early Autism Project Clinic, 1123 Queensborough Dr., Mt. Pleasant, from 6:30-7:30. Speakers will be invited to each meeting and refreshments are served. Childcare is provided but you must register in advance for the free service.
You do not have to be a client of the Early Autism Project to participate. Saturday respite events are being planned for every other month. For more information and to register for child care, call Anna Bullard at 912-293-5217 or visit abullard@earlyautism.com.
Support Group for Spanish Speaking Families
The Support Group for Spanish Speaking Families meets the 4th Friday of each month from 6-8 PM at the MUSC Northwoods Clinic, 2070 Northbrook Blvd., Suite A-16, N. Charleston. Call Marina at 843-876-2505.
Autism Family Network of the Lowcountry
The Autism Family Network of the Lowcountry (supported by the Lowcountry Autism Foundation) has a Parent Training and Support Group that meets monthly in Summerville on the fourth Tuesday of the month from 6-8pm at Bethany Methodist Church. They also have a public Facebook group; click here to join today.
National Alliance on Mental Illness (NAMI) Charleston Meeting
The Charleston-area NAMI offers multiple support groups for individuals in recovery and family and friends of people with mental illness. All meetings are confidential. For a full list of Charleston-area NAMI meetings, visit the NAMI Charleston Area website.
Other Ongoing Events
Charleston Young Adult ASDs
Charleston Young Adult ASDs is a social enjoyment group for young adults (17-32 +/-) in the autism spectrum in the Charleston area. Its purpose is to give individuals the opportunity to:
Practice different social scenarios in a safe and non-judgmental environment
Connect with others like them (and realize they're not alone!)
Develop skills (through fun activities) to navigate life more smoothly
Increase chances to make/keep friends and get/keep a job
Share experience, strength and hope
To get involved, join the private Facebook group (click "Join Group" so an admin can approve your request).
Children's Museum of the Lowcountry's SuperStars

SuperStars is a FREE, registration-required event in which children with special needs and their families can visit the Museum, explore, and play without the crowds and over-stimulation. The Museum is open before-hours on the second and fourth Sundays of every month from 10am-12pm for this event.
Click here to learn more and register for SuperStars.
Follow Us on Social Media
We do our best to post local events on social media, so Like us on Facebook and follow on Twitter to stay current. And don't forget to sign up for our email list to stay in the loop on the latest Group announcements, events, and autism-related offerings.
~ The Project Rex Team