This month's Lowcountry autism events roundup includes the Ask an Aspie Q & A, details on fall Groups and a new local support group too, the date for our 2018 conference, and more!
The events below are listed with new or one-time events first and recurring events next, so be sure to read through the end.
Project Rex Reports
Calling Adults with Autism and Depression
Are you an adult with Autism and Depression? Then be sure to enroll in our Autism and Depression study.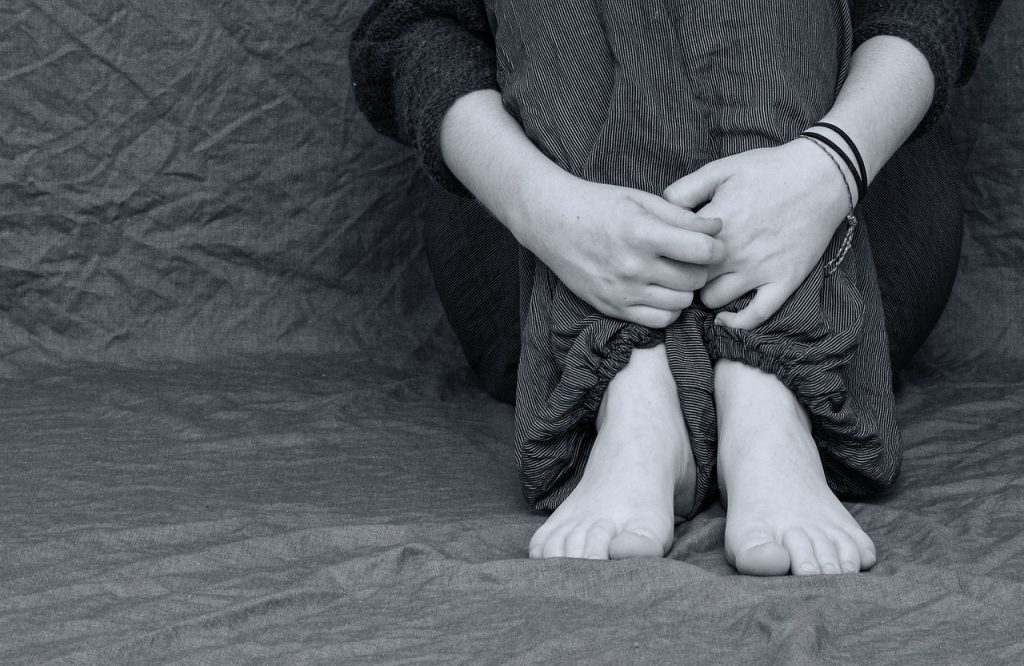 We are currently recruiting adults ages 18-65 who have a diagnosis of Autism Spectrum Disorder as well as Depression for a research study at MUSC. The purpose of this study is to investigate new possibilities for treatment for symptoms of both autism and depression.
Compensation will be available to participants. Prospective research participants and referring providers are invited to review detailed information about this study at the official information page at ClinicalTrials.gov.
If you or someone you know is interested in being in this study, please call us at 843-647-6799 or email Melanie Wiley at wileym@musc.edu. Also visit the Autism and Depression study page to learn more.
Fall Group Enrollment Continues
Registration is now open for our Fall 2017 Rex Groups! We're offering three fantastic social skills Groups this time around: School-Age, Pre-Teen/Teen, and Project PEERS.
Groups are run on a first-come, first-served basis, so don't wait to register!
Intake meetings are required for all Groups. To schedule an intake, call (843) 792-0037 during normal business hours or leave a message for Lavinia Bowens, our Project Rex Administrative Assistant.
If you've already completed an intake, you still need to call to confirm attendance in the Group series. Again, call (843) 792-0037 to speak with Lavinia Bowens.
School-Age Group
School-Age Group (ages 5-10): Tuesdays 2-3PM September 19 – November 14, 2017 (no Group September 26)
Location: MUSC IOP 5 South, 67 President Street, Charleston, SC
View and download a hi-res, print ready PDF of the current School-Age Group flyer.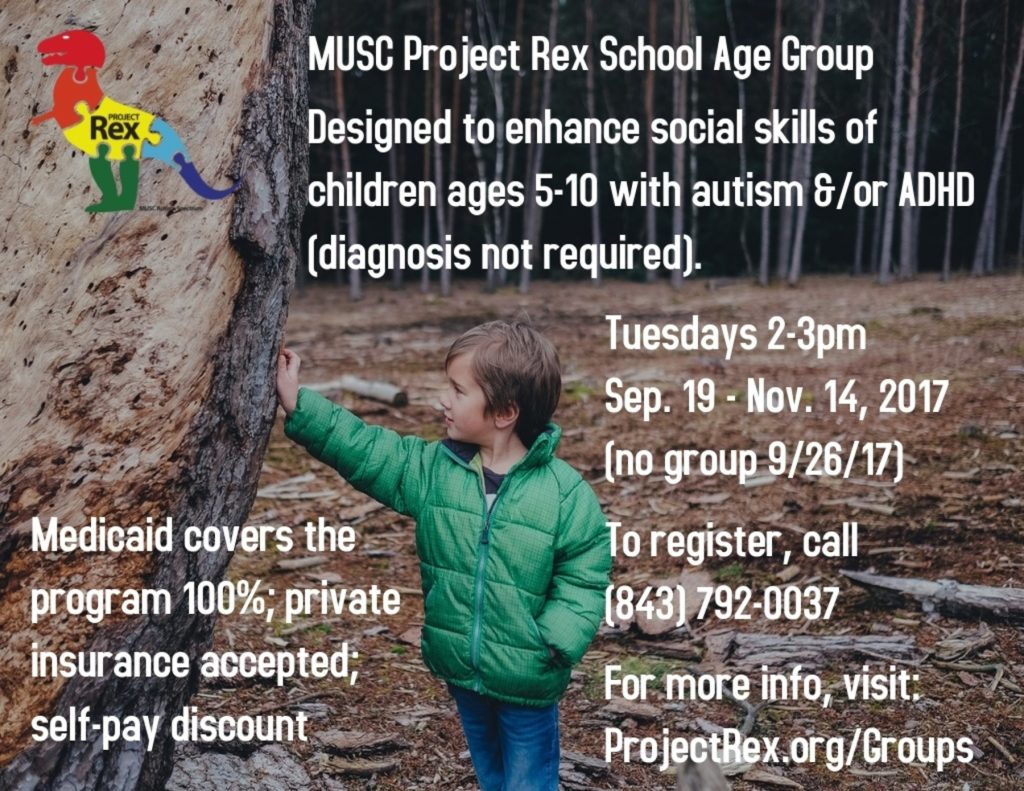 Pre-Teen/Teen Group
Pre-Teen/Teen Group (ages 10-15): Thursdays 9-10AM September 28 – November 16, 2017

Location: MUSC IOP 5 South, 67 President Street, Charleston, SC
View and download a hi-res, print ready PDF of the current Pre-Teen/Teen Group flyer.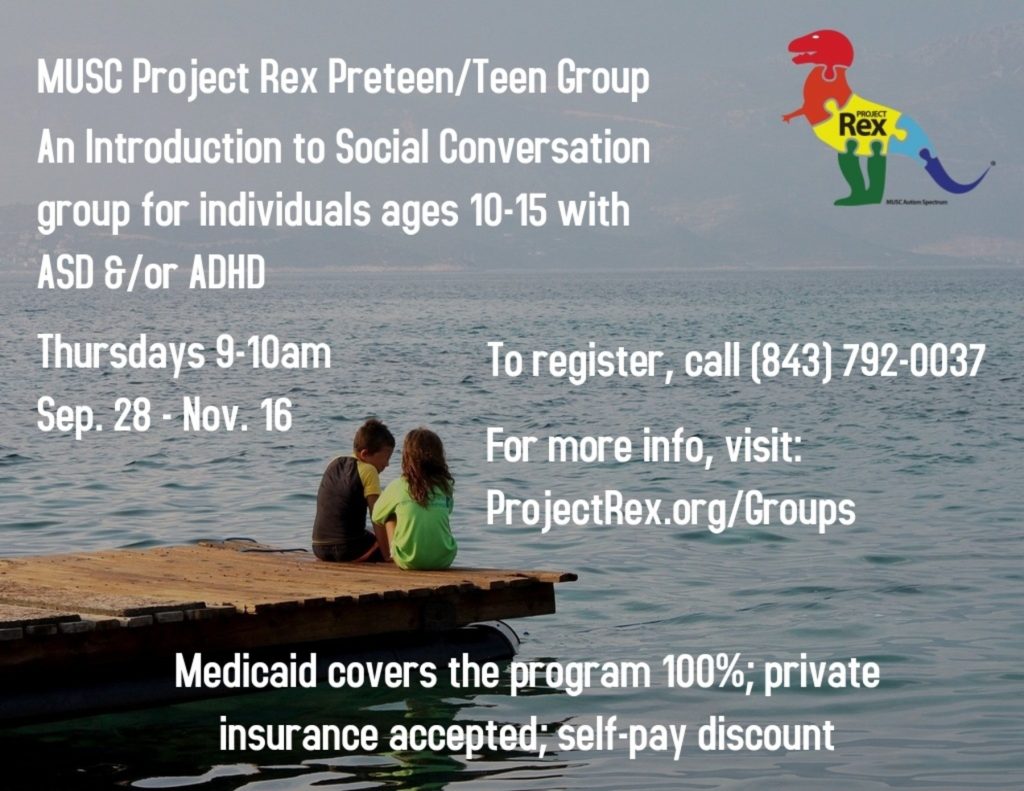 Project PEERS Group
Project PEERS for ASD & ADHD, ages 13-17: Thursdays 4-5:30PM September 7 – December 14, 2017 (no Group on November 23)
Location: MUSC IOP 5 South, 67 President Street, Charleston, SC
View and download a hi-res, print ready PDF of the current Project PEERS Group flyer.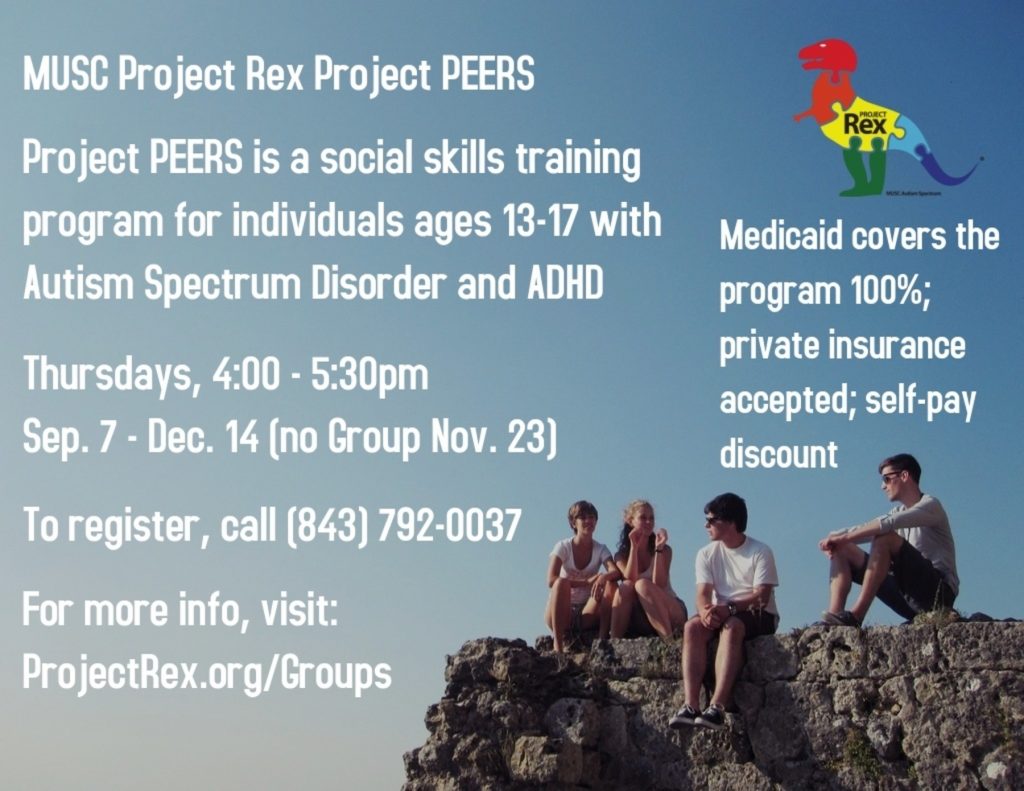 General How to Register for Groups Flyer
View and download a hi-res, print ready PDF of the general How to Register flyer.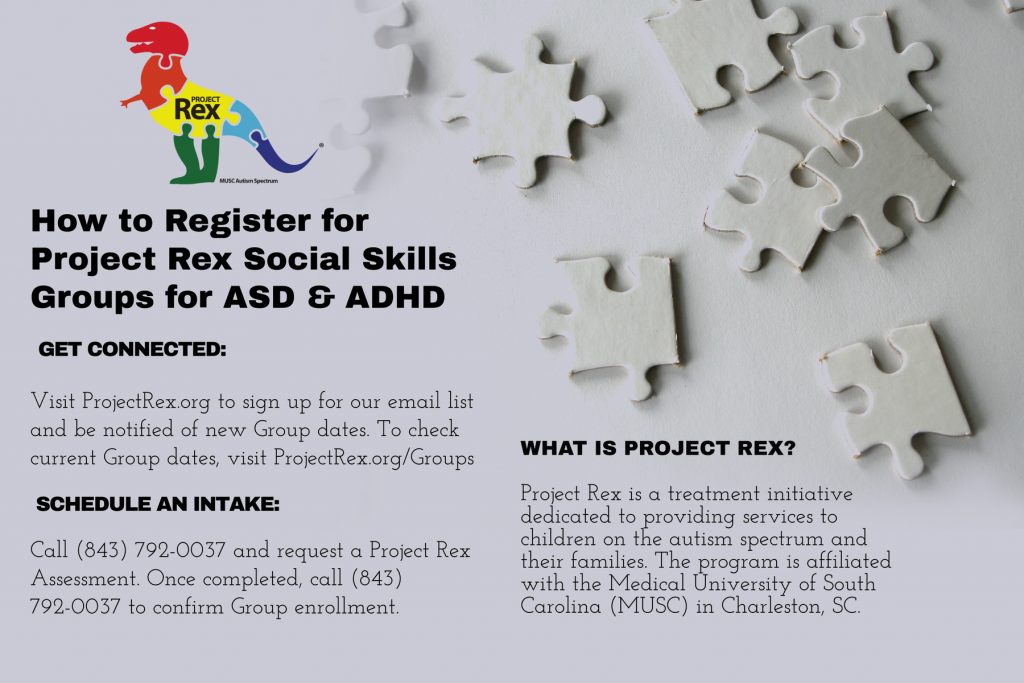 Want to stay in the loop about Groups and other events? Sign up for our email list.
Summer Hangouts Continue!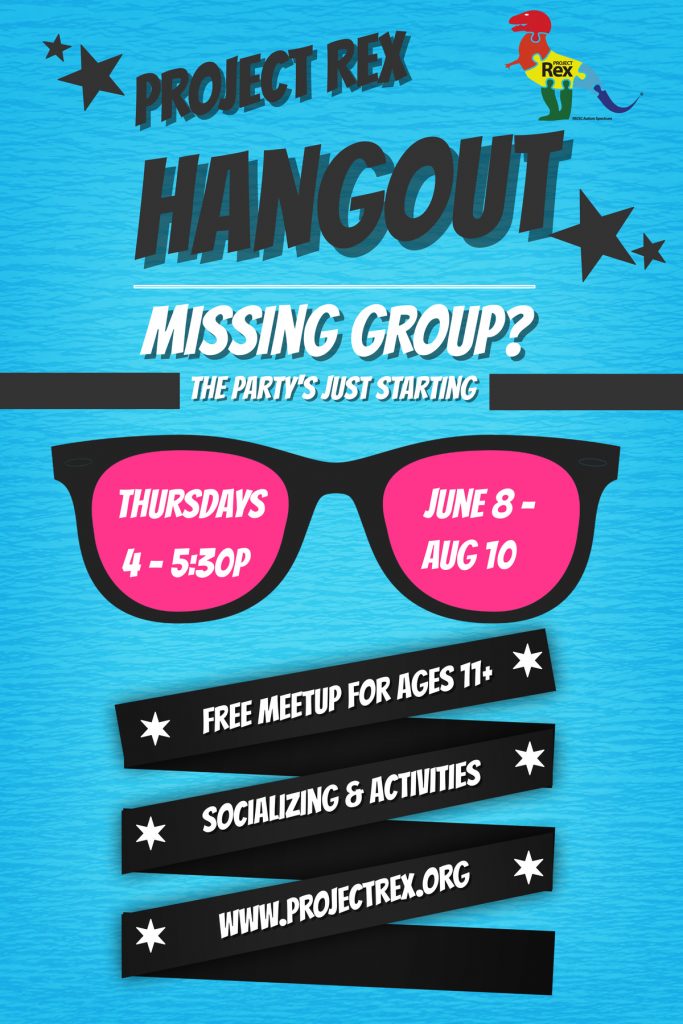 You're invited to weekly FREE Hangouts, happening weekly on Thursdays from 4:00pm-5:30pm up to and including Thursday, August 10, 2017.
Hangouts are held at MUSC IOP 5 South, 67 President Street, Charleston, SC 29425.
Hangouts are a place where participants can come in and socialize, as well as play games and complete fun activities along with their peers.
Ages 11+ are welcome to join us for this open-house style event. (Parents can come and socialize in the parent room next door too.) We have several members of our staff present, and no food is provided.
If you plan to attend please RSVP via the form below, or by clicking here. (That said, if you have trouble with an RSVP any reason, just come to the party anyway!)
Want to help spread the word? Click here for a hi-res, print-ready Hangouts flyer.
Save the Date for Our 2018 Project Rex Conference!

Mark your calendars now for Friday, February 9, 2018, the date of our Project Rex Conference.
The topic is Power to the Parents: Supporting individuals with autism from childhood to adulthood. Stay tuned for more details; we can't wait to see you there!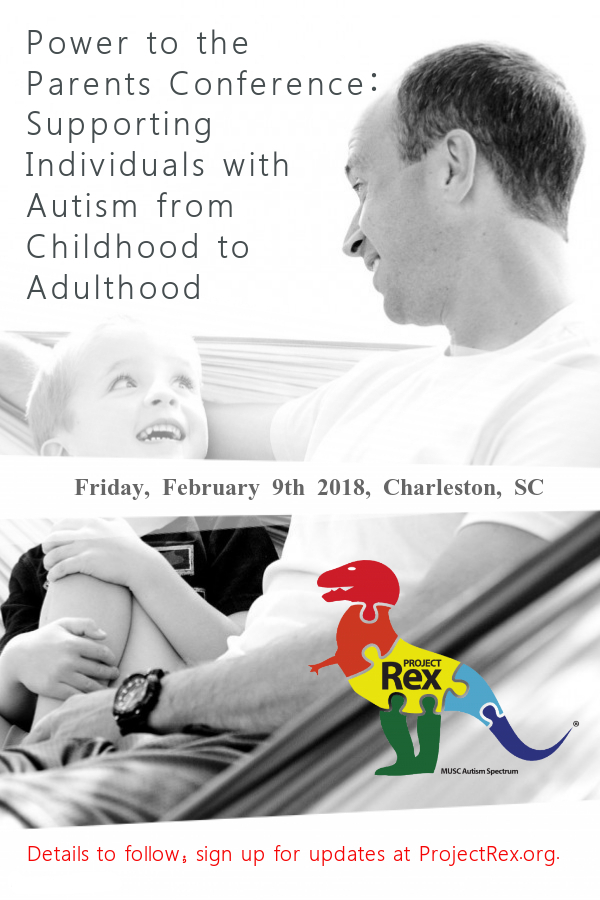 New or One-Time Events
Family Connection SC now offers a monthly events calendar; check out the Lowcountry listings for full details. Here are just a few highlighted local events.
Ask an Aspie Free Q & A Forum
Got questions about growing up on the autism spectrum?
If you're someone who has an ASD diagnosis or if you suspect that you're on the spectrum, you're invited to join us for the Ask an Aspie Question and Answer Forum, where local autistic mentors will provide answers.
Friends, family members, professionals, and other support people are welcome too.
When: Saturday, August 19, 2017, from 2:00pm to 4:00pm
Where: RL Jones Center, 391 Egypt Road, Mt. Pleasant, SC 29464
Questions / RSVP: Toni Boucher, toni@toniboucher.net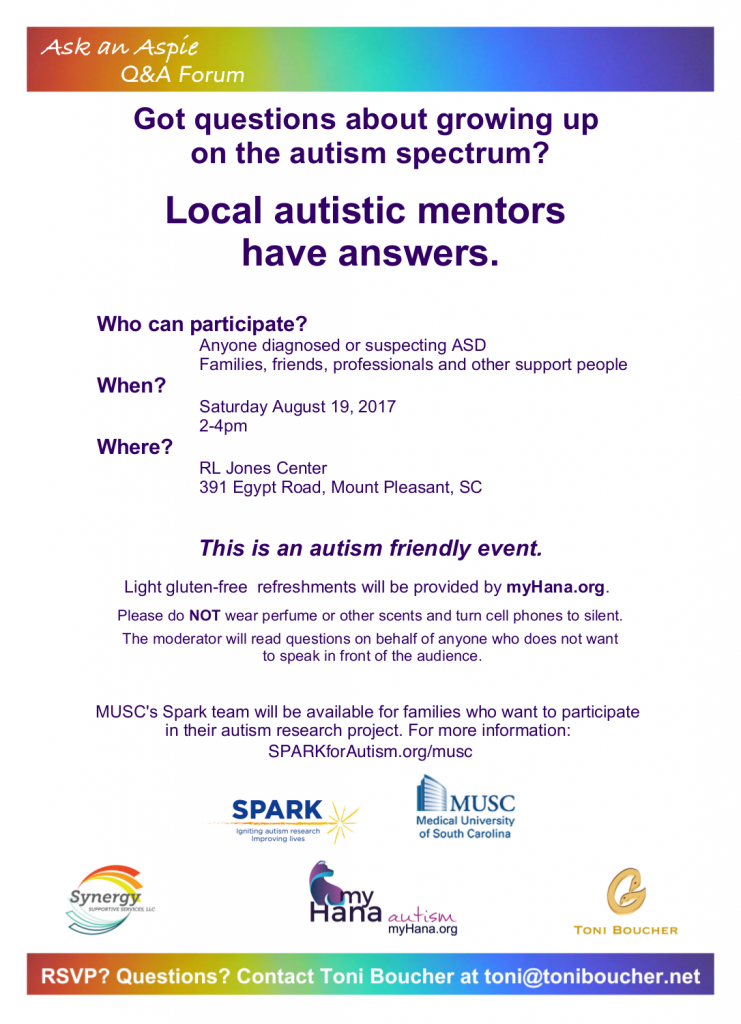 This is an autism-friendly event; light gluten-free snacks will be served courtesy of MyHana Autism.
Please do not wear perfume or other scents, and please turn all cell phones to silent.
Note that the moderator will read questions on behalf of anyone who does not want to speak in front of an audience.
Finally, MUSC's SPARK team will be available to assist families who wish to participate in the SPARK for Autism research project.
New Free Parent Support Group Starts in September!
JSS Behavioral Services and Lowcountry Autism Foundation will be collaborating on a new, free parent group starting on Thursday, September 7th at JSS Behavioral Services, 7301 Rivers Ave, Suite 100, North Charleston, SC 29406.
This monthly group is for parents of children with a new diagnosis of Autism Spectrum Disorder to receive both information and practical support.
Please contact the Lowcountry Autism Foundation organizers at (843) 876-0415 for more information.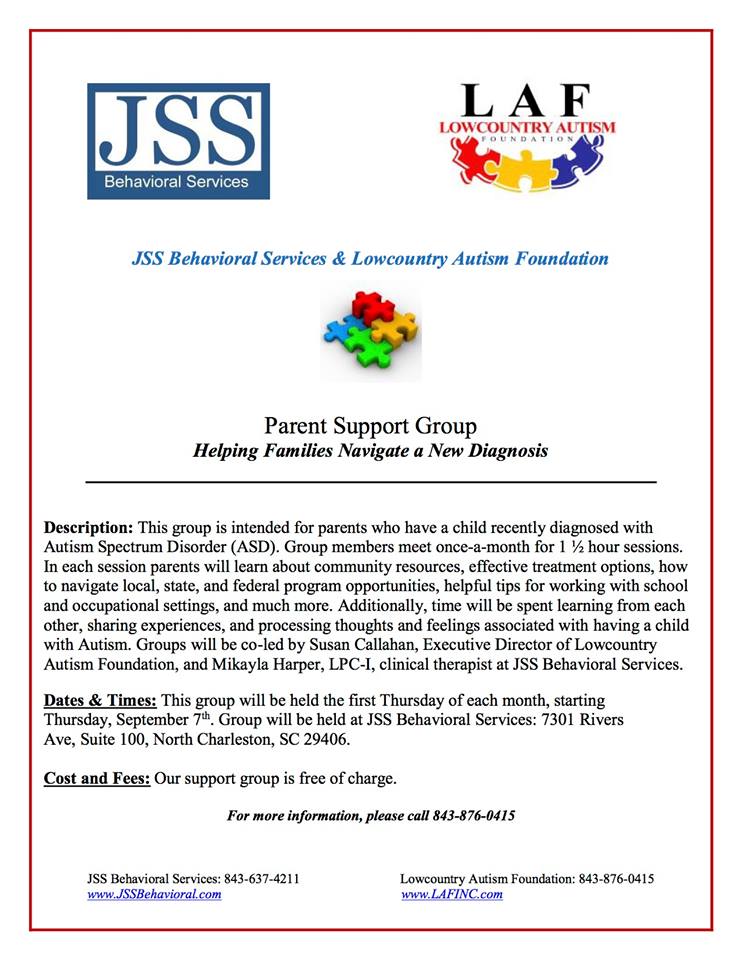 Ongoing Events
Charleston Young Adult ASDs
Charleston Young Adult ASDs is a social enjoyment group for young adults (17-32 +/-) in the autism spectrum in the Charleston area. Its purpose is to give individuals the opportunity to:
Practice different social scenarios in a safe and non-judgmental environment
Connect with others like them (and realize they're not alone!)
Develop skills (through fun activities) to navigate life more smoothly
Increase chances to make/keep friends and get/keep a job
Share experience, strength and hope
To get involved, join the private Facebook group (just click "Join Group" so an admin can approve your request).
Autism Family Network of the Lowcountry
This Public Facebook group was created to provide South Carolina families a chance to get together to discuss and share topics related to Autism Spectrum Disorder. Click here to join today.
Also note that the Autism Family Network of the Lowcountry (supported by the Lowcountry Autism Foundation) also has a Parent Training and Support Group that meets monthly in Summerville on the fourth Tuesday of the month from 6-8pm at Bethany Methodist Church.
National Alliance on Mental Illness (NAMI) Charleston Meeting
The Charleston-area NAMI offers multiple support groups for individuals in recovery and family and friends of people with mental illness. All meetings are confidential. For a full list of Charleston-area NAMI meetings, visit the NAMI Charleston Area website.
Children's Museum of the Lowcountry's SuperStars

SuperStars is a FREE, registration-required event in which children with special needs and their families can visit the Museum, explore, and play without the crowds and over-stimulation. The Museum is open before-hours on the second and fourth Sundays of every month from 10am-12pm for this event.
Click here to learn more and register for SuperStars.
Parent Support Group for families of children with Asperger's, HFA, & related conditions

Location: Cherokee United Methodist Church, 2105 Cosgrove Avenue, North Charleston
Time: 6:00 – 7:30pm every Tuesday
For families of children with Aspergers, HFA, Anxiety & Related Conditions
Share your concerns and tips with other parents who understand what it's like to raise a child with special needs. Give and get support in a safe and non-judgmental place.
Free childcare is provided. Contact Tracie Hayward at thayward@familyconnectionsc.org for more info.
Follow Us on Social Media
We do our best to post local events on social media, so Like us on Facebook and follow on Twitter to stay current. And don't forget to sign up for our email list to stay in the loop on the latest Group announcements, events, and autism-related offerings.
~ The Project Rex Team