Got questions about growing up on the autism spectrum?
If you're someone who has an ASD diagnosis or if you suspect that you're on the spectrum, you're invited to join us for the Ask an Aspie Question and Answer Forum, where local autistic mentors will provide answers.
Friends, family members, professionals, and other support people are welcome too.
When: Saturday, August 19, 2017, from 2:00pm to 4:00pm
Where: RL Jones Center, 391 Egypt Road, Mt. Pleasant, SC 29464
Questions / RSVP: Toni Boucher, toni@toniboucher.net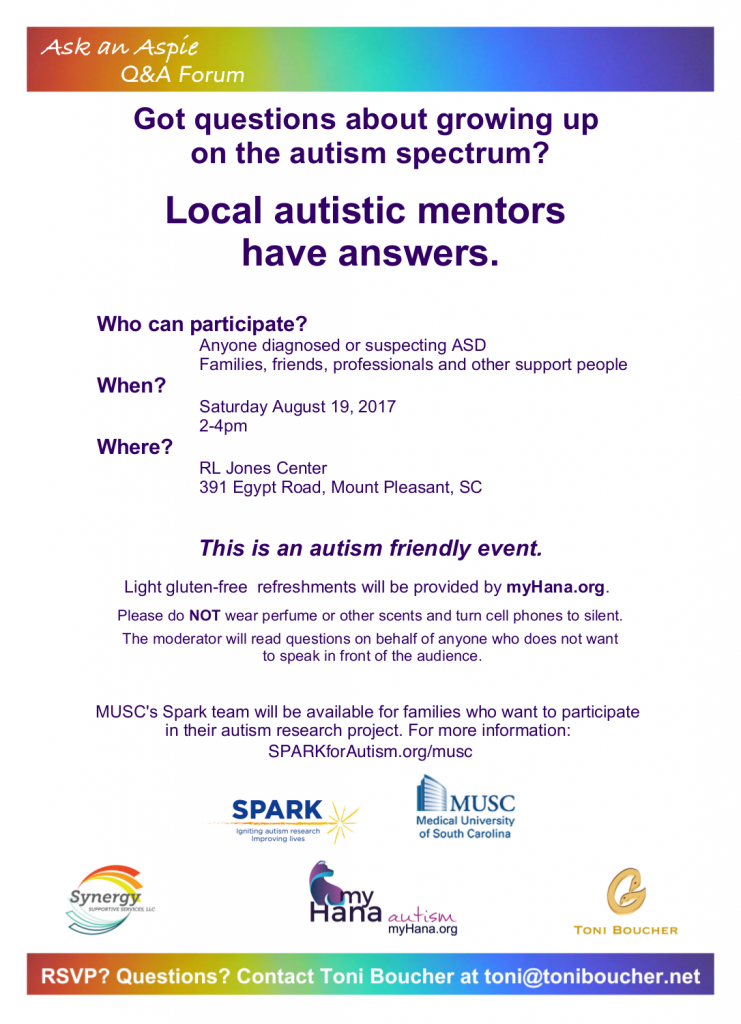 This is an autism-friendly event; light gluten-free snacks will be served courtesy of MyHana Autism.
Please do not wear perfume or other scents, and please turn all cell phones to silent.
Note that the moderator will read questions on behalf of anyone who does not want to speak in front of an audience.
Finally, MUSC's SPARK team will be available to assist families who wish to participate in the SPARK for Autism research project.
Calling Adults with Autism and Depression
PS – Are you an adult with Autism and Depression? Then be sure to enroll in our Autism and Depression study.
We are currently recruiting adults ages 18-65 who have a diagnosis of Autism Spectrum Disorder as well as Depression for a research study at MUSC. The purpose of this study is to investigate new possibilities for treatment for symptoms of both autism and depression.
Compensation will be available to participants. Prospective research participants and referring providers are invited to review detailed information about this study at the official information page at ClinicalTrials.gov.
If you or someone you know is interested in being in this study, please call us at 843-647-6799 or email Melanie Wiley at wileym@musc.edu. Also visit the Autism and Depression study page to learn more.