Save the date for the first annual SC Autism and Neurodevelopmental Disorders (SCAND) Research Symposium!
It's happening Monday, October 9, 2017 at the USC Alumni Center in Columbia, SC from 8:30am – 5:00pm.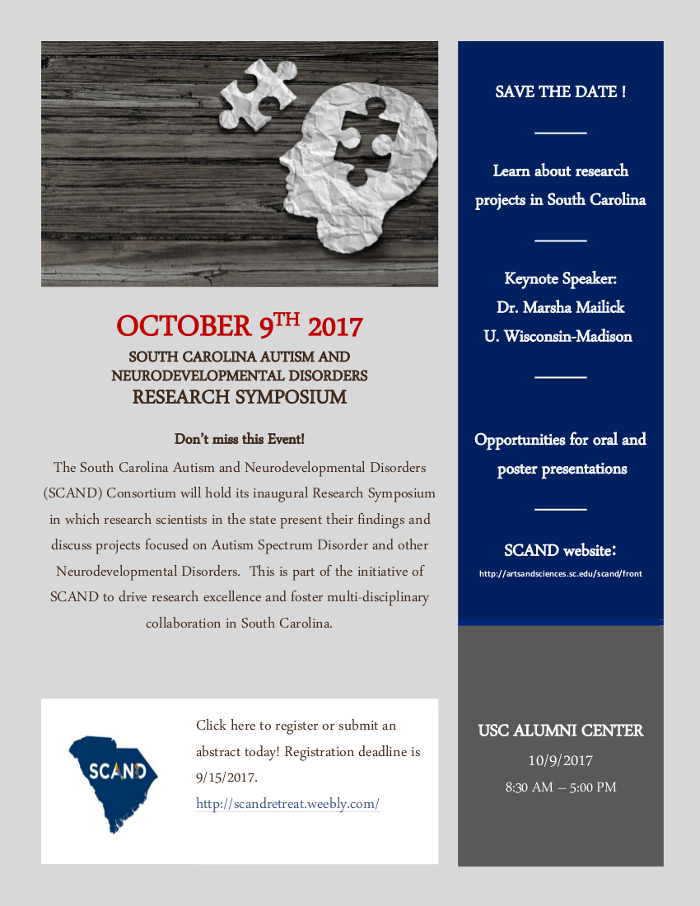 Attendees will learn about research projects in South Carolina, as researchers present their findings and discuss projects focused on Autism Spectrum Disorder and other Neurodevelopmental disorders.
There are also opportunities for oral and poster presentations.
About Dr. Marsha Mailick, Keynote Presenter
"Dr. Marsha R. Mailick is the Vice Chancellor for Research and Graduate Education at the University of Wisconsin-Madison (UW-Madison) …. The focus of Dr. Mailick's research is on the life course trajectory of developmental disabilities.
She is interested in how the behavioral phenotype of specific developmental disabilities, including autism, fragile X syndrome, and Down syndrome, changes during adolescence, adulthood, and old age.
In addition, she studies how the family environment affects the development of individuals with disabilities during these stages of life, and reciprocally how parents and siblings of individuals with disabilities are affected."
For more information and to register, visit the event website.