October is a busy month for Lowcountry autism events! In our roundup this month: a carnival and costume party, a free parent training, and more!
We do our best to post events on social media, and you can Like us on Facebook and follow on Twitter to stay current with the latest news. But it's also helpful to have a listing of each month's events, so that you can review the options available and decide which to attend.
The events below are listed in approximate chronological order.
Yoga Group Registration Is Happening Now!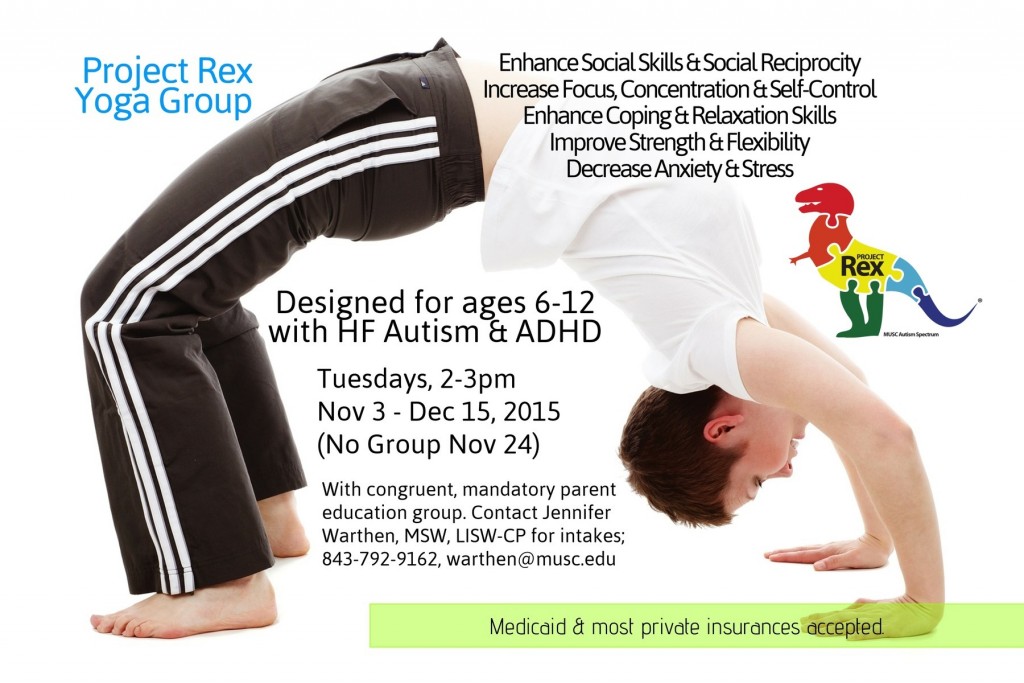 Now is the time to register for our Yoga Group for ages 6-12; it begins on Tuesday, November 3, so be sure to call (843) 792-9162 to schedule an intake today! Note that no diagnosis is necessary for participation.
Teen Carnival & Costume Party *Was scheduled for October; now postponed until Saturday, November 14 due to inclement weather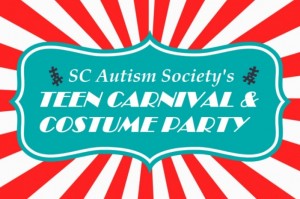 Via SC Autism Society: Join us on Saturday, November 14 from 6 – 8 pm for a Carnival and Costume Party! The party will be held at the Tri City Leisure Center, 485 Brooks Ave, West Columbia, South Carolina 29169.
We are going to have drinks and snacks available to buy, so that attendees can practice those skills. The cost to attend is FREE, but snacks, drinks and games will be available for purchase.
Click here to learn more about this free event.
Upstate Autism Forum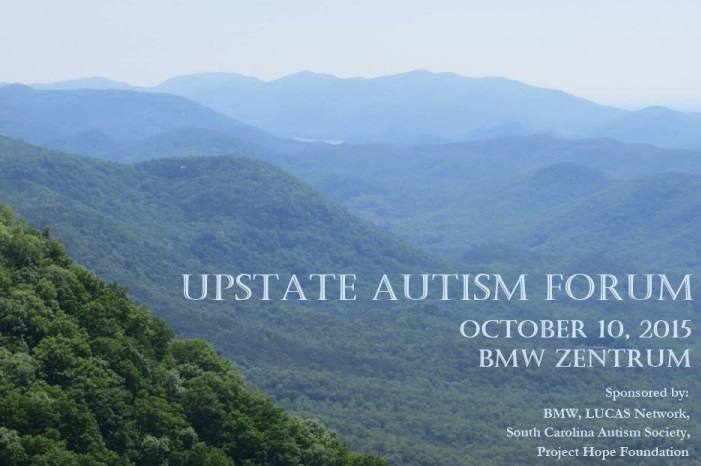 Via SC Autism Society: The Upstate Autism Forum will be held on Saturday, October 10, 2015 from 9 am to 2 pm at the BMW Zentrum in Greer, SC.
The Upstate Autism Forum is FREE, and it is recommended for families affected by autism, individuals with autism, educators, and disability professionals. Capacity for the Forum is 200, so please register early to ensure your spot.
Click here for additional details and workshop topics.
CML SuperStars!

Did you know that The Children's Museum is open before hours on the second and fourth Sundays of every month for SuperStars?
In this FREE, registration-required event, children with special needs and their families can visit the Museum, explore, and play without the crowds and over-stimulation.
Click here to register for Sunday, October 11, 2015's SuperStars, 10am – noon.
Click here to register for Sunday, October 25, 2015's SuperStars, 10am – noon.
Free Parent Training & Toolkit
Project Hope Foundation of SC is offering a FREE Parent Training and FREE Parent Toolkit for Charleston area families with children with autism who are waiting for services on Monday, November 2 at Sea Coast Community Church (West Ashley Campus) from 9:30-4 pm.
Registration is required is required by October 28th. Click here to register today!
Seating is limited, so registration is required. To maximize time, we will bring in lunch ($10/person), payable through Paypal.
Additional questions? Contact Beth More via email or (864) 476-7400.
Enjoy!
~ The Project Rex Team