Did you know that yoga contributes to increased learning, academic achievement, and behavioral management too?
As the Washington Post article, Charleston, SC hosts a youth movement in its schools notes, "Students in some Charleston area schools … receive regular yoga instruction and visit … learning labs each week where the line between education and physical education disappears entirely."
Why the newfound emphasis on exercise and yoga in our school districts? Quite simply, because daily physical activity helps children to learn and grow.
As David Spurlock, the coordinator of health, wellness and physical education for the Charleston County School District is quoted as saying:
"'If you went to anybody who's in education, you say PE versus instruction, they say instruction every time,' he says. 'But what we're trying to show is that more movement equals better grades, better behavior, better bodies.'"
Do you want to help your child develop? Then consider enrolling in our Yoga Group for individuals ages 6-12 with High-Functioning Autism and ADHD.
The Yoga Group runs Tuesdays, 2:00 – 3:00pm, November 3, 2015 – December 15, 2015, with no group on Tuesday, November 24, 2015.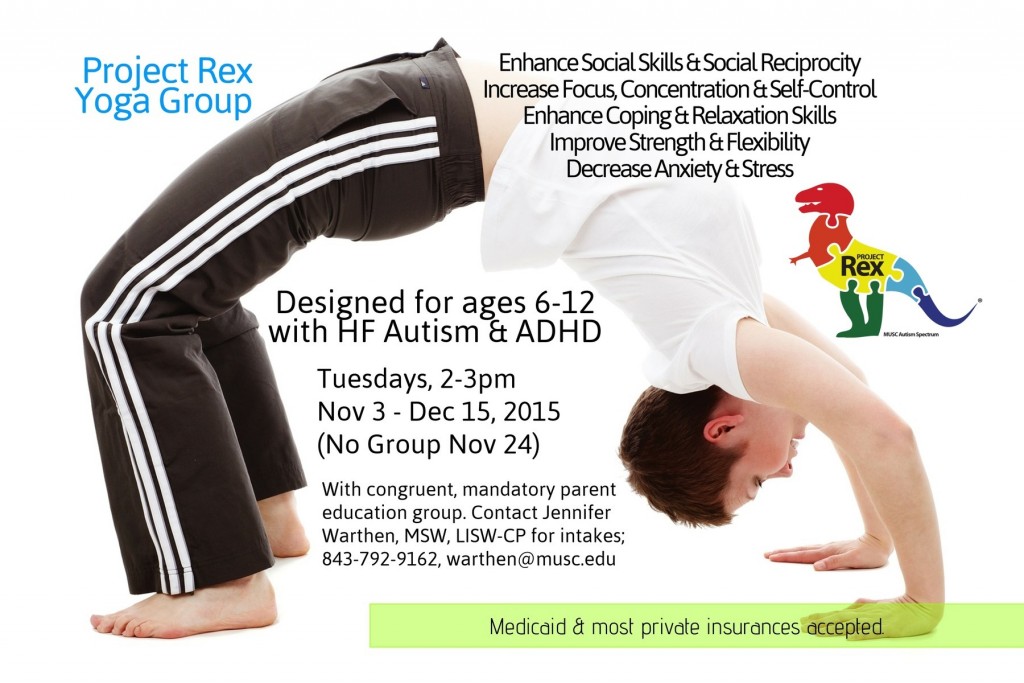 This group will …
Enhance Social Skills and Social Reciprocity
Increase focus, concentration and self-control
Enhance Coping and Relaxation Skills
Improve Strength and Flexibility
Decrease Anxiety and Stress
… all while kids are exercising and having fun!
Theraplay and yoga based activities will be used in group to help kids become more aware of the connections between their bodies, their brains, their breath, and their balance.
This program includes a congruent parent education / support group. Please plan to arrive 15 minutes early to each Group session for sign in and registration.
Medicaid covers the program 100%, and most private insurance is accepted. There is a discount for self-pay.
Location: MUSC IOP 5 South, 67 President Street, Charleston, SC 29425
To register, please schedule an intake with Jennifer Warthen, MSW, LISW-CP
(phone) 843-792-9162 / (fax) 843-792-4190 / warthen@musc.edu
Note that you must be registered to attend the first session; there are no late enrollments. So don't wait; register today! Call (843) 792-9162 during regular business hours to schedule a mandatory intake meeting.