Can you believe that it's November already? As we enter the holiday season, check out this series of fun, mostly-free Lowcountry autism events! In our roundup this month: a new parent support group, a carnival and costume party, a free crisis prevention workshop, and more.
We do our best to post events on social media, and you can Like us on Facebook and follow on Twitter to stay current with the latest news. But it's also helpful to have a listing of each month's events, so that you can review the options available and decide which to attend.
The events below are listed in approximate chronological order.
Announcing a New Parent Support Group for Families of Children with Asperger's, HFA, & related conditions in North Charleston!
National Alliance on Mental Illness (NAMI) Charleston Meeting
The Charleston-area NAMI meeting takes place in Moncks Corner on the first Tuesday of the month (that's Tuesday, November 3 this month) from 6 – 7:15pm at Moncks Corner Baptist Church Fellowship Hall at 500 E. Main St., Moncks Corner, SC  29461.
This meeting is for both individuals in recovery and family and friends of people with mental illness. All meetings are confidential. For a full list of Charleston-area NAMI meetings, visit the NAMI Charleston Area website.
Lowcountry Autism Foundation's Oysters for Autism 2015
"Enjoy a night of live music, oysters, drinks, and a silent auction at Bowens Island! All proceeds will benefit individuals and families living with Autism Spectrum Disorder and who are helped by the Lowcountry Autism Foundation at the MUSC Children's Hospital.
Join us Sunday, November 8th from 4-7 PM at Bowens Island Restaurant. Tickets are $25 for adults, $15 for children under 12, and $30 at the door the day of the event. Children 3 and under are free of charge.
Tickets include all you can eat oysters, chili, hot dogs and non-alcohol beverages. Beer and wine will be available for purchase at the day of the event (for those over 21 years of age), or you may purchase drink tickets prior to the event.
The event will also feature Live Music by an alternative local rock band, Batesman's Stud Farm and a Silent Auction will accompany the oyster roast! In the event local oysters still aren't ready for pickin' due to the recent flooding, there will be a sumptuous Lowcountry Boil at the ready."
Click here to purchase your tickets!
Crisis Prevention Intervention Workshop for Caregivers
This is a three-hour workshop presented by the SC Autism Society on Thursday, November 12, 2015 (offered at two times: from 9a – noon and 4pm – 7pm). This workshop is free, but online registration is required.
"In this workshop, we will discuss how to stay calm and de-escalate a potentially volatile situations. Many children with disabilities have deficits with communication that lead to frustration and anxiety which can cause problems with behavior.
Control in these situations is necessary and through this workshop, you will learn various strategies that will help if you are experiencing these behavioral problems with your child at home."
Teen Carnival & Costume Party *Was scheduled for October; postponed until Saturday, November 14 due to inclement weather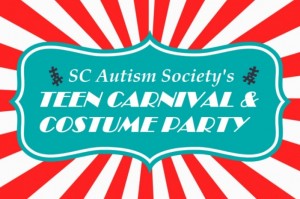 Via SC Autism Society: Join us on Saturday, November 14 from 6 – 8 pm for a Carnival and Costume Party! The party will be held at the Tri City Leisure Center, 485 Brooks Ave, West Columbia, South Carolina 29169.
We are going to have drinks and snacks available to buy, so that attendees can practice those skills. The cost to attend is FREE, but snacks, drinks and games will be available for purchase.
Click here to learn more about this free event.
CML SuperStars!

The Children's Museum is open before hours on the second and fourth Sundays of every month for SuperStars.
In this FREE, registration-required event, children with special needs and their families can visit the Museum, explore, and play without the crowds and over-stimulation.
Click here to register for Sunday, November 8, 2015's SuperStars, 10am – noon.
Click here to register for Sunday, November 22, 2015's SuperStars, 10am – noon.
Looking forward to December …
Midlands Holiday Respite Event at All Star Gymnastics
"The SC Autism Society will be hosting a holiday respite opportunity for individuals with autism at All Star Gymnastics in Columbia. While caretakers have an opportunity to run a few errands or shop for gifts, your loved one can run, jump and play in a safe environment. Registration deadline is November 30. To register, please contact: christie@scautism.org or call 803-750-6988, ext. 117."
Enjoy!
~ The Project Rex Team