Did you know that the Project Rex team is one of only a few groups at medical universities studying the relationship between yoga and autism?
It's true. Project Rex's founder and director, Dr. Frampton Gwynette, is at work on a scholarly article on yoga and autism.
As the 2012 NPR feature, Classroom Yoga Helps Improve Behavior of Kids with Autism notes, "Early research suggests that yoga exercises help kids concentrate and focus, and improves their strength, motor coordination and social skills."
The Yoga Group is for individuals ages 6-12 with High-Functioning Autism and ADHD, and it runs Tuesdays, 2:00 – 3:00pm, November 3, 2015 – December 15, 2015, with no group on Tuesday, November 24, 2015.
This group will …
Enhance Social Skills and Social Reciprocity
Increase focus, concentration and self-control
Enhance Coping and Relaxation Skills
Improve Strength and Flexibility
Decrease Anxiety and Stress
… all while kids are exercising and having fun!
Theraplay and yoga based activities will be used in group to help kids become more aware of the connections between their bodies, their brains, their breath, and their balance.
This program includes a congruent parent education /support group. Please plan to arrive 15 minutes early to each Group session for sign in and registration.
Medicaid covers the program 100%, and most private insurance is accepted. There is a discount for self-pay.
Location: MUSC IOP 5 South, 67 President Street, Charleston, SC 29425
To register, please schedule an intake with Jennifer Warthen, MSW, LISW-CP
(phone) 843-792-9162 / (fax) 843-792-4190 / warthen@musc.edu
Note that you must be registered to attend the first session; there are no late enrollments. So don't wait; register today!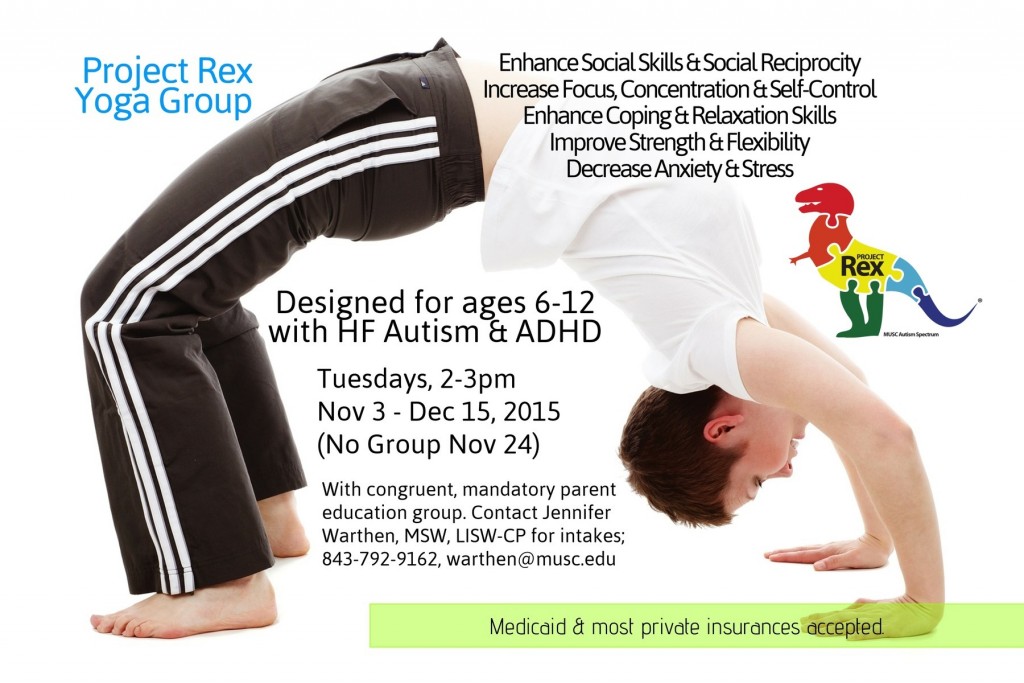 There's not much time left, so register now! Call (843) 792-9162 during regular business hours to schedule a mandatory intake meeting.