This month's Lowcountry autism events roundup includes the Charleston Walk for Autism, social groups, support groups, a featured book, and more!
We do our best to post events on social media, and you can Like us on Facebook and follow on Twitter to stay current with the latest news too.
The events below are listed in approximate chronological order.
Just a few more Yoga Group spots available …
Our Yoga Group for ages 6-12 starts next month, on April 19. This Group is nearly full (and the School-Age Group with a Spanish Language Parent Group is completely full), but we do have a few spots still available and enrollment is still open.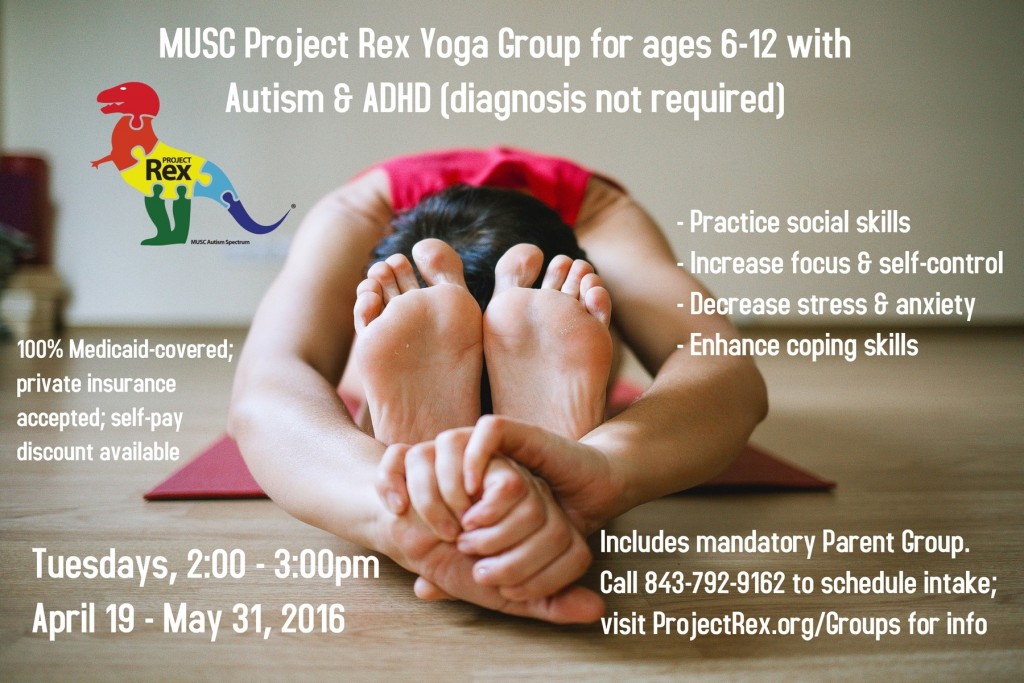 If you're interested in enrolling in Yoga Group, schedule an intake with Jennifer Warthen, MSW, LISW-CP as soon as possible by calling 843-792-9162 or emailing warthen@musc.edu.
World Autism Awareness Day & Autism Awareness Month
World Autism Awareness Day is Saturday, April 2 – don't forget to Light It Up Blue and raise awareness in your community!
April is also Autism Awareness Month; for ideas on how to celebrate, check out FirstPath Autism's 10 Ways to Make the Most Out of Autism Awareness Month.
National Alliance on Mental Illness (NAMI) Charleston Meeting
The Charleston-area NAMI meeting takes place in Moncks Corner on the first Tuesday of the month. This month's meeting is Tuesday, April 5 from 6 – 7:15pm at Moncks Corner Baptist Church Fellowship Hall at 500 E. Main St., Moncks Corner, SC 29461.
This meeting is for both individuals in recovery and family and friends of people with mental illness. All meetings are confidential. For a full list of Charleston-area NAMI meetings, visit the NAMI Charleston Area website.
Walk for Autism Charleston
The annual Walk for Autism Charleston is happening Saturday, April 16 at 9am at Historic Hampton Park.
"Walk for Autism-Charleston is a not for profit organization which raises funds to help many special children struggling with autism.  Our primary goal is to fund scholarships for these families to help pay for the treatment and intervention of autism through behavioral and relational development programs.
Ours is a family friendly walk through historic Hampton Park, with free refreshments, live music, jump castles, silent auction, autism merchandise, haircuts by Great Clips, and therapy dogs.  Sponsors will be there with information about autism and activities for the entire family.
Registration begins at 9:00 a.m. and the walk begins at 10:00 a.m. Come join us to learn more about autism and help the growing number of children challenged by the disorder."
Charleston Young Adult ASDs
Charleston Young Adult ASDs is a social enjoyment group for young adults (17-32 +/-) in the autism spectrum in the Charleston area. Its purpose is to give individuals the opportunity to:
Practice different social scenarios in a safe and non-judgmental environment
Connect with others like them (and realize they're not alone!)
Develop skills (through fun activities) to navigate life more smoothly
Increase chances to make/keep friends and get/keep a job
Share experience, strength and hope
To get involved, join the Meetup page or the private Facebook group (just click "Join Group" so an admin can approve your request).
Children's Museum of the Lowcountry's SuperStars

SuperStars is a FREE, registration-required event in which children with special needs and their families can visit the Museum, explore, and play without the crowds and over-stimulation. The Museum is open before-hours on the second and fourth Sundays of every month for this event.
Click here to register for Sunday, April 10, 2016 SuperStars, 10am – 12pm.
Click here to register for Sunday, April 24, 2016 SuperStars, 10am – 12pm.
SkyZone Charleston Sensory Jump
"Sensory Jump is held at SkyZone (411 Wando Park Blvd., Mt. Pleasant, SC 29464) on the 2nd and 4th Monday of the each month starting in September through the Charleston County school year (if school is not in session, this program is not available).
This month's Sensory Jump dates are Monday, April 11 and Monday, April 25. We open our facility exclusively to our special needs guests from 4 pm – 6 pm. Family members of special needs guests are invited to jump as well!
$5 for a half hour jump time, $10 for 1-hour jump time. Sky Socks are $2 and reusable! Therapists attend at no charge. Space is limited, please call 843-588-5789 to reserve your spot."
Click here to visit SkyZone's website for more information.
Don't forget – there's a Parent Support Group for families of children with Asperger's, HFA, & related conditions meeting every Tuesday in North Charleston!

Location: Cherokee United Methodist Church, 2105 Cosgrove Avenue, North Charleston
Time: 6:00 – 7:30pm every Tuesday
For families of children with Aspergers, HFA, Anxiety & Related Conditions
Share your concerns and tips with other parents who understand what it's like to raise a child with special needs. Give and get support in a safe and non-judgmental place.
Free childcare is provided.
Contact Tracie Hayward at thayward@familyconnectionsc.org for more info.
NEW: Featured Book of the Month

This month's featured book is Silent Running: Our Family's Journey to the Finish Line with Autism. It's an inspirational memoir by autism mom Robyn Schneider.
"In Silent Running, Robyn Schneider takes readers on an intimate journey from a double diagnosis of autism, through many years of heartache, to a place of joy. Silent Running is a story of unrelenting love, of parents who never stop chasing after the silver lining, intent on finding happiness for their sons …. Despite their incredible daily challenges, Alex and Jamie have now run in almost 150 mainstream races, including nine marathons."
Mark Your Calendars for May …
Family Connection SC's First Annual Charleston Challenge will be taking place on Sunday, May 17 in Hampton Park in Charleston, complete with a scavenger hunt, jump castle, therapeutic dogs, disability awareness activities, resources, and more!
Enjoy!
~ The Project Rex Team