Ever wondered what it's like to be part of a Project Rex social skills group? Read on to find out. In this series, we're taking you behind the scenes in our Adult Group so that you can get a sense for what we do and how it could help your loved one grow and develop socially.
Adult Group, Week 1
Our newest Adult Group for ages 18 and up kicked off on March 24, and we were thrilled to welcome 10 participants! The first meeting focused on the topic, "Qualities of Friendships".
We discussed the rules and steps that govern conversations related to common interests. After that, the group engaged in a practical exercise, meeting one another and discovering their shared interests.
At the close of the Adult Group meeting, we provided a weekly assignment so that participants could practice their skills. Parents and guardians joined us for the last 10 minutes of Group to do a skill and assignment overview.
We also did an overview of our newly revised and updated curriculum, according to the research-based UCLA PEERS model.
Parent Group, Week 1
As all of the young adults in our current Group are living at home, most participants had a family member present in the Parent/Guardian Group. There, we discussed parents' goals and concerns for their young adults' friendship skills.
We completed the same lesson as the young adults did in their Group in order that parents might help coach their children through the new skills.
Finally, we encourage participants to get involved in social activities in the community, so our Parent Group discussion included resources available in the Charleston area.
We talked about where participants can go to meet their peers, and how to manage past and/or present experiences of social rebuff/rejection.
What About Other Groups?
Our School-Age Group with a Spanish Language Parent Group for ages 5-10 starts next week, and it's currently full. We're excited to host our first off-site program and our first Spanish language translation Group too!
Our Yoga Group for ages 6-12 starts next month, on April 19. This Group is nearly full, but we do have a few spots still available and enrollment is still open.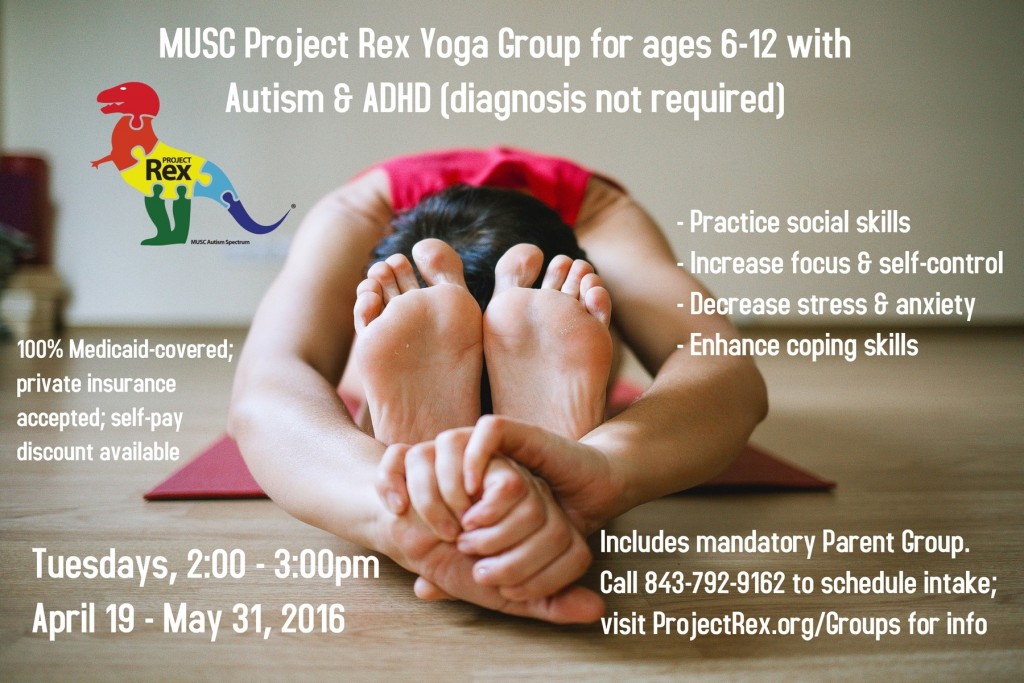 If you're interested in enrolling in Yoga Group, schedule an intake with Jennifer Warthen, MSW, LISW-CP as soon as possible by calling 843-792-9162 or emailing warthen@musc.edu.
Thank you; it's an honor to serve you and your families!
~The Project Rex team