This month's Lowcountry autism events roundup includes open registration for our next Adult Group, an exciting NeuroTribes event, a future planning workshop, and more …
We do our best to post events on social media, and you can Like us on Facebook and follow on Twitter to stay current with the latest news too.
The events below are listed in approximate chronological order.
Next Adult Group Dates Announced!
Our School-Age and Pre-Teen Groups are going strong with some of the highest attendance in years, and we've confirmed dates for our next Adult Group too.
Adult Group for ages 18 and up will meet Thursdays, 4:00 – 5:30pm from March 24, 2016 – June 2, 2016, with no Group meeting on April 14, 2016.
Click here to learn more about the updated Adult Group curriculum, then call to (843) 792-9162 schedule a required intake. Once the intake is complete, contact administrative assistant Lavinia Bowens at (843) 792-0037 to confirm attendance in the group series.
National Alliance on Mental Illness (NAMI) Charleston Meeting
The Charleston-area NAMI meeting takes place in Moncks Corner on the first Tuesday of the month.
This month's meeting is taking place on Tuesday, February 2nd from 6 – 7:15pm at Moncks Corner Baptist Church Fellowship Hall at 500 E. Main St., Moncks Corner, SC 29461.
This meeting is for both individuals in recovery and family and friends of people with mental illness. All meetings are confidential. For a full list of Charleston-area NAMI meetings, visit the NAMI Charleston Area website.
Free To Be Me! Workshop
Saturday, February 6, 9am-12pm
College of Charleston, 66 George Street, Charleston, SC 29424
Via Family Connection SC: "Calling all young adults and parents/guardians! What are your plans for the future? Everyone has aspirations and dreams, have you started discussing them?
Join us for a FREE workshop to explore what young adults, ages 13-26+ years old, plans are as they begin transitioning to adulthood.
Topics covered include: Disability Rights, Self Advocacy, Independent Living, Post Secondary Education, Employment, Transportation, Supported Decision Making, and Long Term Planning.
Space is limited so register today by calling Family Connection at 800.578.8750 and asking for Katie."
NeuroTribes at The College of Charleston

Steve Silberman, author of NeuroTribes, will give a talk in the Sottile Theater at The College of Charleston on Wednesday, February 10th at 7 pm.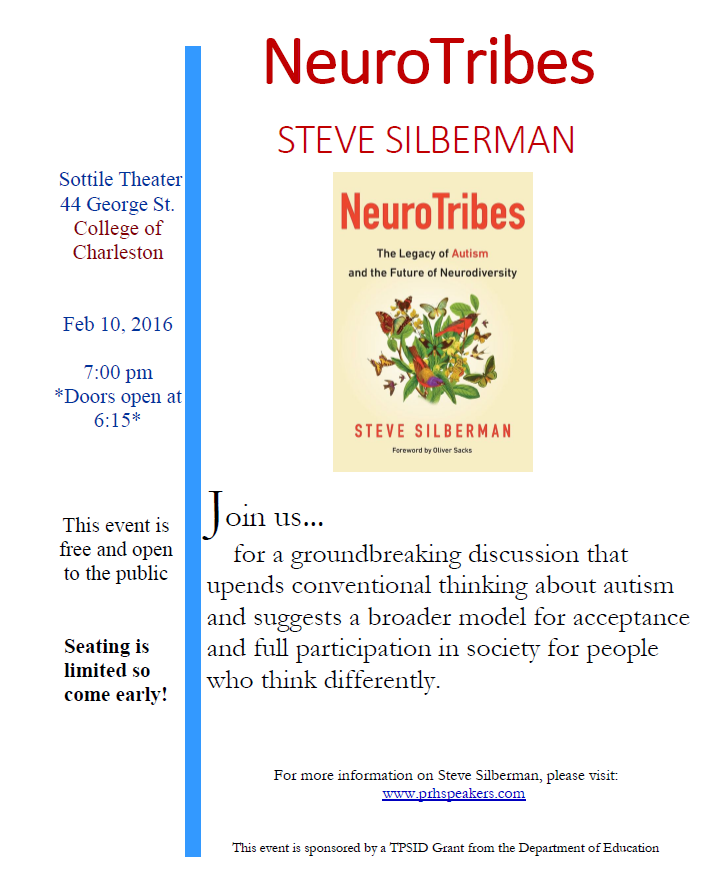 NeuroTribes is a fascinating book that chronicles the history of autism and the way changes to the DSM have influenced our understanding of autism. This is a must-see event for anyone working to understand the role of the diagnosis in everyday lives.
Silberman also maps out a path for our society with the goal of creating a world in which people with autism have access to the resources they need to live healthier, happier, more secure and meaningful lives.
The event is FREE and open to the public, but seating is limited. For those who want reserved seats and will use them, free VIP tickets are available while supplies last. Simply email Michele Deneau (deneauma@cofc.edu) if you would like a VIP ticket.
SkyZone Charleston Sensory Jump
"Sensory Jump is held at SkyZone (411 Wando Park Blvd., Mt. Pleasant, SC 29464) on the 2nd and 4th Monday of the each month starting in September through the Charleston County school year (if school is not in session, this program is not available).
This month's Sensory Jump dates are Monday, February 8 and Monday, February 22. We open our facility exclusively to our special needs guests from 4 pm – 6 pm. Family members of special needs guests are invited to jump as well!
$5 for a half hour jump time, $10 for 1-hour jump time. Sky Socks are $2 and reusable! Therapists attend at no charge. Space is limited, please call 843-588-5789 to reserve your spot."
Click here to visit SkyZone's website for more information.
Children's Museum of the Lowcountry's SuperStars

SuperStars is a FREE, registration-required event in which children with special needs and their families can visit the Museum, explore, and play without the crowds and over-stimulation. The Museum is open before-hours on the second and fourth Sundays of every month for this event.
Click here to register for Sunday, February 14, 2016 SuperStars, 10am – 12pm.
Click here to register for Sunday, February 28, 2016 SuperStars, 10am – 12p.
Don't forget – there's a Parent Support Group for families of children with Asperger's, HFA, & related conditions meeting Tuesdays in North Charleston!

Note that this month's meeting dates are February 9, 16, and 23.
Save the Date for March …
The Lowcountry Autism Consortium (LAC)'s Regional Disability Summit is scheduled for Wednesday, March 9, 2016 at Seacoast Church – West Ashley.
This event is presented in partnership with Springboard Consulting, and it's designed to help local businesses successfully include people with disabilities.
Specifically, it's for Chief Diversity Officers, Heads of HR, Talent Acquisition Leaders, Heads of Compliance and EEO, and Disability BRG Executive Sponsors and Leaders.
To register ($149/person, with the full amount donated to the LAC), contact Jill Frankel at 973-813-7260 x106; jill@consultspringboard.com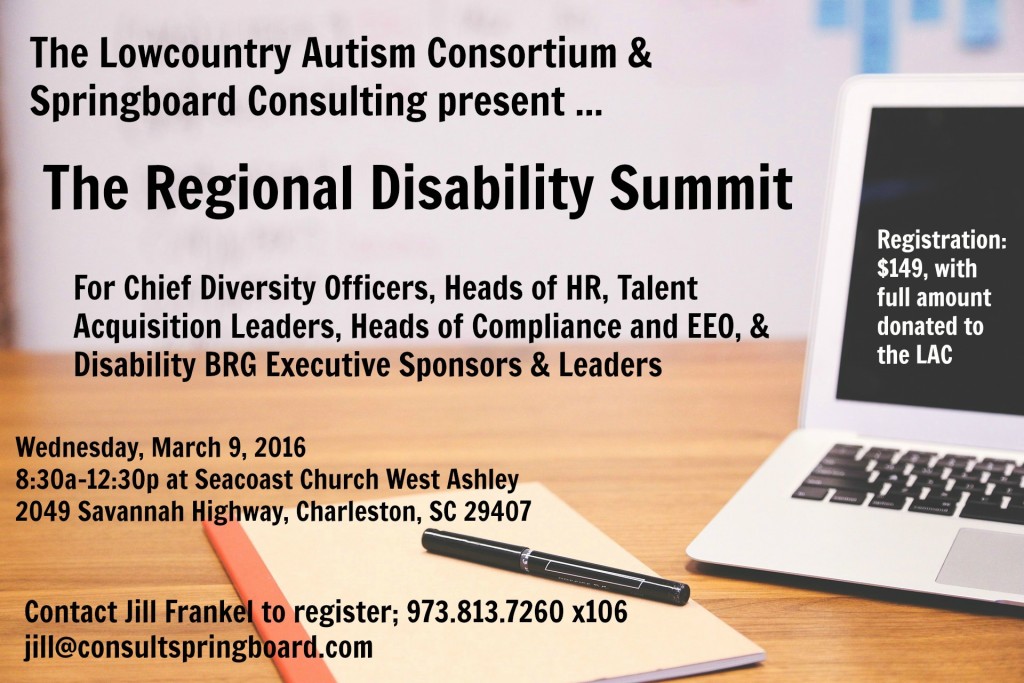 Enjoy!
~ The Project Rex Team