School is back in session, and there's plenty going on in September for our local autism events roundup: two major conferences, a launch party, a dance party, and more!
We do our best to post events on social media, and you can Like us on Facebook and follow on Twitter to stay current with the latest news. But it's also helpful to have a listing of each month's events, so that you can review the options available and decide which to attend.
The events below are listed in approximate chronological order.
Synergy Supportive Services Launch Party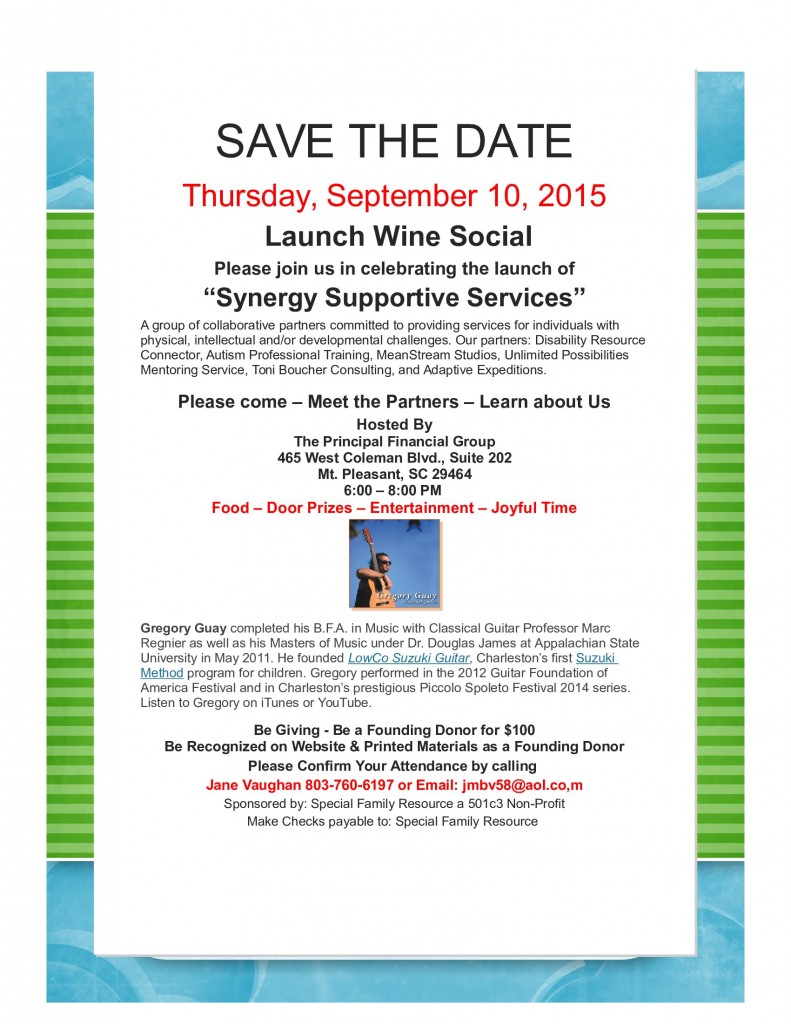 The Largest Free, Live Autism Conference in the World … in Charleston!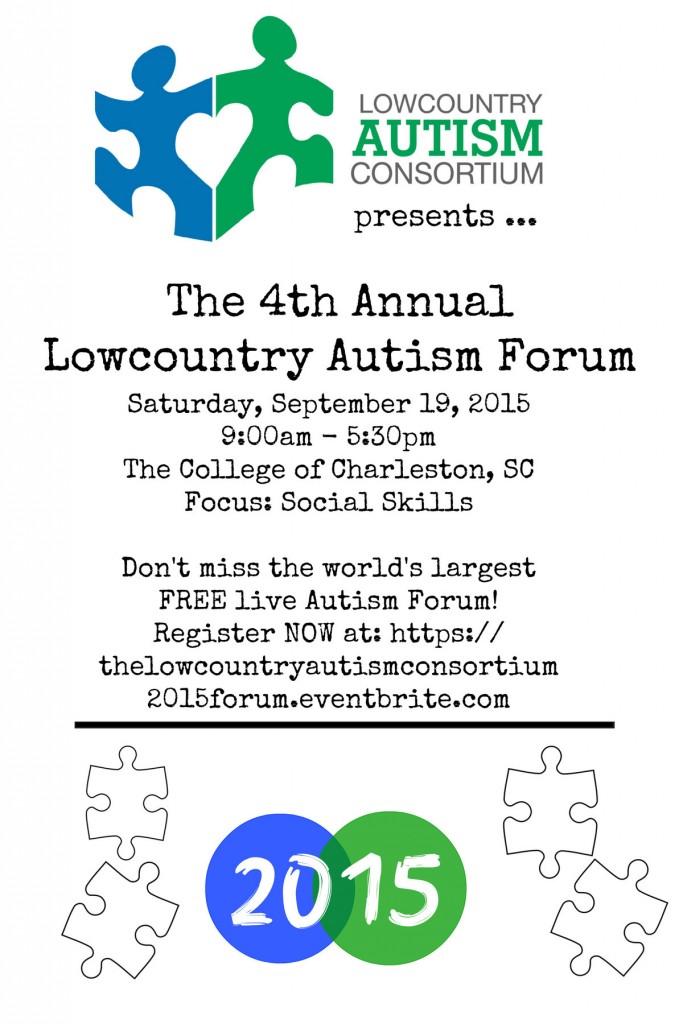 Be sure to mark your calendars and register for the Lowcountry Autism Consortium's 4th Annual Lowcountry Autism Forum, the largest free live autism conference in the world!
This one-day conference will be taking place on Saturday, September 19, 2015 at The College of Charleston.
Project Rex team members will be presenting the following afternoon breakout sessions:
Dr. Frampton Gwynette: Behavioral Treatments for ASD: an in-depth review of the evidence
James Truelove: The Project Rex program for adults with ASD
Dr. Frampton Gwynette: Project Rex PEERS: An evidence-based social skills treatment for adolescents with ASD
Jennifer Warthen: Yoga therapy for patients with ASD
Plus, we're thrilled to announce that Josh (a Project Rex participant and the author of "A Glimpse") will be giving an afternoon talk about his experiences!
This year's Autism Forum will focus on social skills, and individuals with autism, parents, siblings, and support providers are invited to attend for expert keynote speakers and myriad breakout sessions too.
Don't miss this out; register for free today!
CML SuperStars!

Did you know that The Children's Museum is open before hours on the second and fourth Sundays of every month for SuperStars?
In this FREE, registration-required event, children with special needs and their families can visit the Museum, explore, and play without the crowds and over-stimulation.
Click here to register for Sunday, September 13, 2015's SuperStars, 10am – noon.
Click here to register for Sunday, September 27, 2015's SuperStars, 10am – noon.
Let's Focus on Behavior Conference
The Family Resource Center for Disabilities and Special Needs (FRCDSN) and Parent Training and Resource Center (PTRC) present the 16th Conference on Disabilities and Special Needs, "Let's Focus on Behavior."
For more information, call (843) 266-1318 or visit the Family Resource Center's Upcoming Events page.
Start Grooving at Teen Dance Class!

Via SC Autism Society: Want to learn some new moves for the Teen Carnival & Costume Party in October? No problem! We've got Gloria Montalvo, a Columbia area dance instructor and her assistant, Summer Strickland scheduled to come out and teach a dance class the week before the party.
Wanna learn to do the whip and nae nae? They can teach you! Come on out and join us at the SCAS office (at 806 12th Street, West Columbia, SC 29169) from 2 to 4pm on Saturday, September 26th! To register contact: christie@scautism.org
Click here to learn more about this free event.
Yoga Group Registration Open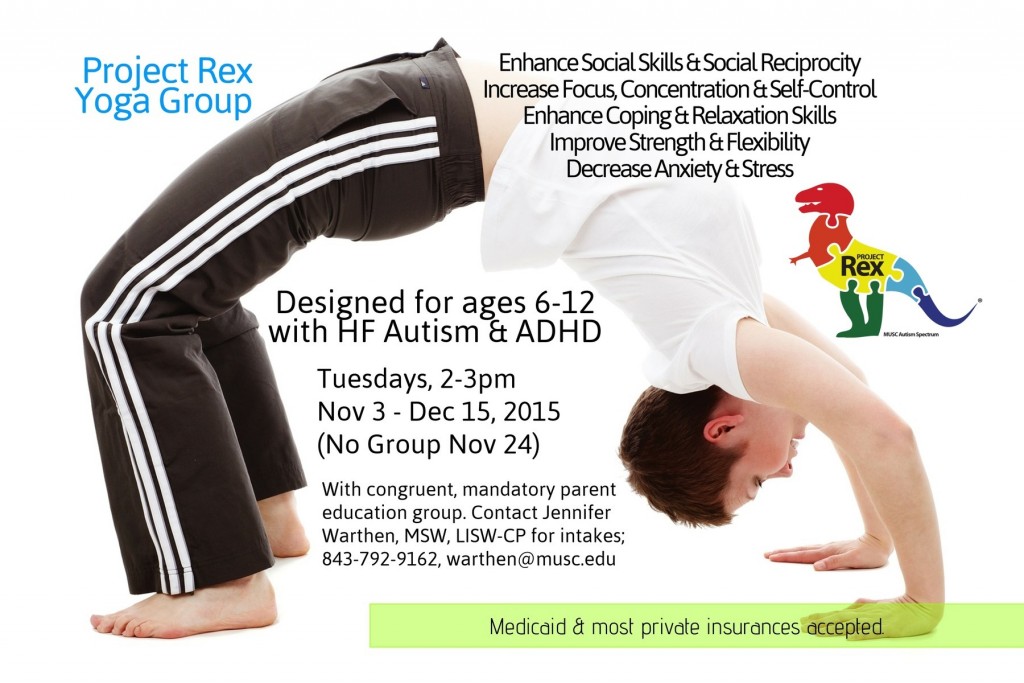 Finally, there's still time to register for our Yoga Group for ages 6-12; it begins on Tuesday, November 3, so be sure to call (843) 792-9162 to schedule an intake! Note that no diagnosis is necessary for participation.
Enjoy the start of autumn!
~ The Project Rex Team