This month's Lowcountry autism events roundup includes a new Sibling Support Group, MUSC Piece It Together autism summer camp, Arts for Autism camp, social groups, a new featured book, and more!
We do our best to post events on social media, and you can Like us on Facebook and follow on Twitter to stay current with the latest news too.
The events below are listed with new or one-time events first and recurring events next, so be sure to read through the end!
New or One-Time Events
Project Rex's Sibling Support Group
Parents, you spoke up about the need for more sibling support, and we listened. Thanks to you, Project Rex is offering a Sibling Support Group for ages 8-14 this summer!
Registration is now open, so call 843-792-9162 to schedule an intake.
Want to help us get the word out? Share the Sibling Support Group page on social media, or click here for a hi-res, print-ready PDF flyer.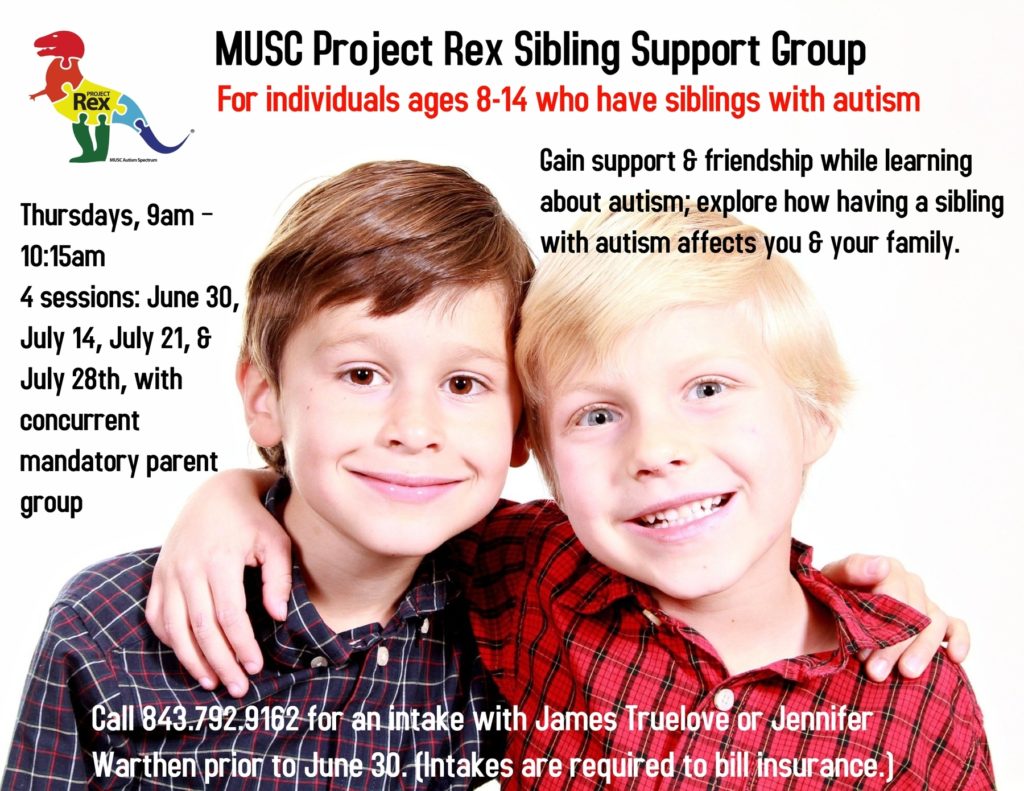 Sibling Support Group (ages 8-14):
4 Sessions: June 30th, July 14th, July 21st, and July 28th 2016
Thursdays, 9:00am – 10:15am
Location: MUSC IOP 5 South, 67 President Street, Charleston, SC 29425
Join us for a sibling support group for individuals ages 8-14 who have siblings with autism. The group will focus on support, making new friendships, and discussing how having a sibling with autism can affect the family.
Participants will learn about autism and its challenges; group activities will help individuals to better understand what it can be like to live with a specific learning or physical challenge.
Each week, participants will receive homework assignments. Siblings will have discussions and complete exercises with their sibling with autism or with their parents related to the weekly topic. We will then review the homework in Group.
This program includes a concurrent, mandatory parent Group.
Any interested siblings must complete a Project Rex intake with either James Truelove or Jennifer Warthen prior to attending the first Group meeting on Thursday, June 30th. Families do not need to have prior history with Project Rex to participate.
Medicaid and most private insurances are accepted; intakes are required to bill for insurance. There is a discount for self-pay.
To register, please call 843-792-9162 to schedule an intake.
Once the intake is complete, contact administrative assistant Lavinia Bowens at (843) 792-0037 to confirm attendance in the Group series.
Finally, please plan to arrive 15 minutes early to each Group meeting for sign in and registration.
Piece It Together Summer Program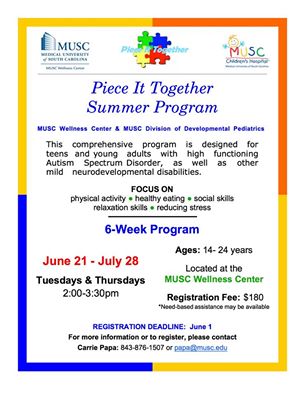 Piece It Together is, "An exercise, nutrition, socialization, and stress reduction program for teens and young adults with high functioning Autism Spectrum Disorder and/or mild neurodevelopmental disorders!
The MUSC Wellness Center and the Division of Developmental Pediatrics have taken the lead in creating a Wellness Lifestyle program specifically for older teens and young adults with Autism Spectrum Disorders and other mild Neurodevelopmental Disabilities. The goals of this program are to increase physical activity, improve body composition, promote healthy food choices, broaden social skills, teach relaxation skills and improve mood and calmness.
Focus on wellness with other activities available including:
– Interval strength and cardiovascular training
– Opportunities to do outside activities (i.e. walk the bridge)
– Nutritional guidance
– Relaxation and stress reduction
– Supportive environment to foster positive relationships and socialization
– Opportunities for racquetball, basketball, aquatics, yoga, mindfulness, cycling and more!
Ages: 14 to 24 years
Dates: June 21 to July 28, Tuesdays and Thursdays from 2:00pm – 3:30pm
Please contact Dr. Eve Spratt at spratte@musc.edu or Carrie Papa at papa@musc.edu for more information or to register. We are also taking volunteers for the summer. Please contact Carrie Papa if you are interested. Deadline to register is June 1 (but inquire as to late registration, as it may be available).

Arts for Autism
Have you heard about Arts for Autism? It's a Mt. Pleasant summer camp that uses the theatrical process to help individuals with autism ages 10-14 build social skills. There are 2 June sessions (June 13-16 and June 20-23) and 2 July sessions (July 11-14 and July 18-21) available. To enroll, visit Mt. Pleasant Rec's website today! (The program is listed under "Camps".)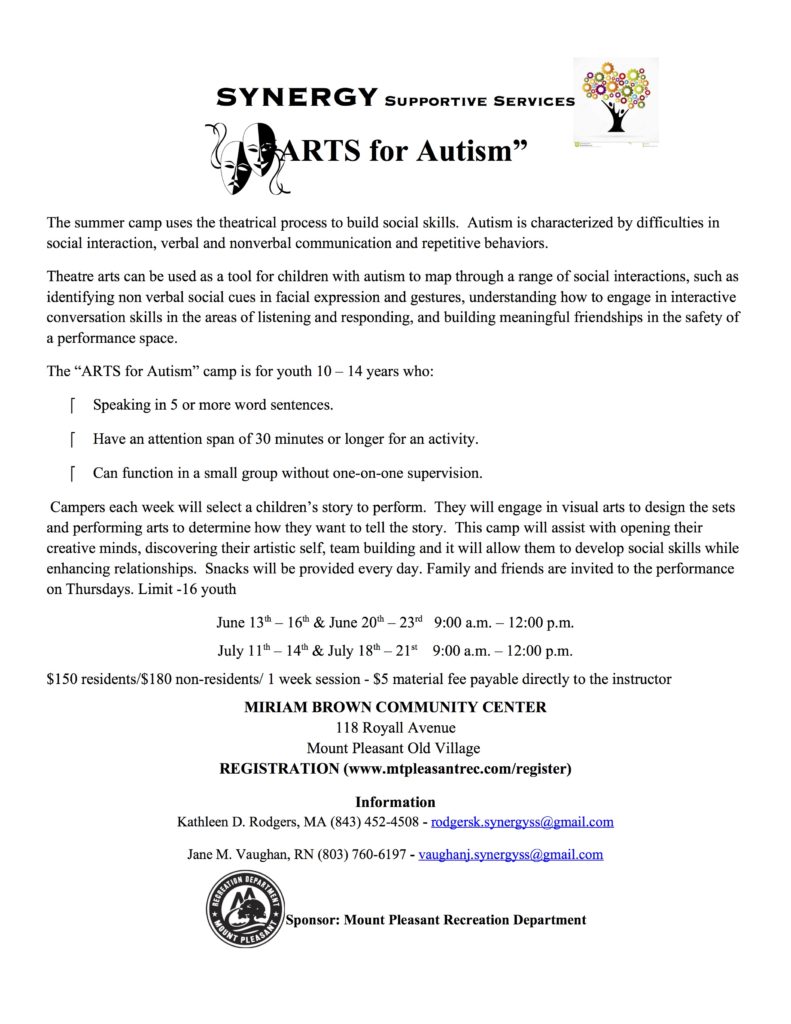 Water Fun, via Family Connection SC
Happening Monday June 13 & Monday, June 27 at 10am at North Charleston Wannamaker County Park, 8888 University Blvd, North Charleston
"Pack your snacks and let's have a picnic, bubble and water fun at Wannamaker Sprinkler Park.
Admission is $2 per person, children under 2 are free."
Contact Janelle at 843.754.4658 for more information or to RSVP.
Sensory Friendly Family Fun at the Fire Museum, via Family Connection SC
Happening Sunday, June 19 from 3-5pm at the North Charleston Fire Museum, 4975 Centre Point Drive, North Charleston
Admission is $5 per adult/FREE for ages 12 and under; contact Michelle at 843.276.9615 for more information and to RSVP.
Ongoing Events
Paws With A Cause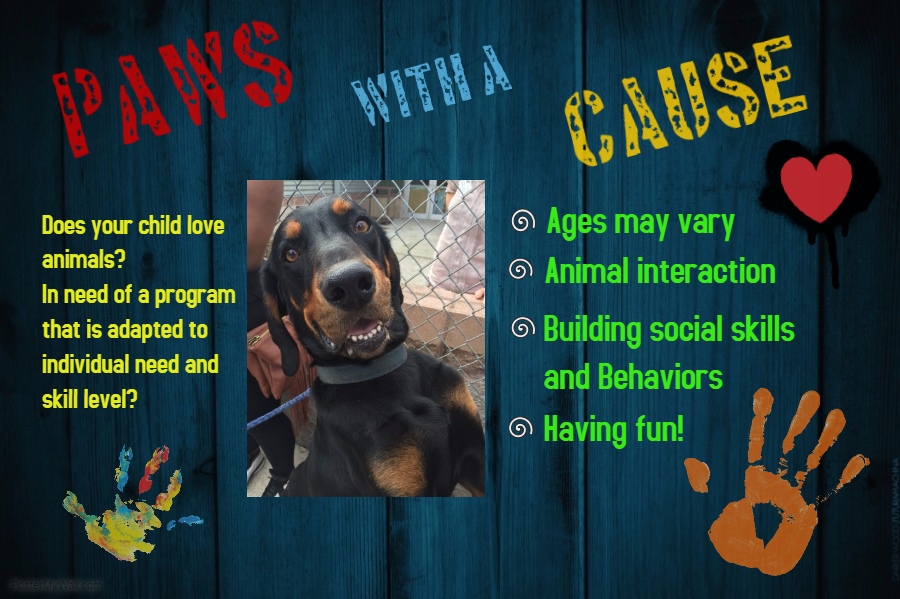 "Does your child love animals? In need of a program that is adapted to individual need and skill level? Enroll in Paws With A Cause, an animal interaction program to help individuals with autism to build social skills and behaviors while having fun!"
Interested? Contact Misty Stinnett of The Charleston Animal Society by phone at 846-329-1565 or by email at mstinnett@charlestonanimalsociety.org.
Charleston Young Adult ASDs
Charleston Young Adult ASDs is a social enjoyment group for young adults (17-32 +/-) in the autism spectrum in the Charleston area. Its purpose is to give individuals the opportunity to:
Practice different social scenarios in a safe and non-judgmental environment
Connect with others like them (and realize they're not alone!)
Develop skills (through fun activities) to navigate life more smoothly
Increase chances to make/keep friends and get/keep a job
Share experience, strength and hope
To get involved, join the Meetup page or the private Facebook group (just click "Join Group" so an admin can approve your request).
National Alliance on Mental Illness (NAMI) Charleston Meeting
The Charleston-area NAMI meeting takes place in Moncks Corner on the first Tuesday of the month. This month's meeting is Tuesday, June 7 from 6 – 7:15pm at Moncks Corner Baptist Church Fellowship Hall at 500 E. Main St., Moncks Corner, SC 29461.
This meeting is for both individuals in recovery and family and friends of people with mental illness. All meetings are confidential. For a full list of Charleston-area NAMI meetings, visit the NAMI Charleston Area website.
Children's Museum of the Lowcountry's SuperStars

SuperStars is a FREE, registration-required event in which children with special needs and their families can visit the Museum, explore, and play without the crowds and over-stimulation. The Museum is open before-hours on the second and fourth Sundays of every month for this event.
Click here to register for Sunday, June 12, 2016 SuperStars, 10am – 12pm.
Click here to register for Sunday, June 26, 2016 SuperStars, 10am – 12pm.
Parent Support Group for families of children with Asperger's, HFA, & related conditions

Location: Cherokee United Methodist Church, 2105 Cosgrove Avenue, North Charleston
Time: 6:00 – 7:30pm every Tuesday
For families of children with Aspergers, HFA, Anxiety & Related Conditions
Share your concerns and tips with other parents who understand what it's like to raise a child with special needs. Give and get support in a safe and non-judgmental place.
Free childcare is provided.
Contact Tracie Hayward at thayward@familyconnectionsc.org for more info.
Featured Book of the Month

This month's featured book is Love That Boy: What Two Presidents, Eight Road Trips, and My Son Taught Me About a Parent's Expectations by Asperger's dad Ron Fournier.
"LOVE THAT BOY is a uniquely personal story about the causes and costs of outsized parental expectations. What we want for our children—popularity, normalcy, achievement, genius—and what they truly need—grit, empathy, character—are explored by National Journal's Ron Fournier, who weaves his extraordinary journey to acceptance around the latest research on childhood development and stories of other loving-but-struggling parents."
Save the Date …
Mark your calendars for the Lowcountry Autism Consortium's 5th Annual Lowcountry Autism Forum, coming to The College of Charleston on Saturday, October 15, 2016!
This year's focus will be on Apps and Technology, and the event will feature expert keynote speakers, breakout sessions, a resource fair, and more!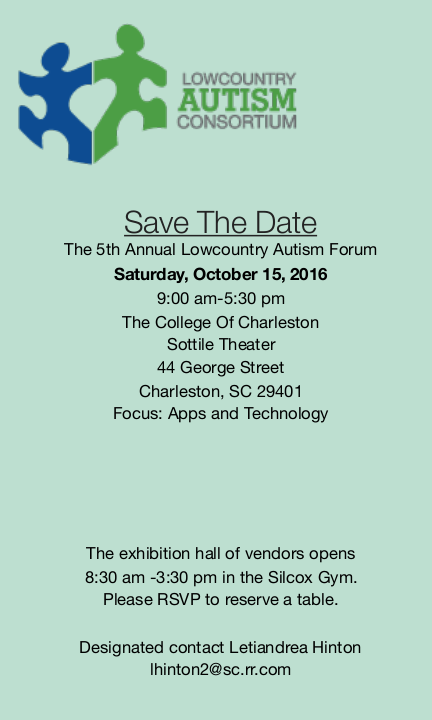 Enjoy!
~ The Project Rex Team