Parents, you spoke up about the need for more sibling support, and we listened. Thanks to you, Project Rex is offering a Sibling Support Group for ages 8-14!
Registration is now open, so call 843-792-9162 to schedule an intake.
Already signed up and want to help us get the word out? Share the Sibling Support Group page on social media, or click here for a hi-res, print-ready PDF flyer.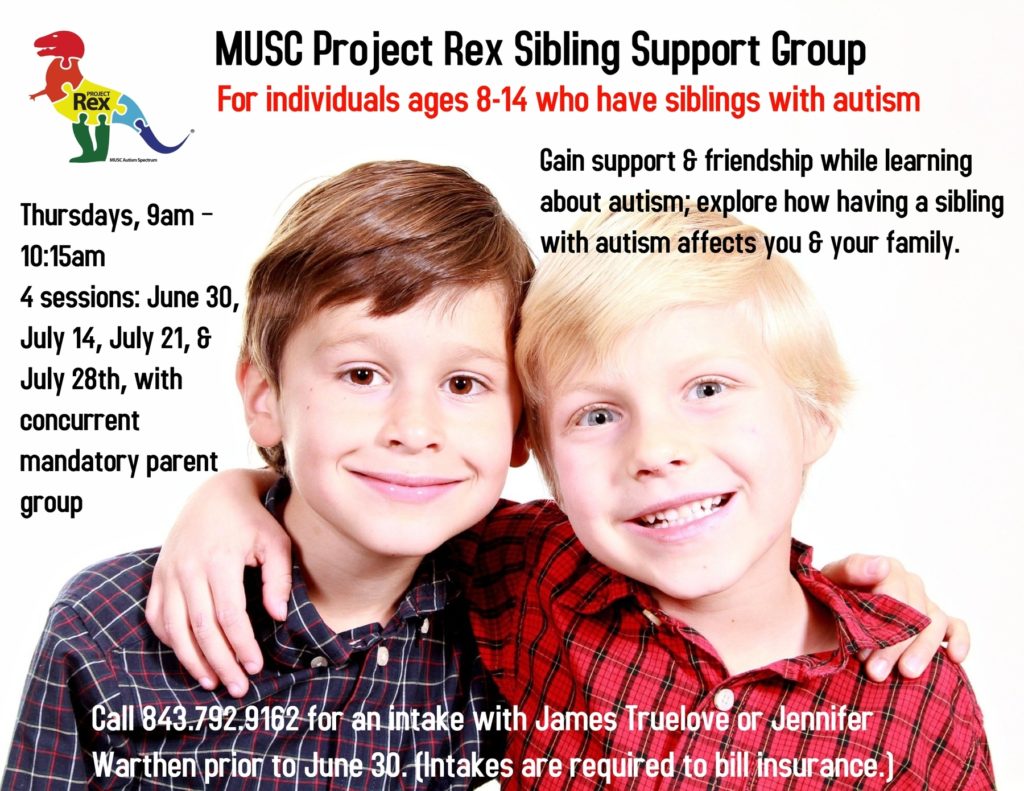 Sibling Support Group (ages 8-14):
4 Sessions: June 30th, July 14th, July 21st, and July 28th 2016
Thursdays, 9:00am – 10:15am
Location: MUSC IOP 5 South, 67 President Street, Charleston, SC 29425
Join us for a sibling support group for individuals ages 8-14 who have siblings with autism. The group will focus on support, making new friendships, and discussing how having a sibling with autism can affect the family.
Participants will learn about autism and its challenges; group activities will help individuals to better understand what it can be like to live with a specific learning or physical challenge.
Each week, participants will receive homework assignments. Siblings will have discussions and complete exercises with their sibling with autism or with their parents related to the weekly topic. We will then review the homework in Group.
This program includes a concurrent, mandatory parent Group.
Any interested siblings must complete a Project Rex intake with either James Truelove or Jennifer Warthen prior to attending the first Group meeting on Thursday, June 30th. Families do not need to have prior history with Project Rex to participate.
Medicaid and most private insurances are accepted; intakes are required to bill for insurance. There is a discount for self-pay.
To register, please call 843-792-9162 to schedule an intake.
Once the intake is complete, contact administrative assistant Lavinia Bowens at (843) 792-0037 to confirm attendance in the Group series.
Finally, please plan to arrive 15 minutes early to each Group meeting for sign in and registration.