This month's Lowcountry autism events roundup includes a free Autism and You seminar, the Charleston Walk for Autism, and special Autism Awareness month events as well!
The events below are listed with new or one-time events first and recurring events next, so be sure to read through the end!
Project Rex Reports
New Group Dates Coming Soon
Stay tuned for our next round of Group dates to be announced later this month!
Save the Date for Dr. Gwynette's Technology and Mental Health Talk
Our very own Dr. Frampton Gwynette will be presenting at MUSC's 30th Annual Update in Psychiatry conference, with a focus on Technology and Mental Health!
His talk, "Autism Spectrum Disorder: An update on Gaming, Social Media and Technology" will take place on Thursday, June 1, 2017 at 11:30am.
Register for the conference so you won't miss it!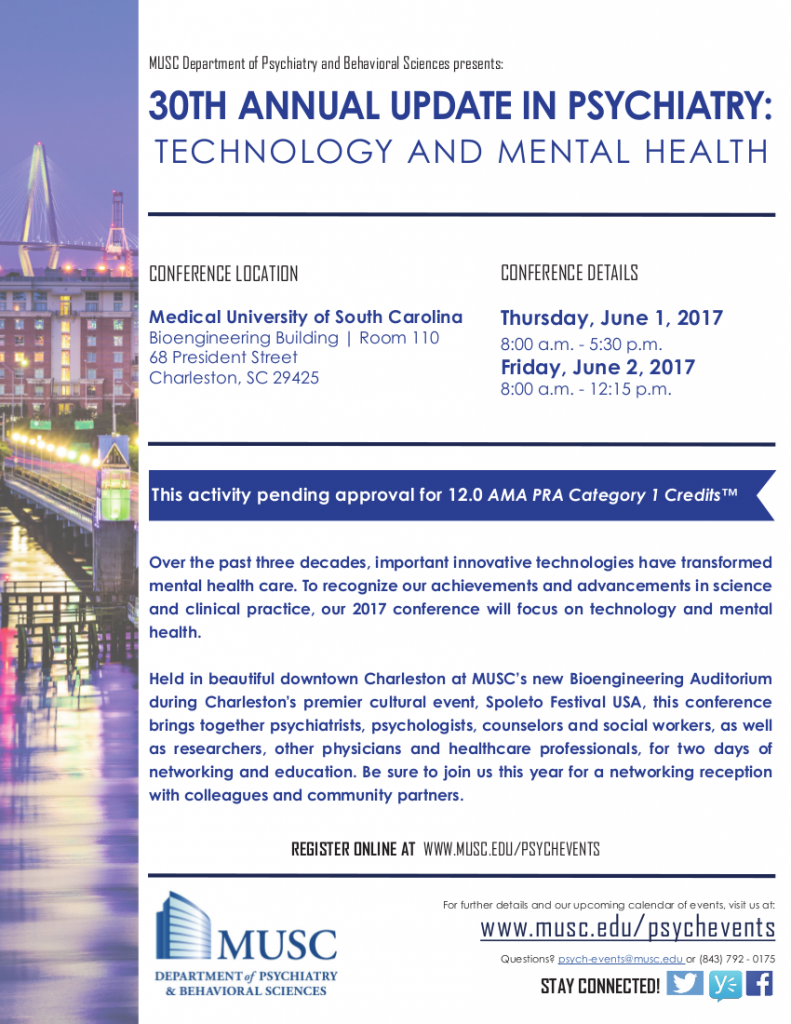 New or One-Time Events
Sensory Friendly Movies with Lowcountry Autism Foundation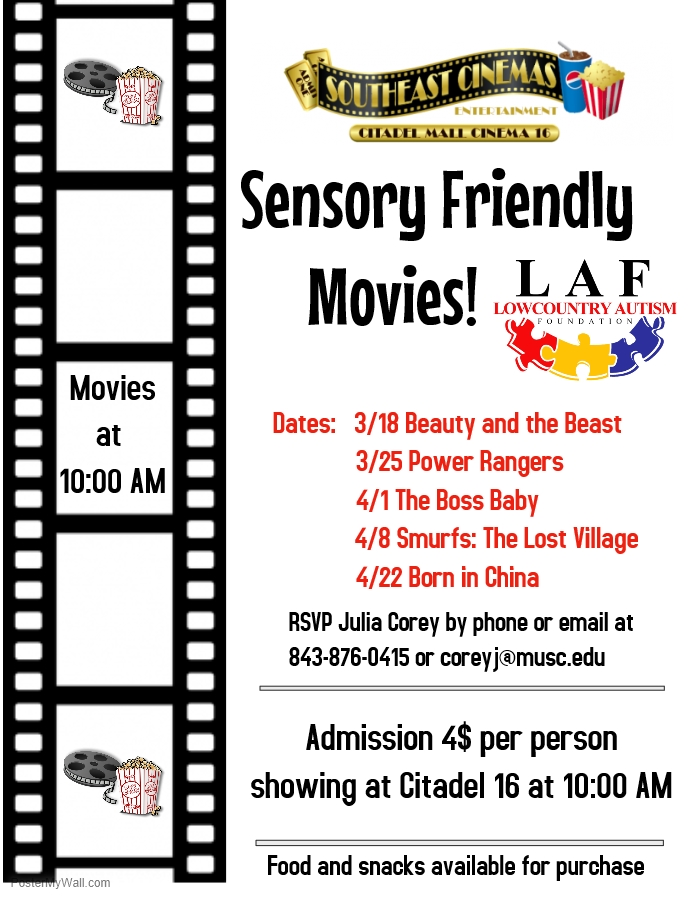 Our friends at the Lowcountry Autism Foundation are excited to announce the upcoming Sensory Friendly Movies showing at Southeast Cinemas – Citadel Mall IMAX 16. Admission is $4 per person, and the movies show at Citadel 16 on Saturdays at 10:00 am.
Upcoming movie dates are as follows:
Saturday, April 8: Smurfs: The Lost Village
Saturday, April 22: Born in China
Please RSVP Julia Corey by phone or email at 843-876-0415 or coreyj@musc.edu.
Walk for Autism Charleston
This year's Walk for Autism Charleston is taking place on Saturday, April 22, 2017 at 9am in Hampton Park; visit Walk for Autism Charleston's website to learn more and register!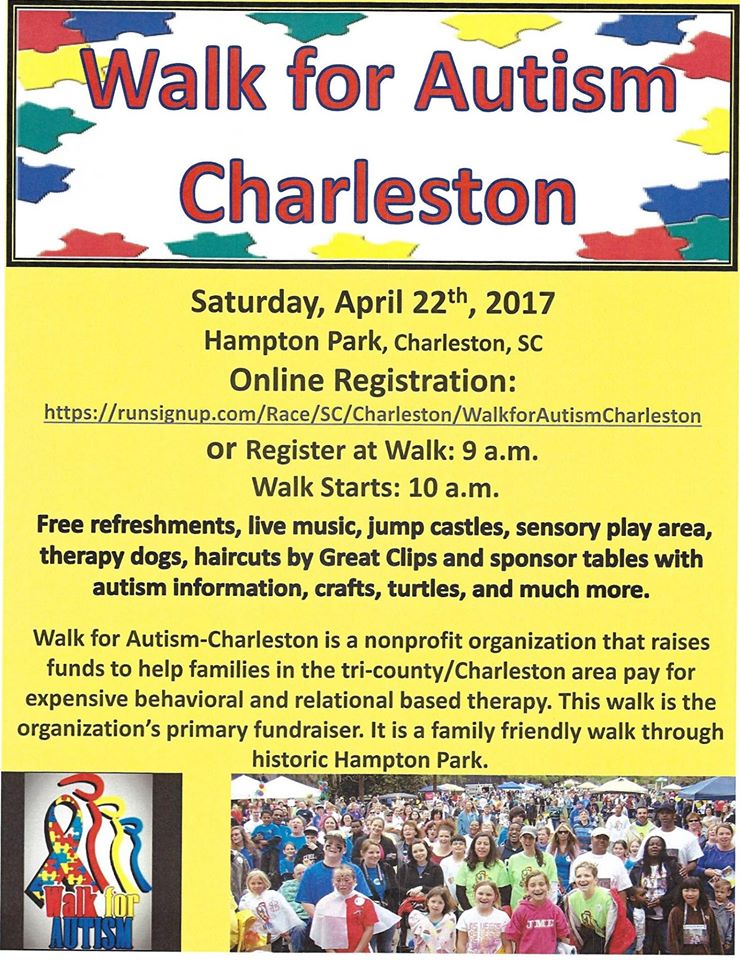 LAF Swim Team Screening
The Lowcountry Autism Foundation is hosting a FREE screening of the award-winning new documentary film Swim Team, an inspiring look at the rise of a competitive swim team of autistic teens.
LAF will be screening this uplifting film on April 26th at 7:00pm at Seacoast Church in Mt. Pleasant. Information on local resources will be available starting at 5:30pm, and there will be a Q & A afterwards as well. Reserve your free tickets here!
Contact Julia Corey at coreyj@musc.edu or 843-876-0415 for more information.

Autism and You Seminar
You're invited to the FREE Autism and You Seminar at All Saints Church on Pawleys Island on Friday, April 28, 2017!
Our Project Rex founder Dr. Frampton Gwynette will speak about ongoing and upcoming Autism research projects at MUSC, and other local autism experts will present as well.
To register for this free event presented by Towards a Worth Cause (T.A.W.C.) and Carolina Green Clothing Recyclers, email tawcinfo@gmail.com with your name and contact information.
You can also contact Melanie Stecz at (843) 385-1111 or Debbie Wardell at (843) 424-1129.
See you there!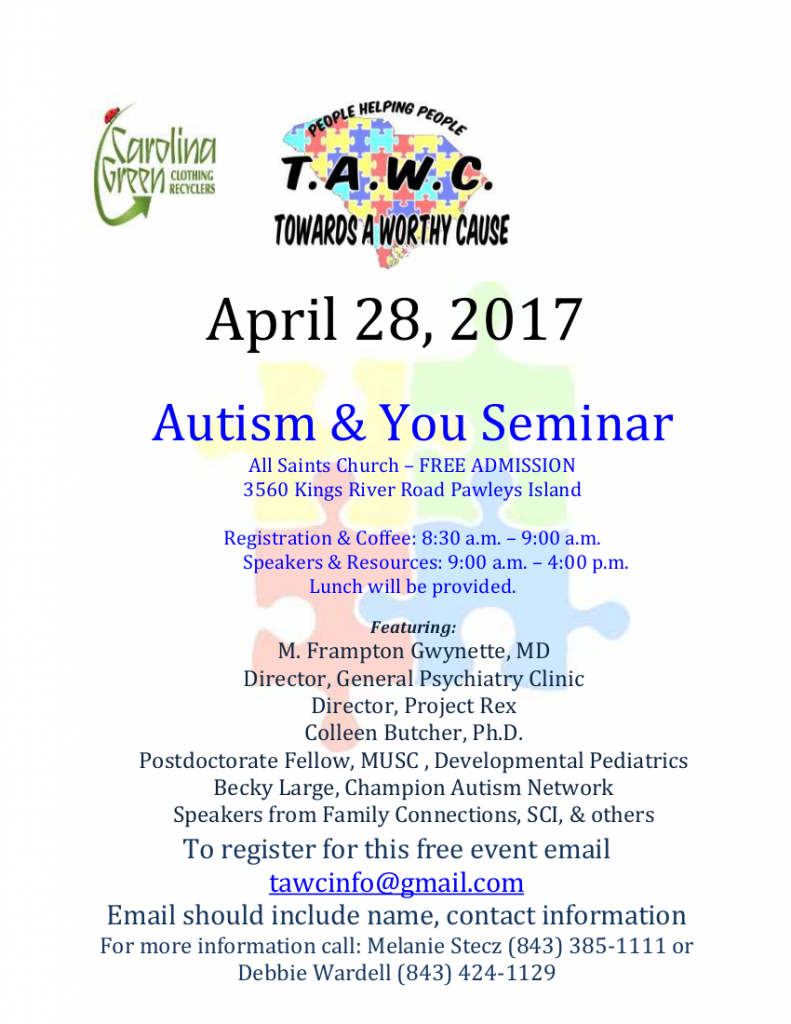 Free Admission at Monkey Joe's
Mark your calendars for a fun autism awareness month event: Monkey Joe's North Charleston is offering FREE admission for children with autism and related special needs on Sunday, April 30 from 6-8pm.
Monkey Joe's is a recreation center complete with jump castles, pirate ships, balloon slides, and more. Wear socks and plan to have a ball!

Camp Wonder Applications Open
ABA Outreach's Camp Wonder focuses on all levels of social development for kids on and off the autism spectrum, ages 3-19. It's staffed by trained one-on-one ABA therapists, and applications are now open for the summer 2017 session.
The session runs from July 10 – August 3, Monday-Thursday, 9am – 2pm at Hibben United Methodist Church in Mt. Pleasant.
Visit ABA Outreach's Camp Wonder page for registration information.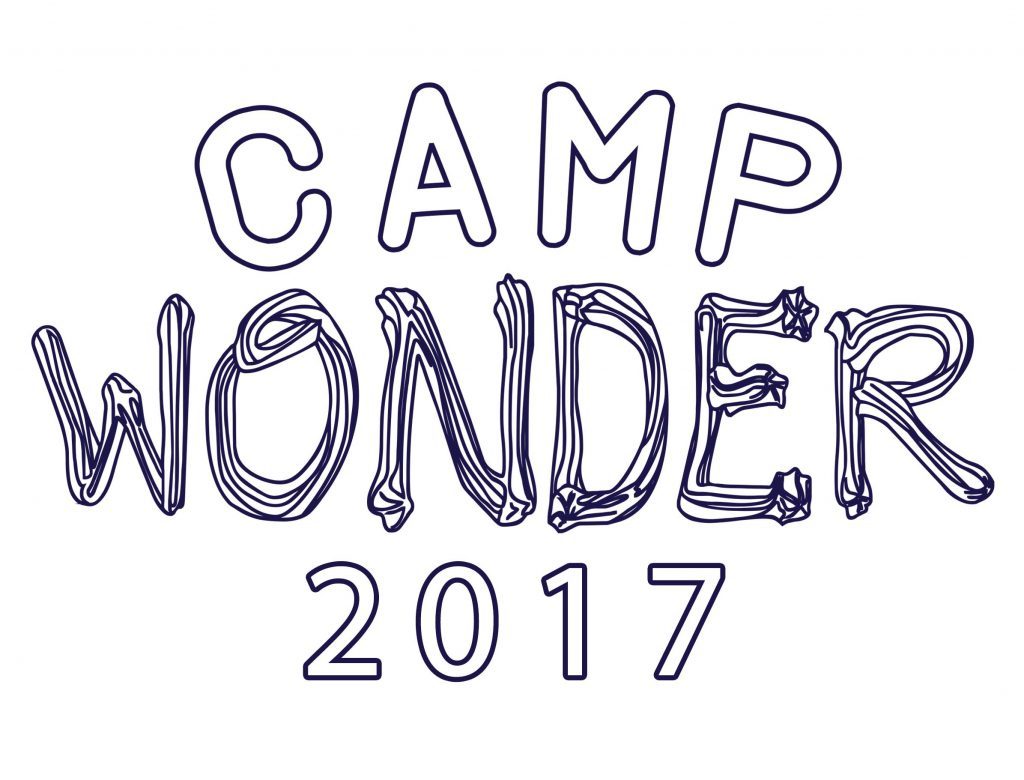 Looking Ahead to May …
Art in the Dark
Local artists, it's time to showcase your ability! Synergy Supportive Services LLC and AccessAbility invite people with disabilities to display their talent in Visual Arts, Performance, or Craft at Art in the Dark. This year's theme is "Breaking Through Barriers".
Art in the Dark will be held on Thursday, May 25th, 2017 from 5:30pm – 8:30pm at AccessAbility, 7944 Dorchester Road, Charleston, SC 29418.
*Note the updated date and time!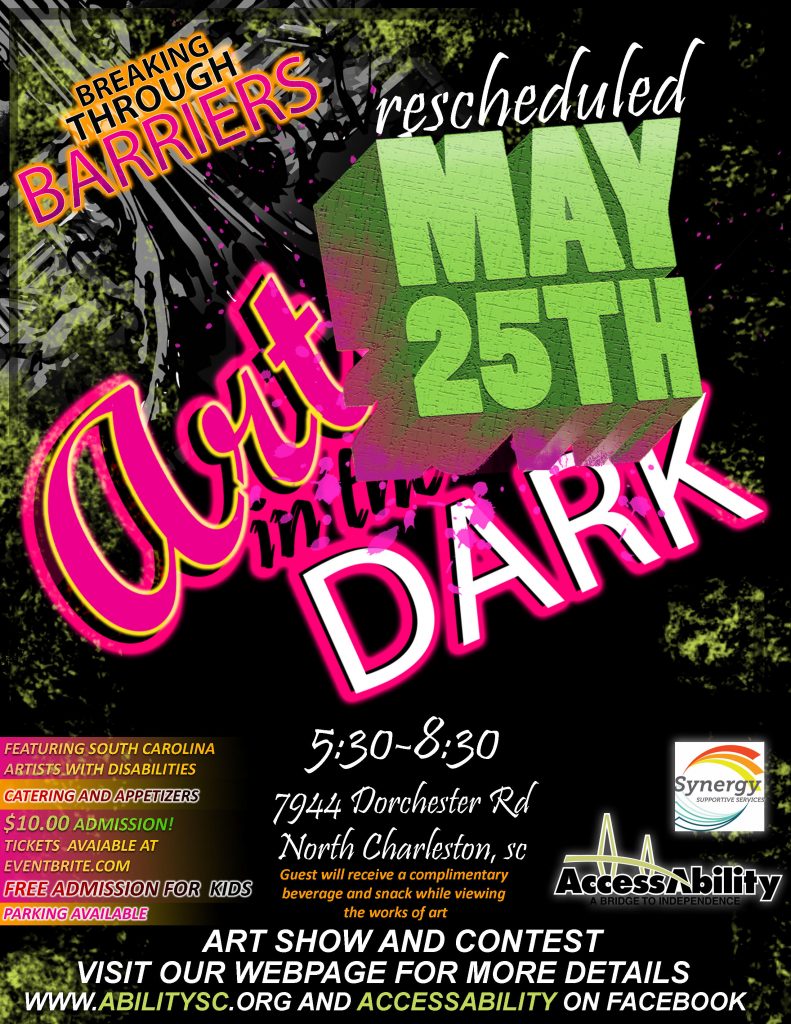 Why participate?
First, you'll have a chance to win prizes; first, second, and third place awards will be provided for each category.
Next, you'll have an opportunity to showcase and sell your work to attendees.
Finally, you'll have a chance to meet other budding artists, enjoy music, food, and community too.
How to Register and Attend
All participating artists must register in advance to be eligible for prizes!
Email Nathan Todd (Ntodd@abilitysc.org) or Kurtis Whitehead (Kwhitehead@abilitys.org) to register.
Art in the Dark tickets are $10, and they are available for purchase at the door or online. Children and young adults receive free admission. The ticket price includes complimentary wine and snacks.
Ongoing Events
Special Adult Network of Dentists (via Family Connection SC)
Do you or someone you know have special healthcare needs? Are you having difficulty finding a dentist to provide dental care in your area? Contact us so that we may assist you in finding the dental care you need!
The Special Adult Network of Dentists is a project of the Medical University of South Carolina to connect adults with special needs to dental care providers in all areas of the state.
Contact: Joan McLauren, SANDs Program Coordinator at 843-876-0059, mclauren@musc.edu
Charleston Young Adult ASDs
Charleston Young Adult ASDs is a social enjoyment group for young adults (17-32 +/-) in the autism spectrum in the Charleston area. Its purpose is to give individuals the opportunity to:
Practice different social scenarios in a safe and non-judgmental environment
Connect with others like them (and realize they're not alone!)
Develop skills (through fun activities) to navigate life more smoothly
Increase chances to make/keep friends and get/keep a job
Share experience, strength and hope
To get involved, join the Meetup page or the private Facebook group (just click "Join Group" so an admin can approve your request).
Autism Family Network of the Lowcountry
This Facebook group was created to provide South Carolina families a chance to get together to discuss and share topics related to Autism Spectrum Disorder. Click here to join today.
Also note that the Autism Family Network of the Lowcountry (supported by the Lowcountry Autism Foundation) also has a Parent Training and Support Group that meets monthly in Summerville on the fourth Tuesday of the month from 6-8pm at Bethany Methodist Church.
This month's meeting is Tuesday, April 25.
National Alliance on Mental Illness (NAMI) Charleston Meeting
The Charleston-area NAMI meeting takes place in Moncks Corner on the first Tuesday of the month.
This month's meeting is Tuesday, April 4 from 6 – 7:15pm at Moncks Corner Baptist Church Fellowship Hall at 500 E. Main St., Moncks Corner, SC 29461.
This meeting is for both individuals in recovery and family and friends of people with mental illness. All meetings are confidential. For a full list of Charleston-area NAMI meetings, visit the NAMI Charleston Area website.
Children's Museum of the Lowcountry's SuperStars

SuperStars is a FREE, registration-required event in which children with special needs and their families can visit the Museum, explore, and play without the crowds and over-stimulation. The Museum is open before-hours on the second and fourth Sundays of every month from 10am-12pm for this event.
Click here to learn more and register for SuperStars.
Parent Support Group for families of children with Asperger's, HFA, & related conditions

Location: Cherokee United Methodist Church, 2105 Cosgrove Avenue, North Charleston
Time: 6:00 – 7:30pm every Tuesday
For families of children with Aspergers, HFA, Anxiety & Related Conditions
Share your concerns and tips with other parents who understand what it's like to raise a child with special needs. Give and get support in a safe and non-judgmental place.
Free childcare is provided. Contact Tracie Hayward at thayward@familyconnectionsc.org for more info.
Follow Us on Social Media
We do our best to post local events on social media, so Like us on Facebook and follow on Twitter to stay current.
Enjoy!
~ The Project Rex Team