This month's Lowcountry autism events roundup includes exciting Project Rex updates, new opportunities to participate in autism research, a free fitness program especially for individuals on the spectrum, and more!
The events below are listed with new or one-time events first and recurring events next, so be sure to read through the end!
Project Rex Reports
Our Fall Groups kicked off with gusto this week. We began our School-Age Group and Pre-Teen/Teen Rex Group sessions with record enrollment. Our Pre-Teen/Teen Rex Group has 20 participants!
We even had one teen and his parents participating remotely using a video chat connection. To the best of our knowledge, this is the first time anyone has attempted to deliver social skills training for patients with Autism and their families using telemedicine.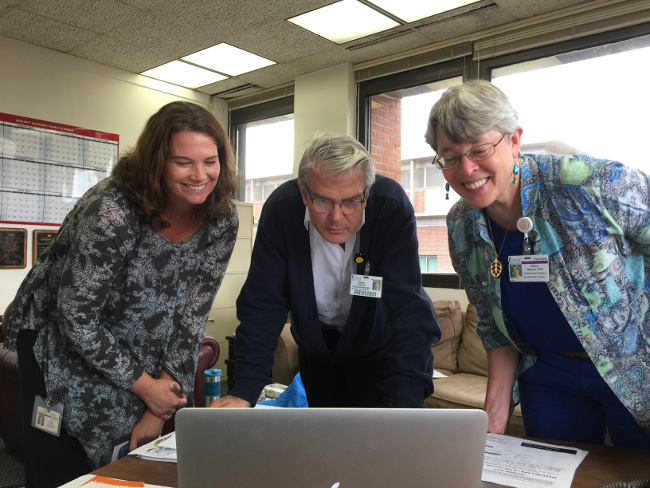 Our Rex group leaders preparing for the launch of our latest round of groups.
We also want to tip our hats to Project Rex founder Dr. Gwynette, who will be presenting two talks at the 63rd Annual Meeting of the American Academy of Child and Adolescent Psychiatry (AACAP) on October 28th in NYC.
Finally, if you love Rex Groups and want to help get the word out about our services, view and download the PDFs of our English-language brochure or the Spanish-language brochure.
New or One-Time Events
Research Study Enrollments Open!
We currently have two opportunities for families to participate in MUSC Research Studies:
Adults with Autism and Depression: Studying new treatment possibilities for adults ages 18-65 who have a diagnosis of Autism Spectrum Disorder as well as Depression (compensation available).
Transcranial Magnetic Stimulation for Adolescent Depression: Exploring treatment of depressive symptoms using Transcranial Magnetic Stimulation (TMS) for adolescents ages 12 to 21 (no cost-treatment available).
Move, Groove, Get Active
Ready to Move, Groove, Get Active this fall? The goal of this FREE recreational program is to improve the quality of life for children on the Autism Spectrum, in a family-friendly environment.
Move, Groove, Get Active is hosted at the College of Charleston campus at 26 George Street in the Silcox Gym on Saturdays from 2:30-3:30 pm. The remaining dates for the Fall 2016 session are as follows: October 8th, 15th, & 22nd. (It's already begun, but you can jump in anytime!)
For more information, visit the Move, Groove, Get Active Facebook page.
The South Carolina Autism Society and the Arc are co-hosting Wings for Autism at the Myrtle Beach International Airport on Saturday, November 12.
"Wings for Autism is an airport rehearsal specially designed for individuals with autism spectrum disorders. The program is designed to alleviate the stress that families who have a child with autism experience when flying."
Registration is required; for more information, visit the Wings for Autism Myrtle Beach Facebook page.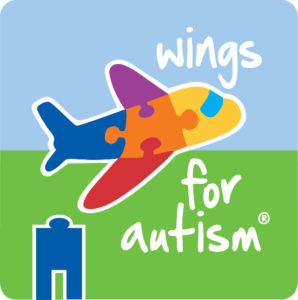 Ongoing Events
Charleston Young Adult ASDs
Charleston Young Adult ASDs is a social enjoyment group for young adults (17-32 +/-) in the autism spectrum in the Charleston area. Its purpose is to give individuals the opportunity to:
Practice different social scenarios in a safe and non-judgmental environment
Connect with others like them (and realize they're not alone!)
Develop skills (through fun activities) to navigate life more smoothly
Increase chances to make/keep friends and get/keep a job
Share experience, strength and hope
To get involved, join the Meetup page or the private Facebook group (just click "Join Group" so an admin can approve your request).
Autism Family Network of the Lowcountry
This Facebook group was created to provide South Carolina families a chance to get together to discuss and share topics related to Autism Spectrum Disorder. Click here to join today.
Paws With A Cause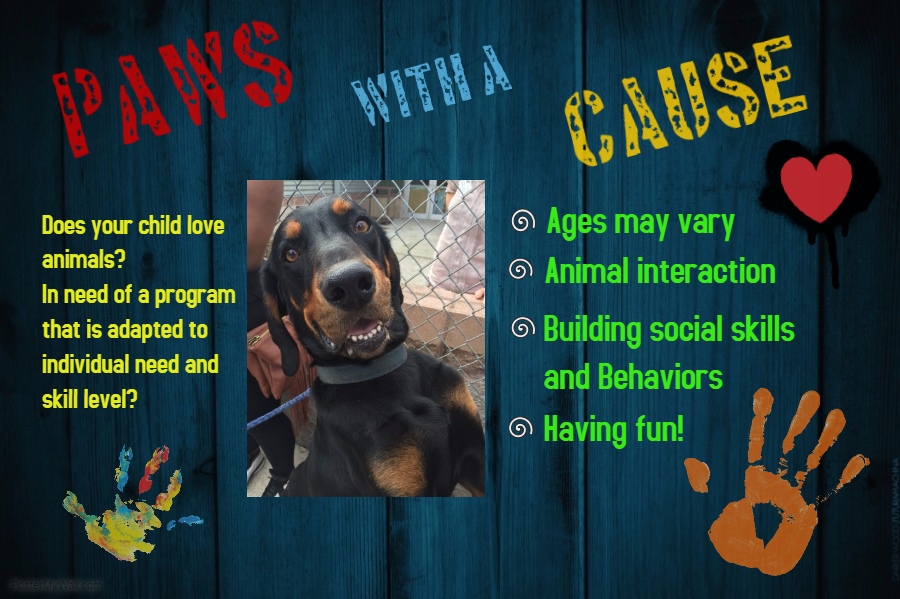 "Does your child love animals? In need of a program that is adapted to individual need and skill level? Enroll in Paws With A Cause, an animal interaction program to help individuals with autism to build social skills and behaviors while having fun!"
Interested? Contact Misty Stinnett of The Charleston Animal Society by phone at 846-329-1565 or by email at mstinnett@charlestonanimalsociety.org.
National Alliance on Mental Illness (NAMI) Charleston Meeting
The Charleston-area NAMI meeting takes place in Moncks Corner on the first Tuesday of the month. This month's meeting is Tuesday, October 4 from 6 – 7:15pm at Moncks Corner Baptist Church Fellowship Hall at 500 E. Main St., Moncks Corner, SC 29461.
This meeting is for both individuals in recovery and family and friends of people with mental illness. All meetings are confidential. For a full list of Charleston-area NAMI meetings, visit the NAMI Charleston Area website.
Children's Museum of the Lowcountry's SuperStars

SuperStars is a FREE, registration-required event in which children with special needs and their families can visit the Museum, explore, and play without the crowds and over-stimulation. The Museum is open before-hours on the second and fourth Sundays of every month from 10am-12pm for this event.
Click here to learn more and register for SuperStars.
Parent Support Group for families of children with Asperger's, HFA, & related conditions

Location: Cherokee United Methodist Church, 2105 Cosgrove Avenue, North Charleston
Time: 6:00 – 7:30pm every Tuesday
For families of children with Aspergers, HFA, Anxiety & Related Conditions
Share your concerns and tips with other parents who understand what it's like to raise a child with special needs. Give and get support in a safe and non-judgmental place.
Free childcare is provided. Contact Tracie Hayward at thayward@familyconnectionsc.org for more info.
Featured Book of the Month

This month's featured book is the Arc of South Carolina's new free ebook, The Elephant in the Room: Talking to your Teen or Young Adult with a Disability about Love, Dating, Safety, and Relationships.
This PDF resource for parents is available on the Arc of South Carolina's website. (Here's the direct link to the PDF.)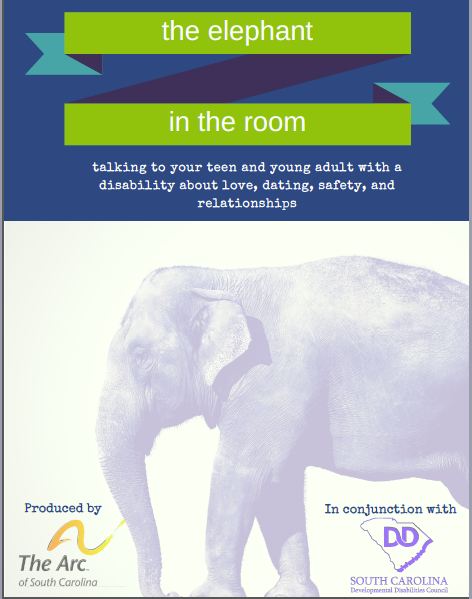 Follow Us on Social Media
We do our best to post local events on social media, so Like us on Facebook and follow on Twitter to stay current.
Enjoy!
~ The Project Rex Team