This month's Lowcountry autism events roundup includes surf camp, a MUSC summer camp, an adventure challenge, social groups, a new featured book, and more!
We do our best to post events on social media, and you can Like us on Facebook and follow on Twitter to stay current with the latest news too.
The events below are listed with new or one-time events first and recurring events next, so be sure to read through the end!
New or One-Time Events
Surfers Healing is Coming to Folly Beach!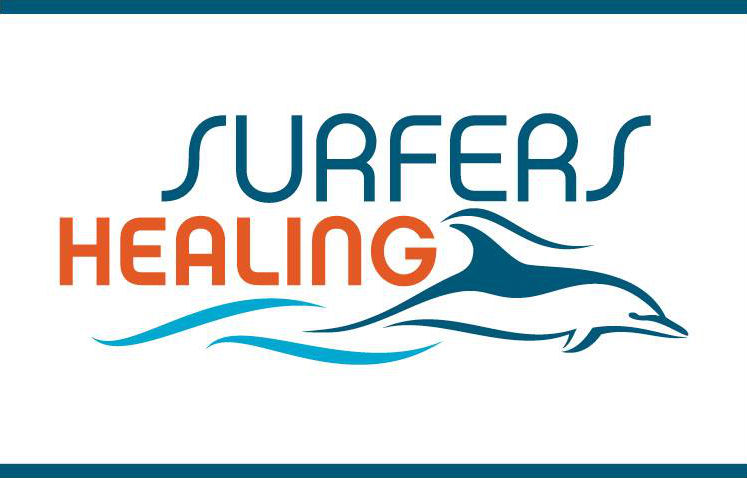 Surfers Healing is hosting a FREE day camp for individuals with autism at Folly Beach, SC on Thursday, August 25, and registration is slated to begin on Saturday, May 14.
Be aware that Surfers Healing camps are now organized by lottery. Read details of the 2016 sign up process so you'll know what to expect.
First Annual Charleston Challenge

Family Connection SC's First Annual Charleston Challenge will take place on Sunday, May 17 in Hampton Park in Charleston. This event for individuals with special needs and their families includes a scavenger hunt, jump castle, therapeutic dogs, disability awareness activities, resources, and more!
Piece It Together Summer Program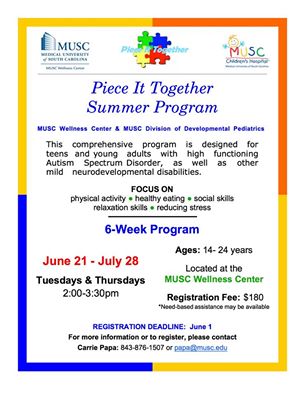 Piece It Together is, "An exercise, nutrition, socialization, and stress reduction program for teens and young adults with high functioning Autism Spectrum Disorder and/or mild neurodevelopmental disorders!
The MUSC Wellness Center and the Division of Developmental Pediatrics have taken the lead in creating a Wellness Lifestyle program specifically for older teens and young adults with Autism Spectrum Disorders and other mild Neurodevelopmental Disabilities. The goals of this program are to increase physical activity, improve body composition, promote healthy food choices, broaden social skills, teach relaxation skills and improve mood and calmness.
Focus on wellness with other activities available including:
– Interval strength and cardiovascular training
– Opportunities to do outside activities (i.e. walk the bridge)
– Nutritional guidance
– Relaxation and stress reduction
– Supportive environment to foster positive relationships and socialization
– Opportunities for racquetball, basketball, aquatics, yoga, mindfulness, cycling and more!
Ages: 14 to 24 years
Dates: June 21 to July 28, Tuesdays and Thursdays from 2:00pm – 3:30pm
Please contact Dr. Eve Spratt at spratte@musc.edu or Carrie Papa at papa@musc.edu for more information or to register. We are also taking volunteers for the summer. Please contact Carrie Papa if you are interested. Deadline to register is June 1!"
Arts for Autism
Have you heard about Arts for Autism? It's a Mt. Pleasant summer camp that uses the theatrical process to help individuals with autism ages 10-14 build social skills. There are 2 June sessions (June 13-16 and June 20-23) and 2 July sessions (July 11-14 and July 18-21) available. To enroll, visit Mt. Pleasant Rec's website today! (The program is listed under "Camps".)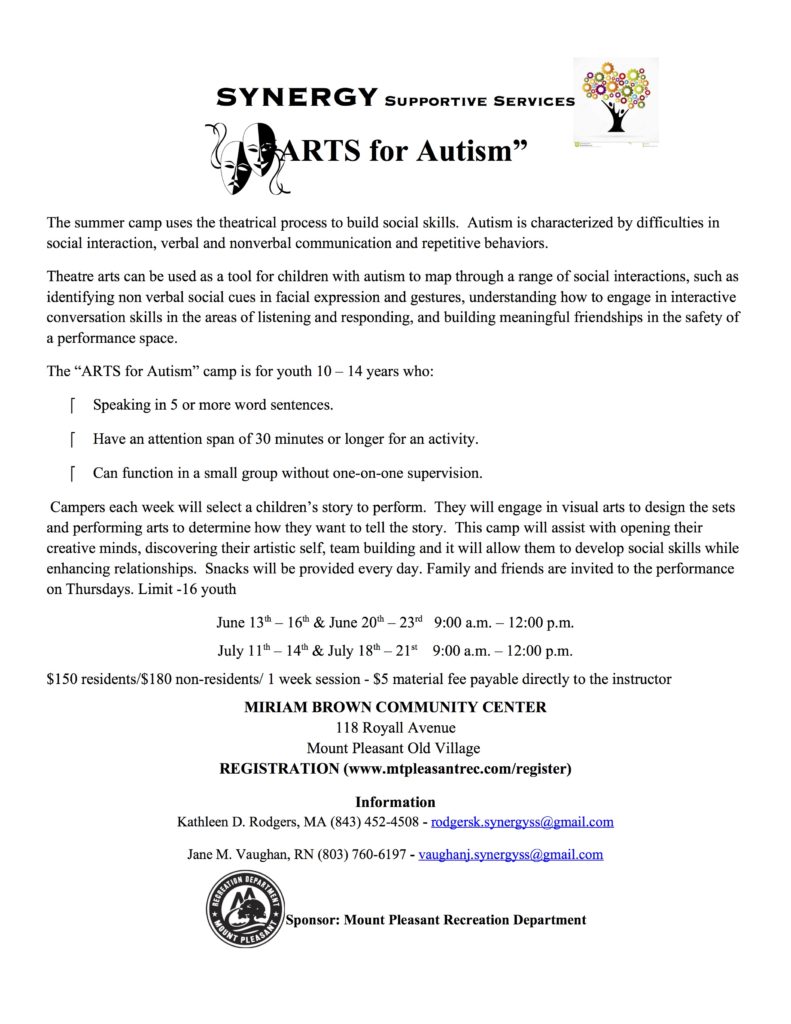 Paws With A Cause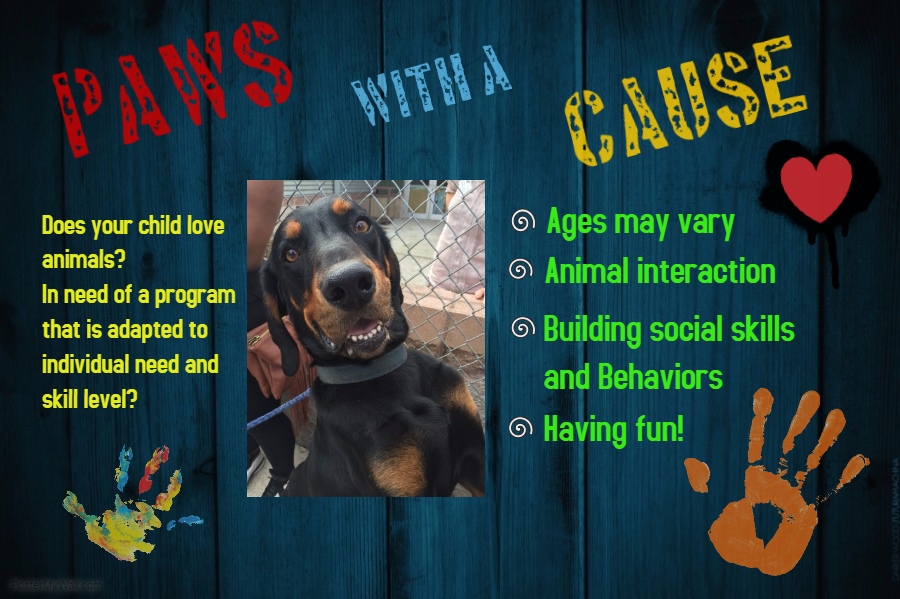 "Does your child love animals? In need of a program that is adapted to individual need and skill level? Enroll in Paws With A Cause, an animal interaction program to help individuals with autism to build social skills and behaviors while having fun!"
Interested? Contact Misty Stinnett of The Charleston Animal Society by phone at 846-329-1565 or by email at mstinnett@charlestonanimalsociety.org.
Ongoing Events
Charleston Young Adult ASDs
Charleston Young Adult ASDs is a social enjoyment group for young adults (17-32 +/-) in the autism spectrum in the Charleston area. Its purpose is to give individuals the opportunity to:
Practice different social scenarios in a safe and non-judgmental environment
Connect with others like them (and realize they're not alone!)
Develop skills (through fun activities) to navigate life more smoothly
Increase chances to make/keep friends and get/keep a job
Share experience, strength and hope
To get involved, join the Meetup page or the private Facebook group (just click "Join Group" so an admin can approve your request).
National Alliance on Mental Illness (NAMI) Charleston Meeting
The Charleston-area NAMI meeting takes place in Moncks Corner on the first Tuesday of the month. This month's meeting is Tuesday, May 3 from 6 – 7:15pm at Moncks Corner Baptist Church Fellowship Hall at 500 E. Main St., Moncks Corner, SC 29461.
This meeting is for both individuals in recovery and family and friends of people with mental illness. All meetings are confidential. For a full list of Charleston-area NAMI meetings, visit the NAMI Charleston Area website.
Children's Museum of the Lowcountry's SuperStars

SuperStars is a FREE, registration-required event in which children with special needs and their families can visit the Museum, explore, and play without the crowds and over-stimulation. The Museum is open before-hours on the second and fourth Sundays of every month for this event.
Click here to register for Sunday, May 8, 2016 SuperStars, 10am – 12pm.
Click here to register for Sunday, May 22, 2016 SuperStars, 10am – 12pm.
SkyZone Charleston Sensory Jump
"Sensory Jump is held at SkyZone (411 Wando Park Blvd., Mt. Pleasant, SC 29464) on the 2nd and 4th Monday of the each month starting in September through the Charleston County school year (if school is not in session, this program is not available).
This month's Sensory Jump dates are Monday, May 9 and Monday, May 23. We open our facility exclusively to our special needs guests from 4 pm – 6 pm. Family members of special needs guests are invited to jump as well!
$5 for a half hour jump time, $10 for 1-hour jump time. Sky Socks are $2 and reusable! Therapists attend at no charge. Space is limited, please call 843-588-5789 to reserve your spot."
Click here to visit SkyZone's website for more information.
Parent Support Group for families of children with Asperger's, HFA, & related conditions

Location: Cherokee United Methodist Church, 2105 Cosgrove Avenue, North Charleston
Time: 6:00 – 7:30pm every Tuesday
For families of children with Aspergers, HFA, Anxiety & Related Conditions
Share your concerns and tips with other parents who understand what it's like to raise a child with special needs. Give and get support in a safe and non-judgmental place.
Free childcare is provided.
Contact Tracie Hayward at thayward@familyconnectionsc.org for more info.
Featured Book of the Month

This month's featured book is Living, Laughing, and Loving with Aspergers: 52 Tips, Stories and Inspirational Ideas for Parents of Children with Aspergers. It's a free Kindle ebook compiled by autism dad Dave Angel.
"Are you the mom of a child with Aspergers? Are you finding the daily challenges hard to cope with? Would you like a little dose of hope and inspiration? If so you've come to the right place!"
Save the Date …
Mark your calendars for the Lowcountry Autism Consortium's 5th Annual Lowcountry Autism Forum, coming to The College of Charleston on Saturday, October 15, 2016!
This year's focus will be on Apps and Technology, and the event will feature expert keynote speakers, breakout sessions, a resource fair, and more!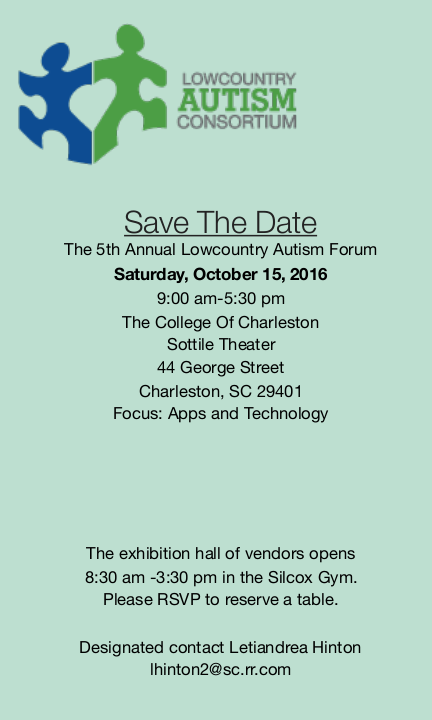 Enjoy!
~ The Project Rex Team