It's that time again: time for our June local events roundup!
We do our best to post events on social media, and you can Like us on Facebook and follow on Twitter to stay current with the latest news. But it's also helpful to have a listing of each month's events, so that you can review the options available and decide which to attend.
CML SuperStars!

Did you know that The Children's Museum is open before hours on the second and fourth Sundays of every month for SuperStars? In this FREE event, children with special needs and their families can visit the Museum, explore, and play without the crowds and over-stimulation. This program is FREE, but registration is required.
Click here to register for Sunday, June 14, 2015's SuperStars, 10am – noon.
Click here to register for Sunday, June 28, 2015's SuperStars, 10am – noon.
The Dennis Walters Golf Show: An Inspirational Extravaganza!
Via the Lowcountry Autism Foundation: "Grab your lawn chairs and blankets and come out for this FREE family-friendly event on Saturday, June 20, 2015, from 10am – noon at Patriots Point Links (1 Patriots Point Rd, Mt Pleasant, SC).
World-renowned paraplegic golfer and trick shot artist Dennis Walters, with his co-star dog Bucky, is bringing his highly interactive, precision golf show to Charleston, inspiring children, veterans, golfers and families to have courage, perseverance and determination to overcome obstacles in life."
This event is FREE, but be sure to register here!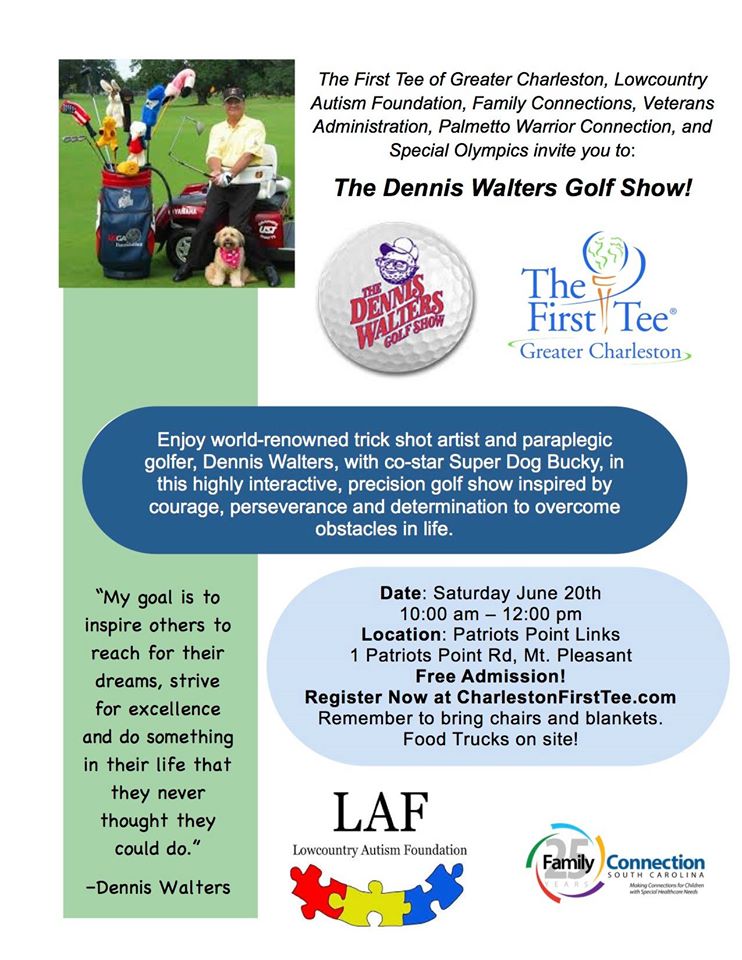 Parents, do you need a night out?
ABA Outreach offers a monthly social skills training / parents' night out night, Club Wonder, as well as an annual summer camp, Camp Wonder, for kids on and off the autism spectrum, ages 3-15.
Date / Time for next Club Wonder: Friday, June 26 from 5:30 – 9:30pm EDT
Location: ABA Outreach Clinic, 828 Wappoo Road, Charleston, SC 29407
Click here to register for Club Wonder. $45 registration includes dinner.
Get Robotastic This Summer!
Via the SC Autism Society: "Robotastic Summer Camp is approaching … it's Monday, June 29 through Friday, July 3! This opportunity is made possible through a collaboration between EdVenture Children's Museum and the SC Autism Society. Robotastic Summer Camp is intended for individuals on the Autism Spectrum, ages 11 through 17. All participants must be able to use a laptop independently. Summer supports can be used for this camp."
For more information and to register, contact: Christie@scautism.org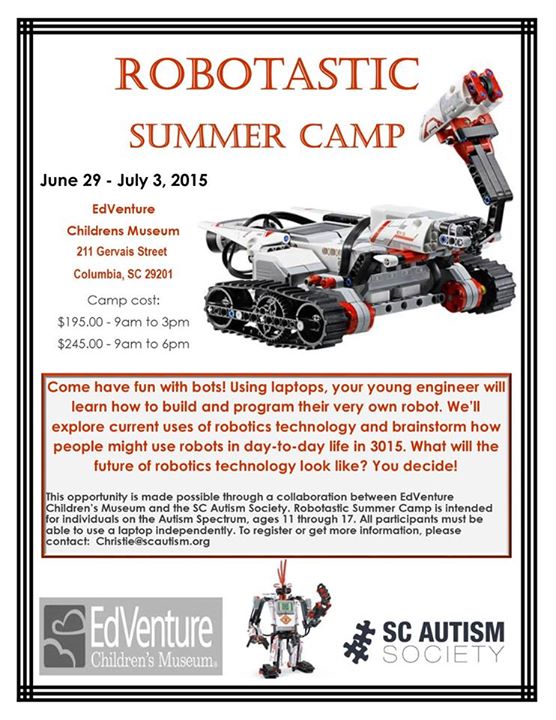 Looking Ahead to Fall …
Be sure to mark your calendars for the Lowcountry Autism Consortium's 4th Annual Lowcountry Autism Forum, the largest free live autism conference in the world! This one-day conference will be taking place on Saturday, September 19, 2015 at The College of Charleston. We'll be sure to keep you posted as more details become available!
Finally, just a reminder that our summer Project Rex Groups are filling up fast, but there's still some time to join in; check out the Groups page for more information.
Enjoy the start of summer!
~ The Project Rex Team