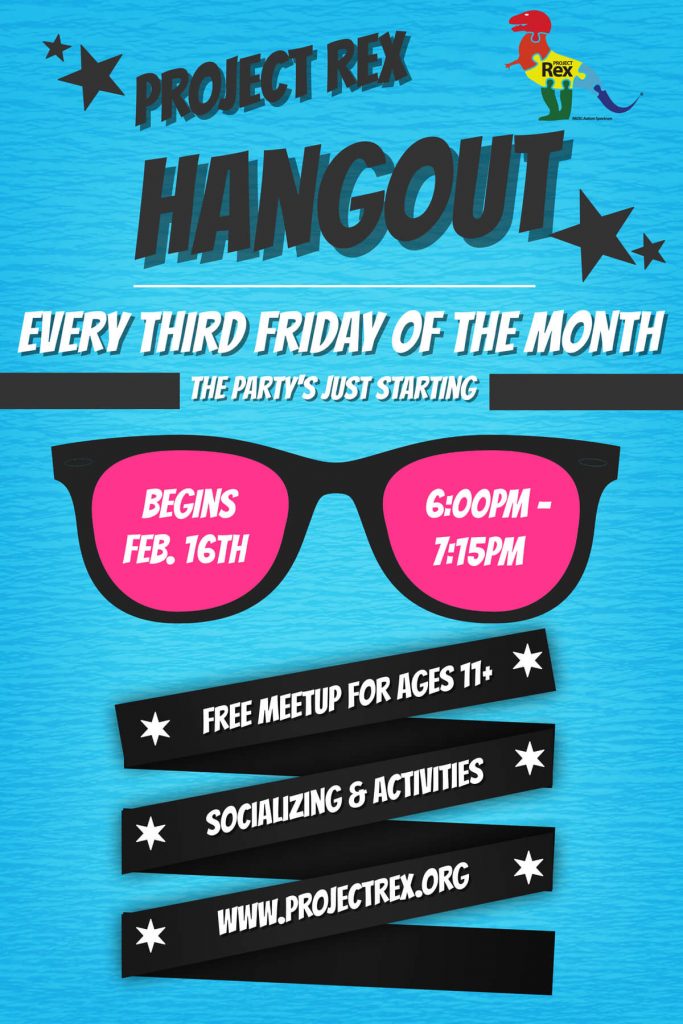 Project Rex Hangouts will be taking place every third Friday of the month beginning Friday February 16th, 2018 from 6:00PM – 7:15PM. Our next Hangout is NEXT Thursday April 19th.

The Hangout will be held at:
MUSC Institute of Psychiatry
5 South, 67 President Street
Charleston, SC 29425
Hangouts are a place where participants can come in and socialize, as well as play games and complete fun activities (including make and take Legos!) along with their peers.
Ages 11+ are welcome to join us for this open-house style event. (Parents can come and socialize in the parent room next door too.) We have several members of our staff present and no food is provided.
As Project Rex Founder Dr. Gwynette wrote:
Between Group sessions, we wanted to make a time and place for children and adolescents to socialize with other kids their age.

The idea for Rex Hangouts is simple. We provide the space, along with some fun activities supervised by our staff. Parents are welcome too, and they have their very own place to gather.

We look forward to making the Rex Hangout a permanent offering for our patients and families.
Want to help spread the word? Click here for a hi-res, print-ready Hangouts flyer.
Finally, if you plan to attend please RSVP via the form below, or by clicking here:
See you at the party!
~ The Project Rex team