Hello families! Just a quick note to give you an update on Fall Groups. We don't have exact dates just yet, but we will be running the following Groups starting in September:
We'll announce exact dates within the next few weeks.
If you know you want to join in on fall Groups, summer is the perfect time to schedule your required intake meeting. Just call (843) 792-0037 and request a Project Rex Assessment.
Also, we won't be holding summer Groups this year, since attendance wasn't strong with travel, summer camps, and vacations.
However, we will be hosting our free Project Rex Hangouts weekly starting Thursday, June 8th!
Project Rex Hangouts are BACK!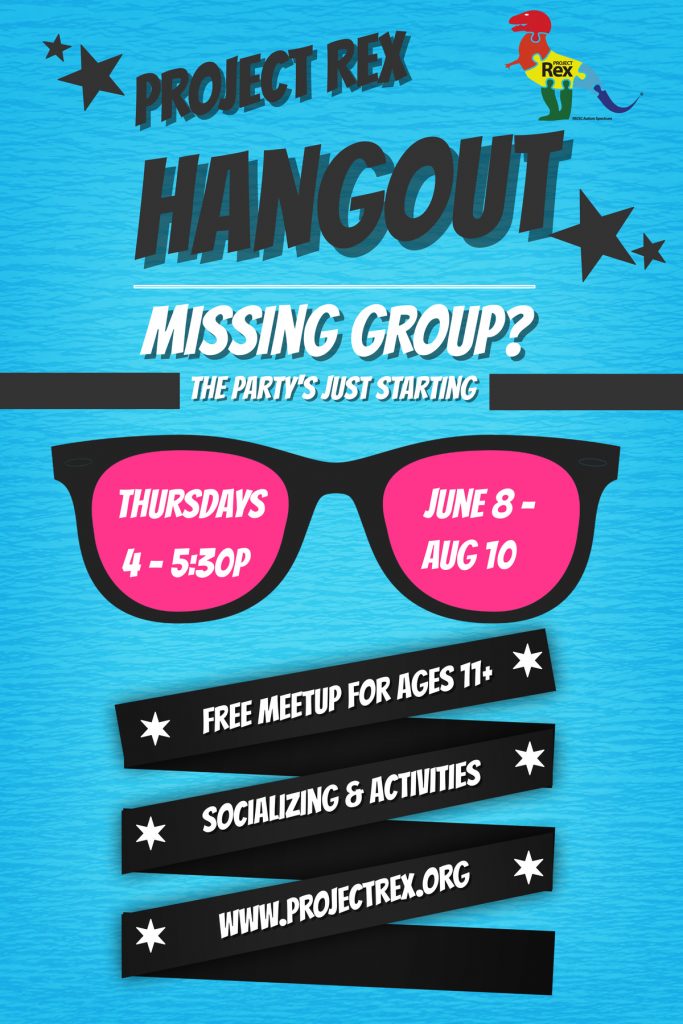 You're invited to weekly FREE Hangouts starting Thursday, June 8, 2017.
Hangouts happen weekly on Thursdays from 4:00pm-5:30pm up to and including Thursday, August 10, 2017.
Hangouts will be held at MUSC IOP 5 South, 67 President Street, Charleston, SC 29425.
Hangouts are a place where participants can come in and socialize, as well as play games and complete fun activities along with their peers.
Ages 11+ are welcome to join us for this open-house style event. (Parents can come and socialize in the parent room next door too.) We have several members of our staff present, and no food is provided.
As Project Rex Founder Dr. Gwynette wrote:
Between Group sessions, we wanted to make a time and place for children and adolescents to socialize with other kids their age.

The idea for Rex Hangouts is simple. We provide the space, along with some fun activities supervised by our staff. Parents are welcome too, and they have their very own place to gather.

We look forward to making the Rex Hangout a permanent offering for our patients and families.
Want to help spread the word? Click here for a hi-res, print-ready Hangouts flyer.
Finally, if you plan to attend please RSVP via the form below, or by clicking here.

(That said, if you have trouble with an RSVP any reason, just come to the party anyway!)
See you at the party!
~ The Project Rex team