The Penguin study, which is a pediatric autism spectrum disorder (ASD) clinical study, is currently enrolling children ages 5 to 17. The purpose of the study is to evaluate an investigational drug to determine if it may treat irritability and other behaviors in children and adolescents with ASD.
To be considered for the study, patients must:
Be 5 to 17 years old
Have been diagnosed with an autism spectrum disorder
Experience irritable behaviors associated with their ASD
Have a parent or guardian able to participate as a study partner during the study
Be able to swallow a medium-sized capsule
Study participation will last for up to 14 weeks, with a 6-week treatment period. Children who enroll in this study will receive either the study drug or placebo. A placebo looks like the study drug but has no impact on the person taking it. There will be no cost for the study drug or any study-related procedures. You may be compensated for your time and travel.
If your child completes the 6-week treatment period, they may be able to enroll in a 52-week, open-label extension study if they qualify. During this open-label study, there is no placebo. Children who enroll will receive the study drug, pimavanserin.
To begin the prequalification process, please click the link below: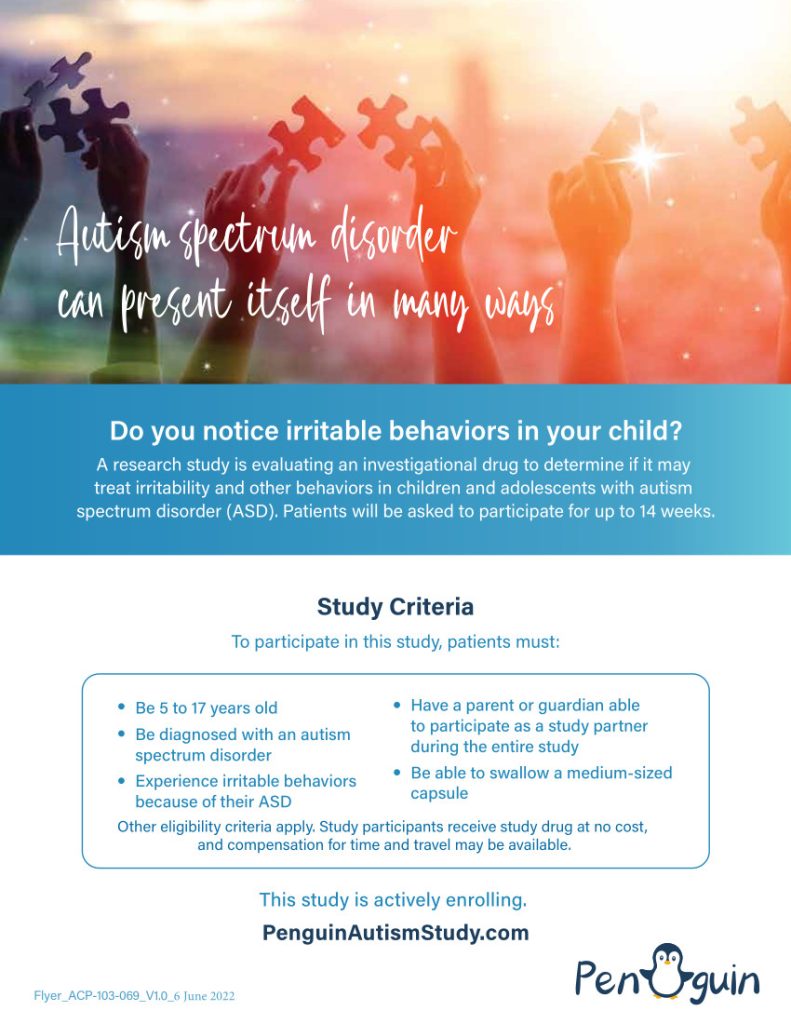 Enter your email to receive your free copy of Professional Life Skills for Adults with Autism, a sample Project Rex lesson, along with blog posts and events delivered to your inbox!
We will not share or sell your email address and will only send you news and event announcements.