The Pre-Teen/Teen Group (ages 11-16) will be running for Winter of 2022. The Pre-Teen/Teen group will meet once a week on Tuesdays from 4:00PM -5:00PM beginning January 18th and continuing to March 8th. This group will be held inside the IOP. Parent and teen groups will meet in adjoining rooms. All adults in the parent group and all children and teens age 12 and older must show proof of having been fully vaccinated for COVID-19 for at least two weeks prior to the first group date. At this time masks will be required for everyone when indoors. We will send an update if this mask requirement changes.
A Project Rex intake for children and teens is required prior to group participation. Please call 843-792-9162 to schedule the initial intake. Once the intake is complete, call 843-876-0760 to register to attend.
This group's curriculum will focus on self-advocacy, responding to teasing in appropriate ways, feeling expression, and learning coping skills strategies.
Wondering about admissions criteria? For Pre-Teen/Teen Group …
Teens and parents must be able to commit to the full 8-week program
Note that this Group has more opportunities for movement based activities, but teens must be verbal and able to sit and listen to a lesson for periods of approximately 15 minutes at a time
A parent or parent representative must be present at either group
Teens are encouraged to complete computer-based homework to practice the skills at home
Also note that with parent permission, video modeling will be used in group as a learning tool; participant role plays will be videotaped, shown to participants, and shared with parents as well.
To schedule an intake, call 843-792-9162 and request a Project Rex Assessment.
Once the intake is complete, contact administrative assistant Patricia Gethers at 843-792-9162 to confirm attendance in the group series.
Please plan to arrive 15 minutes early for sign in and registration.
Interested patients and family must commit to being able to attend each group session. We can no longer allow patients and family members to join the group after the first week. We ask if you know you cannot commit to the full 8 week series to instead consider attending a future round of the program. Thanks for your continued support and cooperation as we work with all insurances to ensure that our programs remain available to all children.
Questions about signing up? Check out our Frequently-Asked Questions page.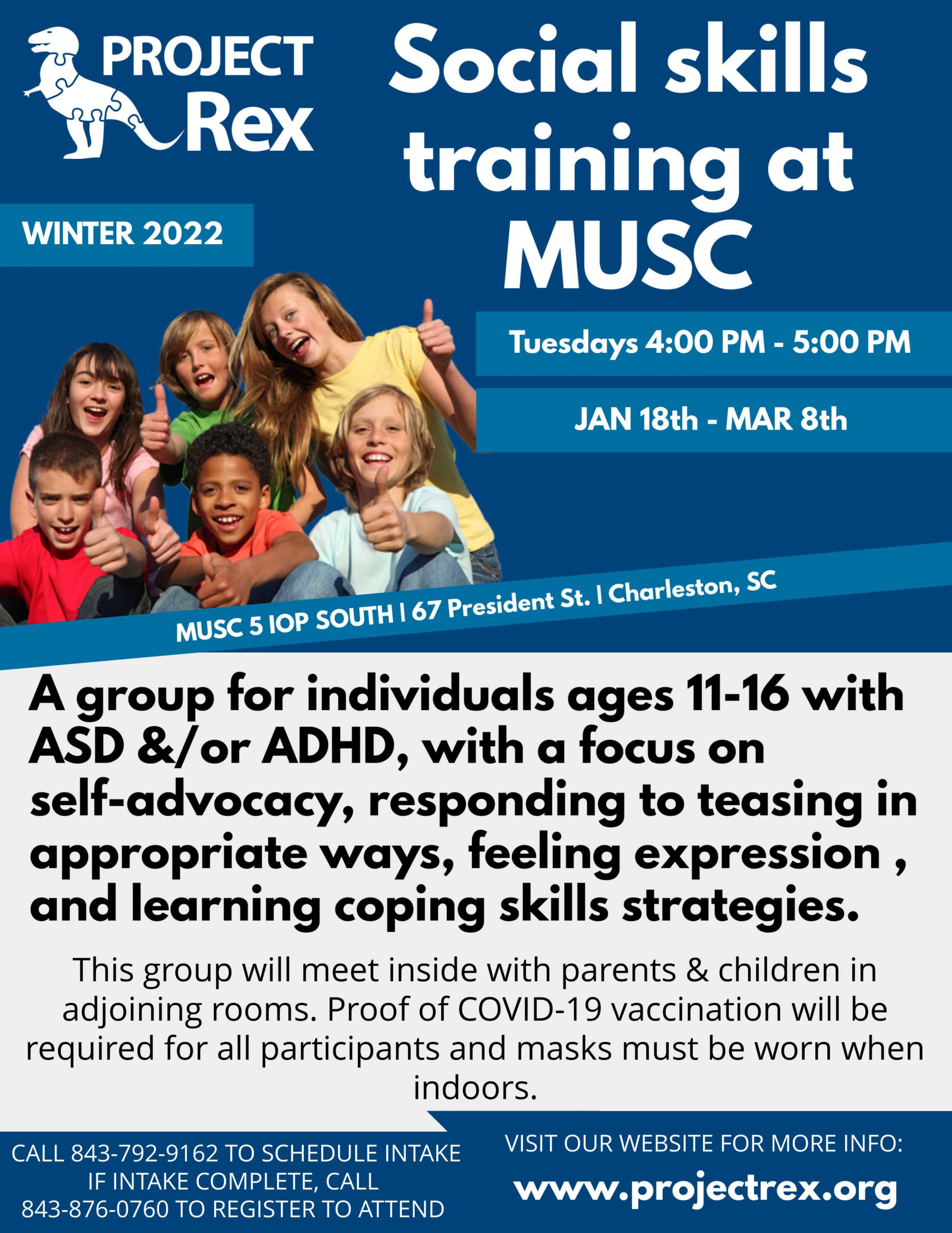 Enter your email to receive your free copy of Professional Life Skills for Adults with Autism, a sample Project Rex lesson, along with blog posts and events delivered to your inbox!
We will not share or sell your email address and will only send you news and event announcements.